Gucci welcomes 2022 with a ready-to-wear collection featuring the tiger
A contemporary collection that truly roars
Ever since its creation, fashion has been an artistic avenue in depicting the beauty of nature, including the animal kingdom. Interpretations of the Savannah have painted the runways with a myriad of animal prints from stripes and spots to everything in between. Then, there are species that are turned into well-known insignias, like Bulgari and its classic serpenti design, Versace and its iterations of the butterfly for pop stars, and the tiger for Gucci. As we welcome 2022 as the Year of the Tiger, the Italian luxury brand looks back into its archive to bring a contemporary collection that truly roars.
Released on Jan. 4, 2022, the 80-piece collection, dubbed "Gucci Tiger," brings back the '60s archival design by Italian artist and illustrator Vittorio Accornero, the creator of the Flora print, which sets the perfect background for the wild feline, a way to pay homage to the brand's heritage. The maison's creative director Alessandro Michele is reviving the signature motif through ready-to-wear pieces "and accessories from t-shirts and sweaters to a new take on the classic Rhyton and Ace sneakers," and more.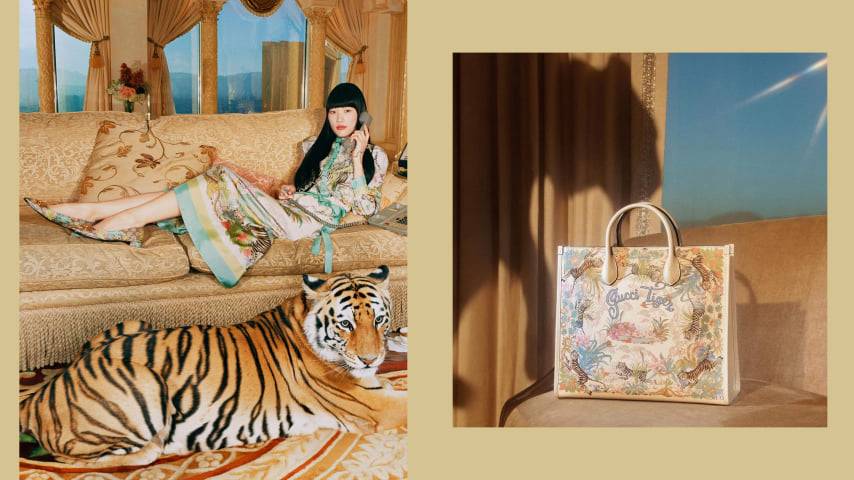 "In celebration of the holiday, different versions of the animal define a curated selection of ready-to-wear and accessories—highlighting the multifaceted nature of the Gucci universe. Rich with significance for the House, the animal expresses the creative director's fascination with the beauty of nature," the brand says.
Its launch is accompanied by the release of the line's campaign which also featured the big cats in real-time. Before anyone raises a woke eyebrow, the brand assures everyone that while the retro-style high tea ad featured actual tigers roaming the set, no animals were harmed in the shoot.
"A third-party animal welfare organization, American Humane, monitored the set on which animals were present and verified that no animals were harmed. No animals were harmed (AH 10629)," it says in a post. "Tigers were photographed and filmed in a separate safe environment complying to Gucci's policies and then featured within the campaign."
Watch the "Gucci Tiger" campaign below: