Meet Sanbera, a minimalist and sustainable sneaker brand from Marikina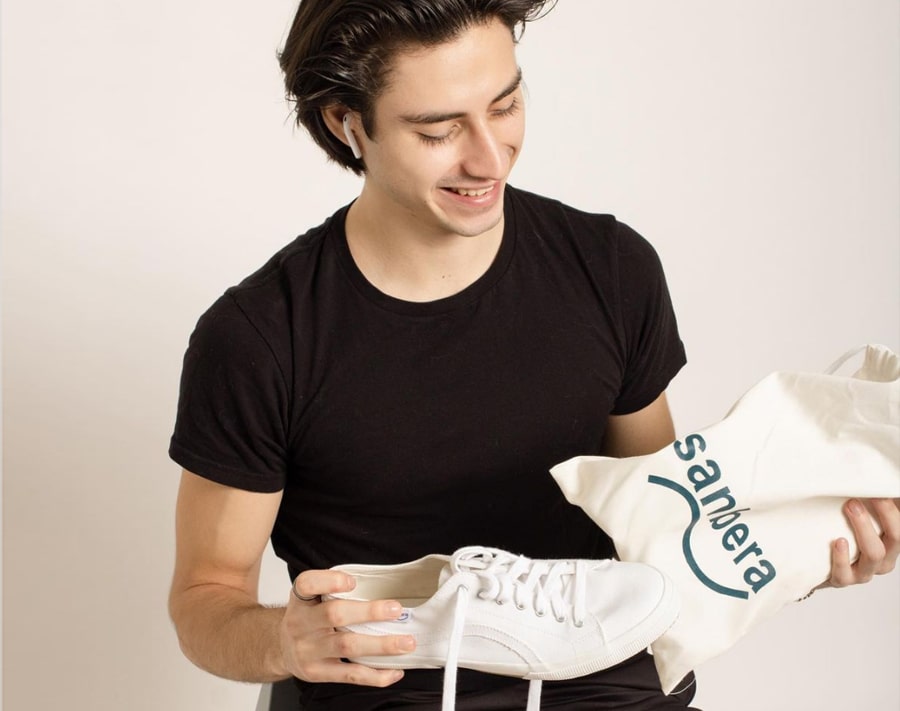 Their sneakers make good company for stylish essentials
Minimalism is one trend that we believe will forever be in style. Laidback, easy to wear, and visually-pleasing, these are few of the perks one enjoys when following the minimalist style of dressing up. In our search for minimalism, we stumbled upon a homegrown brand whose core is offering footwear that is simple, light, and sustainable. Sanbera, founded by Mikko de la Paz, is a sneaker brand which is not only simplistic, but environmentally friendly and truly Filipino.
Sanbera's sneakers sport simplified designs, monochromatic color, and what's more interesting, sustainable soles made from natural rubber and coco coir that are collected in the Philippines. "When we were at the stages of prioritizing the development of the eco-friendly characteristics of the sneakers, we were searching far and wide for local earth-friendly materials in order for us to incorporate into the sneakers," Mikko shares. "This involved approaching different suppliers and manufacturers that have the environment-friendly background in their DNA. Fortunately, we were able to find a manufacturer that understands the importance of sustainability which led to the supply for the natural rubber from Davao. Next, we were also able to create a meaningful partnership with Greenelas.ph, which was perfect because they're a business in the same industry as ours and they infuse eco-friendly materials into their products. Thus, we were also able to build on creating eco-friendly insoles as opposed to the usual polyester insole cushioning that is harmful to the environment when decomposed."
 

 

View this post on Instagram

 

 
In this exclusive, we had a chance to talk to Mikko de la Paz about Sanbera's growth as a brand and its sustainable efforts. The brand lets us in on how they want their brand to be perceived moving forward and how their name was heaven-sent.
Please share a little background about the name Sanbera.
Sanbera was named after my late mother. She passed away back in 2018. From that point on, I knew I had to do something in honor of her. During the very early stages of conceptualization, when I started brainstorming possible brand names, I came up with rough ideas like "Surreal." It was catchy at first but it was weak, and it lacked a soul or a meaning. That was when the realization popped in, this was finally my opportunity to honor my mom somehow.
I played around with her name: Bernardita San Jose de la Paz.= Honestly, it took a lot of time. After weeks of brainstorming and mixing the letters in my mom's name, I already became really frustrated and hopeless. Looking back, I was literally sitting down on my desk chair, unable to think correctly. As cliche as this may sound, out of desperation, I went on that spiritual mode, and decided to ask my mom for help from above. And honest to God, after a few minutes, I stared at her name on a Microsoft Word document in my laptop screen, and it just clicked. Sanbera!
Who designs your shoes?
I personally came up with the ideas for the design along with some help from some family members. Then afterwards, we offer the design proposal up for consultation to the Zapateria Hub, an incubator for footwear startups from Marikina that we work with. With their in-house shoe designers, they help in actually drawing up our ideas on paper. When we're already happy with the official illustration of our proposed sneaker design, they then digitize the drawing so that we get a realistic look on what the shoe could possibly look like once it's finished in the future.
Can you tell us more about the cushioning, fit, and weight of your shoes?
Not to be biased, I actually really regard the Sanbera sneakers as one of the most comfortable shoes out there, and I've owned and accumulated several canvas sneakers over the years. I'm a simple guy. As long as the sneakers are flexible to hug your feet the right way, light, and soft on the inside to make walking fun and effortless, I'm happy. And that's simply how the Sanbera sneakers are (soft insoles, gets more and more flexible overtime, and lightweight at 0.4kg per shoe). I absolutely love wearing them. Again, sorry for sounding biased, but it's true!
 

 

 

View this post on Instagram

 

 

 
Tell us more about the use of coco coir as your insoles.
Greenelas.ph is the business we partnered with for the coco coir insoles. They're a business/brand that specializes in creating and designing products such as footwear, bags, and wallets that are made out of eco-friendly materials like coconut shreds, abaca, and even grass. They actively advocate the sustainable approach when it comes to business by hosting various seminars and talk shows that touch on this particular eco-friendly subject.
They don't really harvest the coco coir themselves. They partnered with suppliers from Quezon Province that utilize coconut shreds from where they're from, and they build on their collected shreds in such a way that it could be used as cushioning for insoles. Afterwards, the coconut shreds are then shipped out to Manila wherein a group of talented PWD weavers personally stitch up the coconut shreds to the insole base to create the coco coir insoles.
What else can we expect from the brand in the near future?
We plan to expand our product line-up by introducing new footwear products to accompany our original everyday walking sneakers. Soon, maybe we'd also try to get into apparel as well. Other than that, we also hope to establish new collaborations and partnerships with different organizations that represent themselves with valuable and meaningful campaigns. There's definitely a lot to look forward to so stay tuned!
Visit Sanbera's website to order your pair.