Sunbright Intentions will ignite your love for candles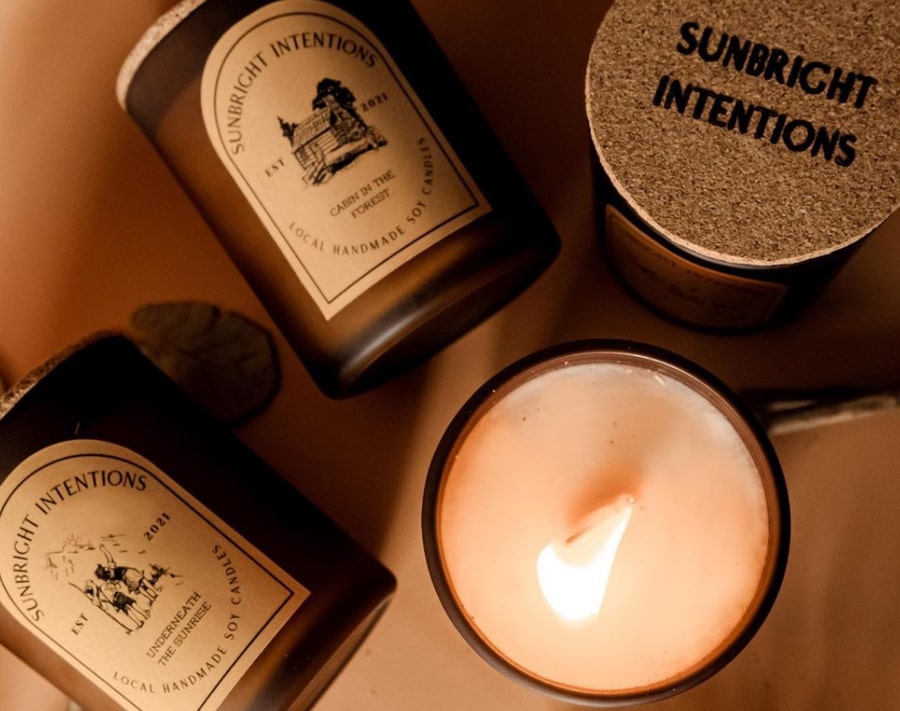 Clean sustainable candles that bring the luxurious outdoor experience
The community of candle lovers in the Philippines can be described as calm, kind of in the down low, yet warm and glowing. If you're in the process of your first burn and have just found the love for candles, this might help you start your journey right. Sunbright Intentions offers nature-inspired, sustainable, and non-toxic waxes founded by a self-confessed candle lover and now a chandler herself, Charisse Cruz.
Charisse did not plan to become a chandler but it was her love and passion for candles which gave her the courage to start a business. "I noticed I was spending way too much on candles since I moved to the Philippines and wanted to save up on the costs by making some of my own and selling the rest," shares Charisse. "I was born and raised in New York City and relocated to the Philippines with my parents so I wasn't that familiar with the candle community until I moved out of my parents' house and found a place of my own to start designing, which then started the candle hoarding addiction. It's funny because I started off as an interior designer (even took a course for it and styled a couple of spaces) but somehow ended up as a candle maker."
Charisse's own experiences growing up has inspired the brand. "All of my collections were inspired by scent memories of my childhood growing up in New York during cold yet cozy winter nights and warm and joyful summer/spring afternoons," she shares. Her candles are inspired by rustic cabins, woodland strolls, and scents focused on woodnotes which capture experiences consumed in nature.
In this exclusive, we chatted about why Sunbright Intentions is one of a kind. Charisse also shared her candle and space expertise, providing some tips for new and future candle lovers who want to elevate their space and experience luxurious outdoors even when indoors. Read through our chat below:
One of the things which hooked us with your brand is your use of vegan waxes. Can you talk more about that?
Initially I started off with 100 percent soy wax. I wanted my candles to be as safe, natural, and non-toxic as possible so I decided to go for vegan waxes. I noticed during my first batches of 100 percent natural soy wax had its imperfections. I reformulated my candles to a mix of coconut and soy wax since I've heard great things about how coconut wax performs scent and aesthetic wise.
I also believe that by sticking to vegan waxes and phthalate-free fragrance oils, it helps the candle buyer opt for the safer and natural route by burning clean and chemical-free candles within their homes, especially if they have children and pets around.
Please tell us more about your sustainability efforts.
From the boxes and labels to the wrapping, it's all made out of eco-friendly packaging. We even have note cards made out of seed paper where you can rip, water, and grow into a spinach once you receive your candles. As for the candle itself, I hand-pour each and every single candle on my own in small batches to follow the actual demand for each item produced to limit overproduction.
What tips can you share to people who aren't into candles yet?
Well, some advice I'd like to give to first-time candle buyers is to first think about where you want to put it. Personally, I'd steer clear of flowery fragrances in the kitchen, where I wouldn't use too many light aromas. On the other hand, candles with gourmand or fruity scents complemented with culinary smells may be a great addition to your kitchen. Woodsy and earthy aromas are best left in the living room or bedroom, same as floral scents.
What makes your brand standout among others in the market?
My candles weren't just made to make money, but to tell a story. A story about my life and how mother nature has nurtured me throughout the years and up until this very day. I specifically created these candles to market them off towards people who want to share the same passion I have towards the great outdoors and hopefully to entice them to be "at one with nature."
What can we expect from your next Series?
Well for Series II, it's quite different from the first. Series I evokes blends perfect for warm and cozy rainy days, while Series II is much lighter than that. It's a series perfect for someone who enjoys spring/summer scents.