Kimono robes and All Things Pretty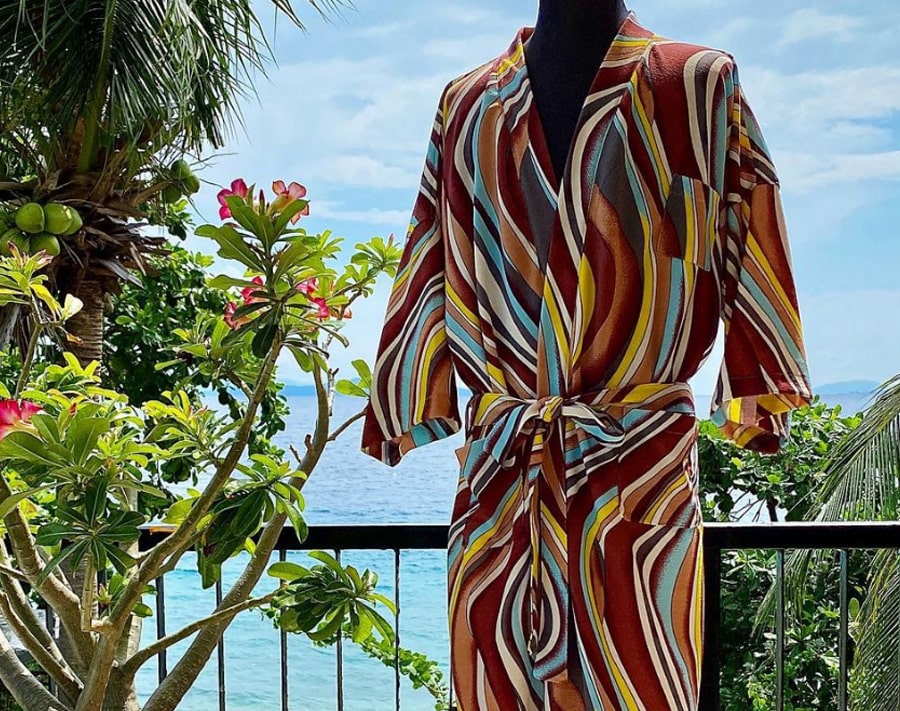 These pieces will put you on vacation mood all year round
What's your mantra in life? What are your affirmations? Do you believe in the law of attraction?
This shop we stumbled upon was built with the mantra of having and being surrounded by all things pretty. The new lifestyle brand All Things Pretty is owned by partners Eric Villanueva and James Loverio, offering goods that evoke love and positivity. "All Things Pretty is based on the law of attraction—we gravitate towards what we think and feel. It is our personal mantra. If you surround yourself with things that make you feel good, then you will feel beautiful inside and out. If you feel good about yourself and your surroundings, then you attract positivity," Eric shares.
"All Things Pretty is a local company whose introductory merchandise are bright, cheerful, and hand-made kimono robes. These unisex kimono robes are inspired by the love of travel (or the lack thereof)," expounds Eric. "My partner and I own a beach house in Batangas and we would drive there every weekend with family or friends. We would lounge all day in our swimwear and robes, cocktails on hand. Sadly, the pandemic stole that from us. We got stuck in our jammies and 'pambahay' at home for more than a year. We wanted to bring back that overall sense of feeling good by dressing up without actually dressing up. We wanted to bring that resort feel to the comforts of our own homes."
All Things Pretty's merch doesn't only brighten up the mood via its visuals but also highlights its business core in Fair Trade practices. The brand's seamstresses are from Taytay, Rizal who were laid-off by their former employers. In their support of local artisans, the duo decided to give the seamstresses livelihood through All Things Pretty.
In our exclusive chat with Eric, he shared the inspirations from their first collection, the reasons for using varied dialects as code names of robe models, as well as their plans for the incoming "Ber" months. Read through our catch-up below:
Can you walk us through the inspiration of the designs for the first collection?
The first collection is for everyone who misses traveling to the beach, lounging by the pool, or those overnight resort staycations. We wanted our designs to cater to every gender and every size.
Is there an ongoing theme for the materials used on the robes?
We wanted to feature bright florals and geometric prints to evoke the feeling of an endless summer, so that our customers can have that sense of nostalgia of resort spa trips and destination vacations even in the comfort of their homes. We also wanted to keep it stylish so they can use it as a wrap to get their deliveries from the condo lobbies, or even top it over tank tops and jeans for a quick run to the local convenience store!
View this post on Instagram
Can you also talk about the names of the robe models? What is the inspiration behind these names?
The Philippines has a long list of beautiful and meaningful words from varied dialects in different regions. We wanted to use these to evoke the feeling that we associate for each design. We associate "Siklab" or spark of passion that we associate with the red, black, and white geometric prints. Our bright yellow floral prints are most appropriate for the word "Palangga" which means "love" in Cebuano and in Ilonggo.
Your brand description says "Everyday resort wear. " Can we expect a wider range of choices in the future?
Certainly! The current collection is geared towards the colder "Ber" months. We are now at the design phase of our lighter and "airier" collection, in preparation for actual beach trips in the future, and when the lockdown hopefully eases down. Definitely things to look forward to!
What else can we expect from the brand in the future?
We are currently working on our website www.AllThingsPretty.ph, which we will be launching soon. We will also carry handpicked home accent pieces—local pottery, artwork from budding Filipino artists, and other unique locally made crafts from Filipino artisans—all things that evoke love and positivity.