Donny Pangilinan shares full-body home workout routine

One solid way to stay healthy in this pandemic is maintaining a healthy lifestyle. Although COVID-19 has put a lot of things on halt, the time in our hands has taught us how to be productive in our own ways and our own spaces.
Donny Pangilinan is no stranger to being active and doing regular exercise while having fun, and staying safe. In a Youtube post, the artist uploaded a video of how he does his workout routine while at home. Donny shared his home gym setup which includes equipment that he can use for a total body workout.
On the video, he started his workout by hydrating himself with water and reminding everyone to do so as well. He then put on a weighted vest for an added challenge when he hit the bars. Donny divided his workout in two circuit programs, which he does for about 30 mins. to one hour. Circuit one includes pull-ups, lateral raises, push-ups, and squats, while the second circuit includes bicep curls, tricep overhead extension, and sit-ups.
Circuit one
Donny started his workout with the pull-up bar doing eight to 10 repetitions per set to work out his back. For his shoulders, he started with 15 lbs of dumbbells and did 15 raises each round. He then used his body weight to do 15 push-ups on the ground, and for his legs, he started with a forty-pound weight as he did 12 squats. 
Recap:
Pull-ups: 8 to 10 reps, 3 sets
Lateral raises: 15 raises, 3 sets (weighted with 15 lbs dumbbells each arm)
Push-ups: 15 reps, 3 sets
Squats: 15 reps, 3 sets (weighted with 40-50 lbs dumbbells)
Because taking a break is as important as doing the right amount of sets and reps, Donny takes a one-minute break each round.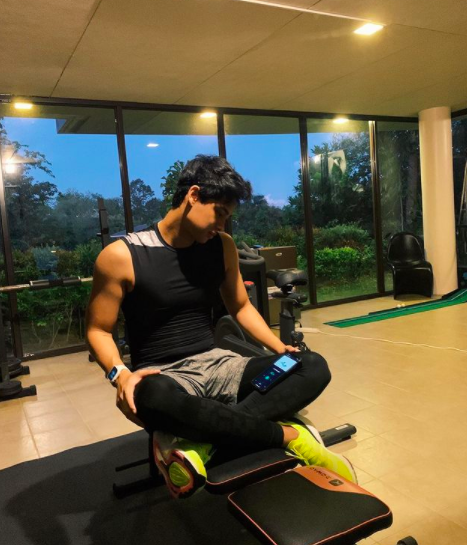 Circuit two
For the second and last circuit, Donny removed his weighted vest before proceeding with his workout for arms and abs. For the bicep curls, he added 20 lbs of dumbbells on each arm, 10 repetitions each. For the tricep overhead extension, he did 25 raises with 40 lbs dumbbells. And for the first round of sit-ups, Donny did 30 to work on his abs.
Recap:
Bicep curls: 10 reps, 3 sets with 20 lbs weights
Tricep overhead extension: 25 raises, 3 sets with up to 40 lbs of weight
Situps: 30 reps, 3 sets
Watch his full home workout routine here: