This could be the best fashion brand partnership of 2020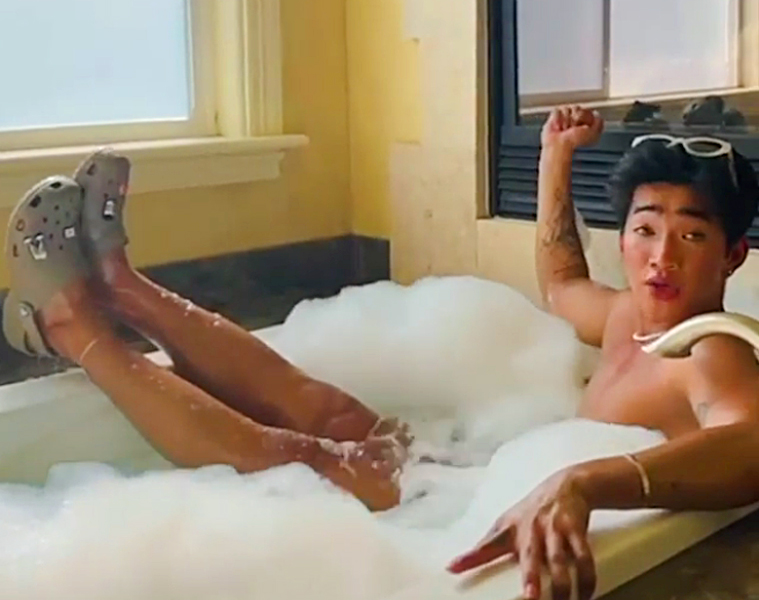 Crocs
has found the perfect and "Da Baddest" ambassador in Filipino-American social media personality
Bretman Rock
. In addition to its latest roster of ambassadors including Bollywood celebrity Priyanka Chopra and musicians Post Malone and Bad Bunny, the shoe brand engaged Bretman Rock Sacayanan (aka Bretman Rock) for their #ComeAsYouAre movement. The beauty influencer posted a video of himself wearing several models of Crocs—in true Bretman Rock style, none the less—as his daily life unfolded. The video opened up with Bretman Rock explaining how he's expected to wear the shoe brand wherever he goes, even if he's in the bath tub. An "artist" Bretman then shows up with a personalized two-toned pair of shoes from the brand while channeling his inner Picasso. Following that was a "skater" Bretman, cruising the picturesque Hawaii as the background, by wearing another set of Crocs in white and blue colorways. A series of clips came next with the influencer rocking the brand while trekking, gardening, decision making, and feeding another star he collaborated with, the famous, Blaze—all while presenting different sets of Crocs. You can see the video here:
View this post on Instagram
The shoes that he wore maybe varied, but the comments of his supporters were all saying the same thing. This is the perfect collaboration we all needed in 2020 and we couldn't agree more! "Yes! Yes! Yes! I think this might be the best partnership of 2020," fellow makeup artist
@mannymua773
commented. "The perfect ad does not exi..,"
@chanteljeffries
lamented. "I am buying whatever you're selling. Crocs here I come," said podcaster, journalist, and producer
@kirbiejohnson.
"I want the one to feed the chickens in," commented another influencer
@luyah
, as she's already biased with the tie-dye print Crocs. "Only you could do this," said athlete
@pingpongponggay.
"Okay, but why does @bretmanrock make me wanna get Crocs? I've hated them my whole life, but he makes them look cute."
@lovely.lerma
commented. There are countless people who have been swayed by this ad into actually considering buying Crocs. Let's not forget that the brand has been a big supporter of frontline workers during the pandemic. So, cheers to you!
Check their website if you're now one of us.