Quarantine Workout: Mr. World Asia Pacific JB Saliba shares fitness and pageant techniques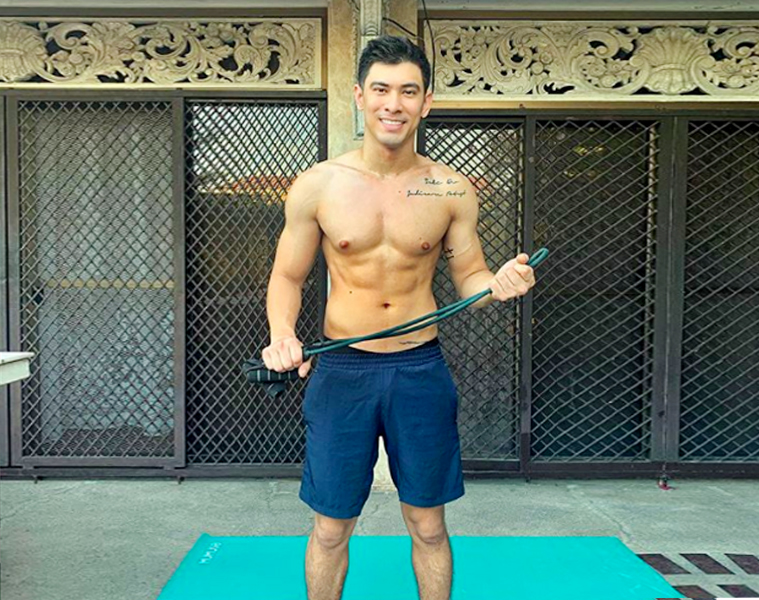 One of our greatest guards from sickness is staying healthy—may it be mind, body, or spirit. We at Garage are always looking for wellness inspiration and so we caught up with celebrities on how they keep themselves fit during this quarantine period. One of our favorite male fitspirations, JB Saliba, shares his fitness tips plus some extra pointers on male pageantry preparations.
Jody Baines Saliba, also known as JB Saliba, has been into sports and fitness all his life. It's no surprise that he played for the University of the Philippines baseball team for four years, joined television reality show Amazing Race Philippines 2, and the sports of pageantry, Mr. World. With a degree of Bachelor of Sports and Science from UP Diliman, it is only fitting we jot down notes from the sportsman himself.
How does an athlete stay fit during a pandemic? JB says consistency is key. Also, he recommends to match healthy eating with workouts made for one's body type. "Fifty (50) pushups, thirty (30) pull ups, sixty (60) leg hanging leg raises, and sets of TRX workouts" complete his daily fitness routine. Watch him a complete set of his TRX workout in this video:
Aside from fitness tips, the reigning Mr. World Asia Pacific also shares some preparatory tips for those joining pageants in the near future. "During the time when I was still preparing for pageants, my key technique was to always keep a positive mindset with a clear focus on my end goal," he says. "One must plan everything step by step. If I would have to do preparations again during this time with the lockdown, I will make good use of the time to be productive: focusing on my diet, maintaining regular workouts, studying current and past events or news. I would also mentally prepare myself to remain positive because competitions command a clear mindset. When your mind is ready, everything else easily follows."
https://www.instagram.com/p/B-MKBPWnqiM/
When asked about the most valuable lesson from the pandemic, JB answers: "What I've learned during this COVID-19 pandemic is to be patient and selfless. We have to trust the process, stay home, keep distance, and follow protocols. There are a lot of people asking for help and we should look at this as an opportunity to extend compassion and kindness to other people. We are all in this together and we should strengthen our faith that God is with us always."