Find fitspiration with these athletes' creative home workouts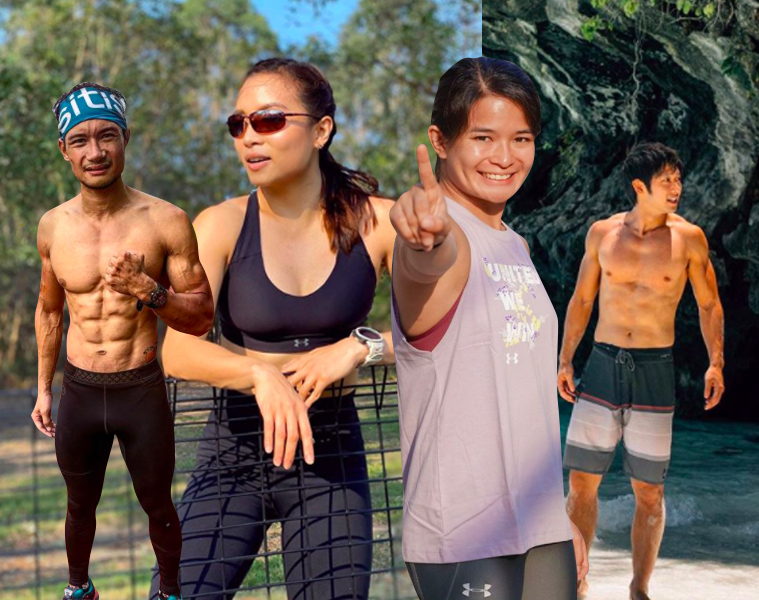 For these athletes, exercise is not just for amusement. It's a lifestyle. Have you ever wondered how they keep up now that everyone is on lockdown? Yup, you guessed right, these fitness buffs won't let getting held up in the house get in the way of being fit. They simply get creative, using whatever they can find at home to create effective routines.
Check out these home routines that some athletes have shared:
https://www.instagram.com/p/B95Y-Rcgkv0/
Obstacle Course Racing athlete, Mike Jiang demonstrates how explosive burpees can be done. He combines burpees with lunges, squats, and jumps to form a full-body workout. His dynamic routine not only works most major muscle groups, but it also improves cardiovascular health. Since Jiang's routine involves a lot of dynamic movements, make sure to wear clothing that doesn't restrict mobility, wear snug training shoes, and perform the exercises on a stable, non-slippery surface.
https://www.instagram.com/p/B-Cb3wzlnpK/
If you're looking for a cardio buddy, here's fitness instructor Lexi Noval to guide you through a cardio with a twist! The OCR athlete amps up the workout with resistance bands. Similar to weights, these nifty tools provide external resistance that your muscles have to fight against, leveling up otherwise simple moves. You'll feel the difference as you follow Noval's lunges, push-ups, squats, and burpees, all amped up with resistance bands. As with Jiang's routine, Noval's also involves dynamic movements, so wear comfortable workout gear and make sure your exercise space is safe.
https://www.instagram.com/p/B-Q5R8plQ0e/
Do you miss kettlebell workouts in the gym? Here's strength and conditioning coach, Gabb Rosario substituting kettlebell with a similar weight and item, a water container. Rosario's simple routine also involves using a stable bench for box jumps and rows. Capping the 4-step routine is the plyo push-up.
https://www.instagram.com/p/B-mCAoMHhZE/
Philippine National Athlete for Brazilian Jiu-jitsu Meggie Ochoa demos how to power up the core with just a yoga mat and a good workout space. You can strengthen your core with toe touches, two-inch leg raises, Russian twists, and planks with heel raises. Try to push for three sets, doing as many reps as possible per exercise within forty-five seconds.
Whether it's chest or leg day, you can definitely find a workout to follow from these athletes. You can find more creative workouts in the respective fitness personalities' Instagram pages, as well as in the official Under Armour Philippines Instagram page. Together with these Under Armour Ambassadors, let's power #ThroughThisTogether and move forward with confidence and strength as we fight against COVID-19.
For more home workouts and fitness inspiration, you can follow Under Armour on Instagram.