A young Filipino fashion design duo is making waves at the Palais de Tokyo exhibit in Paris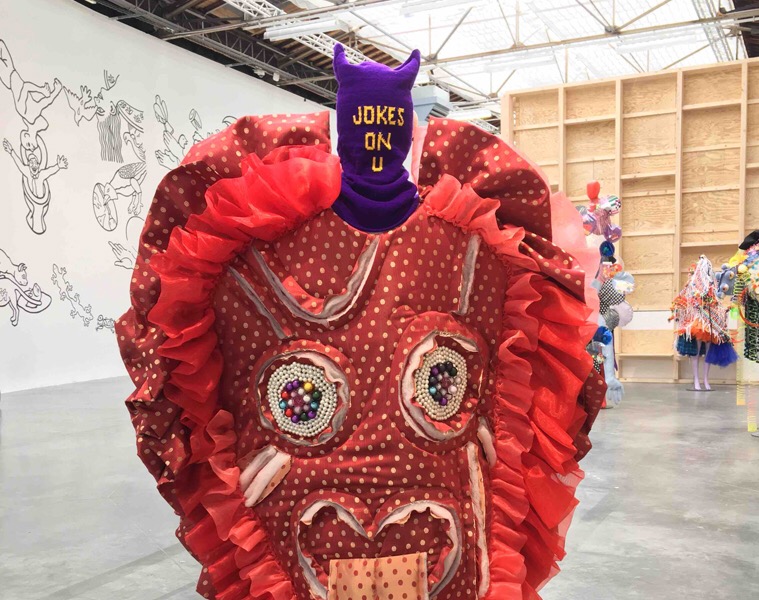 ḢA.MÜ is making their mommas proud as they step into the international scene with their newest collection "Mama, Mama! I feel quaint," currently on display at the City Prince/sses exhibition at Palais de Tokyo in Paris, France.
The exhibition, which runs until September 8, features visual artists, creators, fashion designers, and musicians from third-world metropolitans (Dhaka, Lagos, Mexico City, Tehran, and Manila) to create an imaginary, creative laboratory of a city that is free of borders and geographical grouping, ever-growing and ever-creating. Presented using the genderless term "Prince-sse-s des Villes," the exhibit has tapped artists who can be likened to next-in-line royals with the way they express the DNA of the social systems of the cities they belong to.
ḢA.MÜ, which is formed by Abraham Guardian and Mamuro Oki, was invited to meet with the exhibit curators sometime during the last quarter of 2018. "We were approached by Fabien Danesi and Hugo Vitrani, curators from Palais de Tokyo, through Instagram, and they were setting up an appointment to visit us at our workspace [for] when they [would go to] Manila," the duo shared in an exclusive email interview with Garage. "They came by shortly after to discuss what they would like us to present based on the old works we presented to them." The curators then pitched the young designers to the rest of the Palais de Tokyo team, and it wasn't long before ḢA.MÜ received the confirmation that they were selected to be part of the exhibition.
"The 'Mama, Mama! I feel quaint' collection talks about emotions that are in limbo, of not feeling neither joy nor sadness," ḢA.MÜ described. Feelings that are "just there" but cannot be labeled or even pinpointed were turned into tangible forms and fitted on deconstructed mannequins: Corded tubes are bound together and hemmed by tulle, oversized hand-shaped textiles hover at the sides and the skirt trail, and cotton-filled tubular pieces collectively envelope a mannequin with a huge round piece for a head. It's a collection that isn't only avant-garde but also evocative. "These are emotions that you do not normally talk about. Some emotions are better left unsaid and untouched, because they either go away [on their own] or just get chucked away in the corners of your mind."
Representation of these emotions were done through unbound silhouettes and the liberal use of textures. Given that wearability was never a criterion for the exhibition, ḢA.MÜ had the freedom to do as much fabric manipulation and sculpturing that they wanted, which comprise a huge chunk of the technicality of their work.
For a week and a half since the exhibition opened, their creations have received an overwhelmingly positive response from exhibit-goers. One in particular came from a fashion student who reminded Guardian and Oki of how they were just few years back. "She was sharing with us [how] she felt that our minds were not placed in an area where we were restricted from moving. She sensed the freedom of being able to think without any boundaries, and she felt inspired with the way we think."
Within a short period of time of being exposed to other artists from around the world, ḢA.MÜ has resonated with a key point that they want to carry into their future works: sincerity in their art and craft. "People can sense the authenticity in your works if you follow your own voice and direction," they shared.
Upon their return to Manila, the design duo plans to work on an RTW version of their sculptural works, plus a diffusion line of shoes and office-friendly pieces. But their flight home is still some 140 days away. For now, the designers are just enjoying the exposure they get from the international stage, and putting their work out for more people to see.
As for staging a Manila leg of their "Mama, Mama! I feel quaint" presentation, the designers remain open to the possibility. "If given the opportunity to do so, why not?" It's the best answer for breaking any limitation.
All photos from ḢA.MÜ.