What fresh-from-the-runway looks should the all new F4 sport?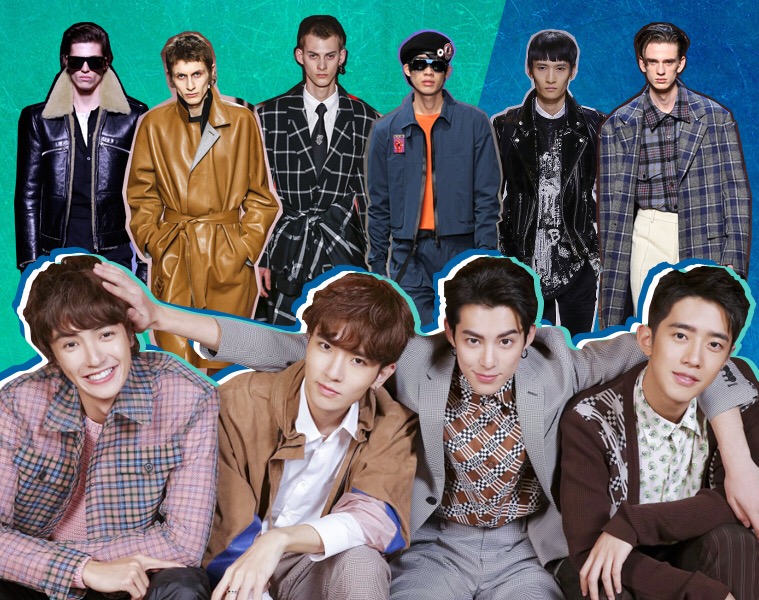 From Jerry Yan's and Vanness Wu's hairdos to Lee Min-Ho's dapper fashion sense, Meteor Garden's F4 undeniably influenced the modern youth's style back when the Taiwanese drama was first released in the summer of 2001.
So as a way to welcome Netflix's 2018 Chinese remake of Meteor Garden, let's do a run-through of the Fall 2019-inspired styles that F4 version 2.0 could rock as they turn San Cai's life upside-down with their mind games, jokes, and pranks.
Dylan Wang as Dao Ming Si
https://www.instagram.com/p/Bi4trRqAVzf/?hl=en&taken-by=itsdylanwang
For the F4 leader, Dao Ming Si being as hot and hard-headed as he is, we think the rebel vibe of a plaid suit, well, suits him. Throw on some layers, preferably of a similar color palette but in different proportions, and he's ready to get that preppy bad boy vibe going.
Long, Shearling-trimmed jackets could warm his cold, little heart as well.
Darren Chen as Hua Ze Lei
https://www.instagram.com/p/Bk-q-QblPRx/?hl=en&taken-by=kuanhung_
For the nicest guy in the group, we're giving Hua Ze Lei something muted and more laid-back: tailored pieces in warm brown tones fit his personality.
Connor Leong as Feng Mei Zuo
https://www.instagram.com/p/BkETOh6n5Rv/?hl=en&taken-by=connorleongph
The jokester of the group, the lively, fun-loving, and adventurous Feng Mei Zuo will look best in the more outrageous colors, shapes, and structures from the Fall 2018 runways. As he's the one most likely to rock sportswear off-work, we're adding some tracksuits and bling to the mix too.
Ceasar Wu as Xi Men Yan
https://www.instagram.com/p/Bk90DColcp_/?taken-by=caesarwuonly
For someone who only dates girls for a maximum of one week, we give this player leather, leather, and more leather. Given how fast he goes through girls, a biker jacket would be the perfect signal of how Xi Men Yan puts his dating life on the fast lane.
Catch the new Meteor Garden on ABS-CBN.
All runway images via Indigital.tv.