Was Harry Styles's recent "Medicine" performance his way of revealing his sexual preference?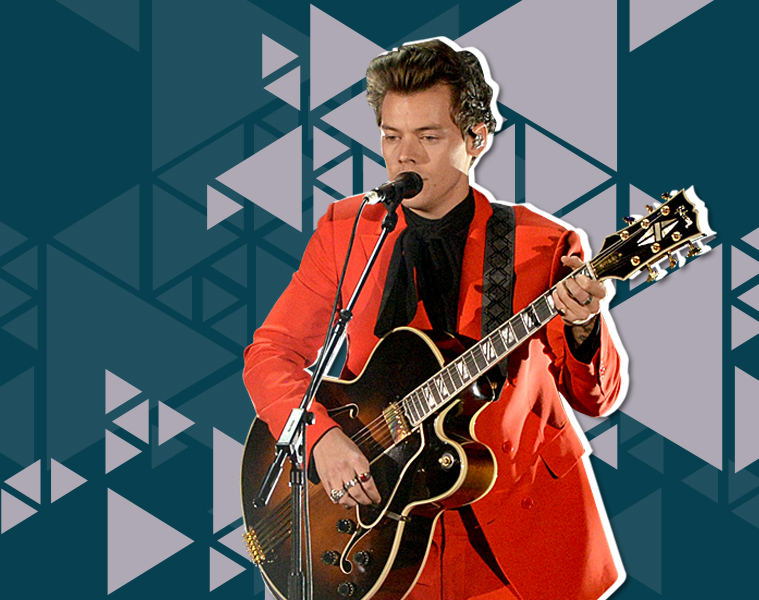 The boys and the girls are here/ I mess around a bit/ And I'm okay with it. 
These are the lyrics from Harry Styles's unreleased track "Medicine," which he performed last Tuesday, March 12, during the Paris stop of his ongoing solo tour. Something got tweaked, though, during the performance, with Styles singing "I mess around with him/ And I'm okay with it."
A fan took a video of the performance, and as soon as it hit Twitter, the internet broke. Or maybe just shook. Either way, the Twitterverse freaked out over Styles's lyrics and called "Medicine" the National Bi Anthem.
Was it the meds speaking? Or was it the adrenaline Styles probably felt while performing live? Is he going into another direction (again)? Or is it just an artistic choice he made spontaneously to help more fans relate to the song, and that the lyric changes aren't really autobiographical? Who knows? Whatever the reason behind them, the tweaked lyrics got people buzzing and revisiting the Larry Stylinson theory that Styles and Louis Tomlinson are actually in love and secretly together.
Styles, as per his style, has kept quiet about the performance.
Here were some of the reactions to the new "Medicine" lyrics:
The lyrics of Medicine by @Harry_Styles have me 🤪😵🤑

— troye (@troyesivan) March 13, 2018
Harry fucking Styles really is out here screaming the lyrics "The boys and girls are here, I mess around a bit, and I'm okay with it." Medicine is a bisexual anthem and we really out here loving a queer man pic.twitter.com/rwDpUvCByn

— trinity ☁️ (@yup_trinity) March 14, 2018
https://twitter.com/KingHSUpdates/status/974404666313277440
Fans react to Harry Styles' new song "Medicine" & call it a "bisexual anthem" https://t.co/eFjgZFW4AX pic.twitter.com/lUJnLSbNoE

— billboard (@billboard) March 15, 2018
https://twitter.com/NextToYouFool/status/974403321137192965
https://twitter.com/larryareathome/status/974328523052802048
https://twitter.com/OfficialWith1D/status/974022634303361025
So today:

-Harry snatched a rainbow flag during IICF 🌈
-Harry's trembled voice during IICF
-rainbow lights during Two Ghosts
-"i mess around with him" in Medicine
-Harry's gray sparkled YSL suit

— Nica (@7Osharry) March 13, 2018
Header art by Polaries Zamora