Workouts we tried that we loved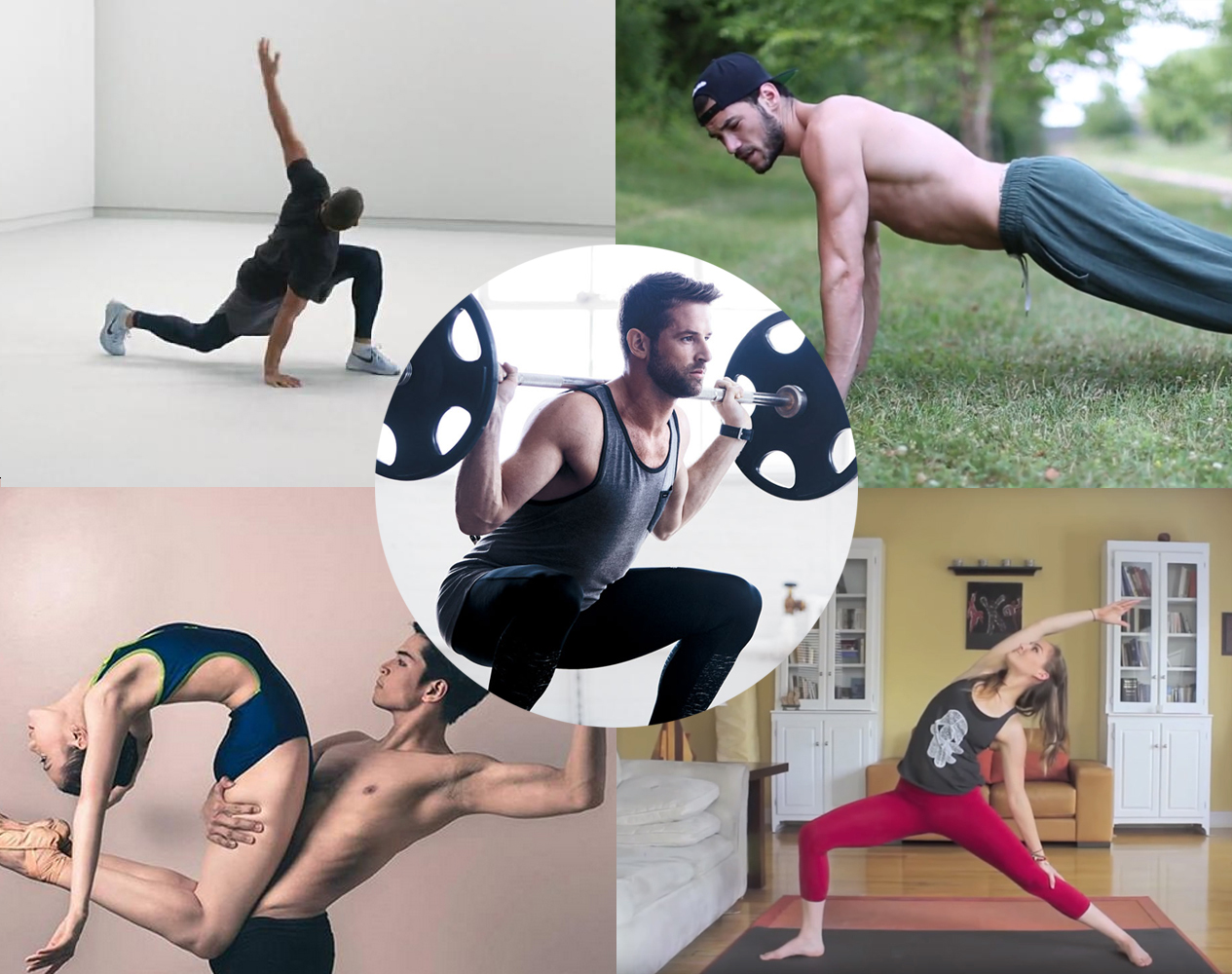 It's been more than a week since we rang 2018 in, and while "getting fit" probably remains the top resolution that people make every start of a new year, we'd rather focus on continuing the fitness stuff that we've been doing since last year.
For one, that means we don't start at zero—always the hard part in doing anything—and two, something about them works for us, not just physically but also mentally.
So whether you're thinking of easing into exercising with something slower-paced, or you plan to go from zero to 60 for maximum cardio burn, you might find something interesting enough to try among these workouts that we've tried and definitely loved.
Since I'm anatomically challenged in the glutes area, I've been wanting to get a bigger junk in my trunk. My solution has been to add squats to my workout since late last year.
When I first tried the deep back barbell squat routine, I had the help of a machine to assist me. Now, with a more developed lower body and other muscle groups that support my glutes, I can perform 4 sets of 15 repetitions, with more barbell weight added with each rep. Pro tips I've gotten from trainers are to move slowly, go deep, and keep the knees behind the toes.
This exercise, just like any other, brings the risk for injuries, so you better have the correct form first before performing a squat. If you're a beginner, just use your body weight first. And if you do this consistently, after a while, you'll notice you're filling those jeans quite nicely. -Rey Ilagan, editor-in-chief
I've been taking 60-minute adult ballet classes thrice a week for three months now at Ballet Manila, and while I was really clueless in the beginning about the terms and the proper positions, I had no illusions about how physically taxing and exacting this dance form is. As graceful as their grand jetés and fouettés ronde de jambe en tournant are, I knew ballerinas and danseurs weren't born with the capacity to defy gravity. At most, they were born flexible, with a 180° turnout and hyperextended knees, but the delicacy and fluidity in their movements are built on strong, solid muscles and years of sweating it out at the barre and in the studio. Even dudes who eat CrossFit for breakfast admit that ballet training is no walk in the park.
The good news, though, is that ballet not impossible to learn—difficult, yes, but not impossible. And while my turnout, arm-leg coordination, leg extensions, back bends, and pirouettes still leave a lot to be desired, I'm already feeling the benefits that a ballet workout can give even the most inflexible person: a better sense of balance, a straighter posture, stronger yet leaner muscles—especially in the legs—and, most important, the quiet kind of confidence that only discipline can impart. (Oh yeah, I've also lost around five pounds since I started. Not much, but my clothes fit me better than ever.)
Even getting the demi-plie right can already yield results. As ballet's foundational move, it is executed at the start (at the barre), multiple times during, and at the end (when doing a bow) of every ballet class. Although it seems not much more than bending the knees (as they point to the sides) without lifting the heels off the floor, this movement warms up the muscles and joints of the lower body, develops their flexibility, and prepares them for those leaps and turns that make mere mortals envious of dancers. It is also what cushions ballerinas and danseurs as they come back down to earth, the transition that propels them towards the next step in the choreography.
https://www.youtube.com/watch?v=91tFo2snJkQ&t=9s
Deceivingly simple-looking, the demi-plie calls for total mental engagement. By focusing on pushing the floor down with all the corners of the feet (instead of simply bending the knees), you activate your leg and thigh muscles. By imagining the tailbone pointing straight down, you engage your glutes to keep them from sticking out. By remembering to keep the hips squared to the front and the knees tracking over your toes, you work on turning out your legs from the hip sockets. By being mindful of keeping a straight back, you engage your lats (shoulder blades) to keep your chest open and shoulders wide and even, but without the ribs protruding. And all these are done with awareness and control; the graceful counting that the teacher gives in time with the music provides no leeway for cheating on your form.
Some might feel that a beginner ballet class might be too slow for their taste, especially those looking for a quick cardio blast. But understanding proper form is fundamental to this dance, and you end every class feeling the work that your muscles have put in.  – September Grace Mahino, executive editor
Ballet Manila's adult ballet classes are offered in its Pasay and Quezon City studios: 1915 Donada St., Pasay City, and 4F Fisher Mall, Quezon Avenue, Quezon City.
I've been using the Nike Training Club app since the latter part of 2017, and it has exceeded my expectations of a workout app. While most of what I had used before assume that users already know all types of exercises there are in the book, the NTC app shows you the proper form and execution of every exercise you are to perform with a short clip that you can watch before starting the routine. Watching the preview helps because once you start the actual workout set, you won't get much time to learn how to do dynamic runner lunges properly or how to go from downward dog to mountain pose with ease. Besides, you would want to maximize the 10-second breaks in between the exercises to breathe; throughout a routine, the app will tell you when to start a new set and when to pause for a break.
Out of all the routines I have tried in the app, I specifically like the 15-minute Extend Your Range one that focuses on core stability and mobility. This routine will have you stretching your arms and legs and flexing your core to widen your range of movement; below is a video of one of my favorite exercises featured in it. The preview clips of the exercises involved plus an audio guide will tell you which muscles to engage and how to engage them properly to make the most out of the workout. Most important, the guide reminds you to go at your own pace, which allows beginners like me to be comfortable with my body's limits and to enjoy the workout while I sweat it out. – Yzza Hablado, style assistant
The Nike Training Club app is available for free on iTunes and Google Play.
I've had "go to the gym" as my New Year's resolution for maybe 10 years now, but I've also been too lazy to follow through with it; though I had enrolled at a gym last year, I went there for only a couple of months. I could blame this on the lack of a gym buddy, but the truth is I'm the only one to blame. I know I should be eating healthier and moving around more, but my bed always gets the best of me.
My weight fluctuates throughout the year, depending on my willpower. When I want to lose weight—such as when I'm about to go on a trip, especially to the beach—I try to eat less and do more push-ups and curl-ups to look good for the 'gram. This year, I'm going to be more faithful to and consistent with this routine and do it at least three times a week.
To get me motivated, I blast loud music first to get me in the mood; Britney Spear's Work B*tch does the trick. Then I switch between push-ups, curl-ups, and squats: at least 75 reps of push-ups to target the chest and the arms, and 75 reps of curl-ups to target my one-pack ab. When it comes to squats, I try to do at least 50 reps while holding 10-lb. weights. It may not sound like a lot, but I also do some dancing on the side so I'd sweat more.
I've also avoided eating rice except when it's paired with pork. In combination with my workout, which I've been doing consistently for the past few months, I've found the formula that has had me cinching and punching an extra hole on my belt so it'd hold up my pants. – Jerico Villamonte, style and grooming editor 
 I stumbled upon Erin Motz's (aka Bad Yogi) The Original Yoga Challenge while browsing YouTube in search of an alternative to paid yoga classes. After practicing Bikram Yoga for almost five years, four days a week, I assumed (wrongly) that her 15-minute classes would be easy-peasy. My arms were shaking and aching when I tried to hold a proper downward dog for more than 10 seconds—and that was just the first day!
The Original Yoga Challenge is a great introduction to yoga as it covers different poses and touches on all parts of the body, with a couple of classes on relaxation and meditation thrown in. The best part is that while the classes aren't that long, they're challenging enough to make you sweat. It's also an easy way to motivate you to get off your butt for at least 30 days.
I've done the challenge twice over and eventually moved on to other online yoga classes (including Motz's more challenging Perfect Body Yoga Program), but sometimes I find myself going back to the original videos when I need a quick pick-me-up or I have to stretch achy body parts. – Didy Evangelista, features editor