The monthly round-up: It feels like Christmas already this September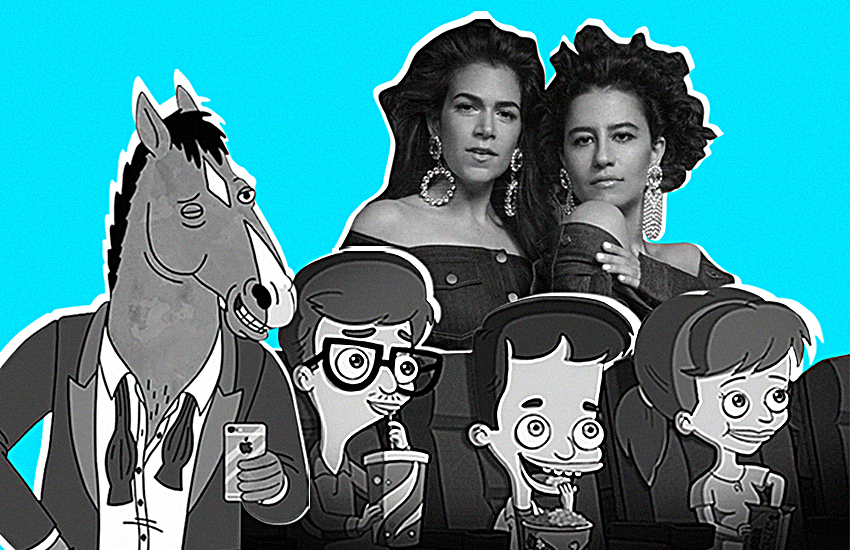 BoJack Horseman season four
September 8|Netflix
"BoJack is the worst" is the running joke narrative in this darkly funny Netflix series about a '90s sitcom star who's making a bid for relevancy again 20 years later. BoJack Horseman can be an acquired taste for some because of its strange premise — a half-man, half-horse as the titular character living in a world of humans and other fellow anthropomorphic animals — and especially since it doesn't shy away from tackling celebrity culture, drug abuse, anxiety and the entertainment industry as a whole. But it rewards well those who brave its PG-unfriendly packaging.
For its new season, we get to see how BoJack rises from the absolute low of being responsible for his former co-star, child-actress-turned-teen-pop-sensation Sarah Lynne's fatal overdose. Based on this (deceptively?) upbeat-sounding trailer, though, it seems he's bailed on everyone:
https://www.youtube.com/watch?v=Bf12qwPWDVI
As a refresher for how crazy funny and good season three was, see the intersection of abortion/women's rights with celebrity culture in this catchy-as-hell song from the "Brrap Brrap Pew Pew" episode:
https://www.youtube.com/watch?v=k3MKSqUTr-A
---
Broad City season four
September 13|Comedy Central
It's been too long since we saw the last of Abbi and Ilana's tactics, but they're finally back this month. And it seems Trump's America isn't gonna cramp their hustle.
What we've spotted: A road trip. An acid(?) trip. Some origin stories. Shania Twain. RuPaul. Steve Buscemi. Wanda Sykes. Diane Keaton. Bingo Bronson.
Broad City stars and creators Abbi Jacobson and Ilana Glazer have revealed that they wrote the show's fourth season after the November US presidential election — the result of which was a bummer, to put it mildly, given how openly pro-Hillary Clinton the two comediennes are; the former FLOTUS even had a guest appearance in the show's third season. "The clarity of the election, it solidified all these messages that we were talking about before," Glazer has said in an interview with USA Today. "If you're going to talk about it, you've got to clearly state your beliefs about where you stand politically. Our message is heightened and crystallized this year."  There's no doubt that Broad City is able to go political without losing the hysterical, as the bleeped-out mention of Trump in the trailer indicates.
---
Strong Island
September 15|Netflix
With a 100 percent rating on Rotten Tomatoes (as of press time), this new crime documentary from Netflix is a strong follow-up to the heartbreaking The Keepers. A film about a black man who became the prime suspect in his own murder, Strong Island made its premiere at the Sundance Film Festival in January and is finally making its small screen debut this month.
In 1992, 24-year-old William Ford, Jr., a teacher who was training to become a corrections officer, was killed by a 19-year-old white mechanic named Mark Reilly over a car repair-related dispute. Though Ford was unarmed during their altercation, Reilly claimed self-defense, and an all-white Grand Jury blocked the case from going to trial. With this heartbreaking case as the heart of the documentary, director Yance Ford, who is the victim's transgender brother, draws a bigger picture of racism as experienced by the Ford family through the decades, from the racial segregation of the Jim Crow era to the complicity of silence that the justice system is steeped in when it comes to cases involving black victims.
---
Foo Fighters, Concrete and Gold
September 15
For their first studio record in three years, the Foo Fighters called on some heavy-duty music artists to jam with them: Sir Paul McCartney, Boyz II Men's Shawn Stockman, The Kills' Alison Mosshart, and what frontman Dave Grohl has described as "probably the biggest pop star in the world." Nope, not Taylor Swift; during a Sydney performance, Grohl had slipped and referred to this secret superstar as a "he," so it could be Justin Bieber. Which isn't much better, but all right. We're still getting new Foo music, and that's all that matters.
---
Mother!
September 15|Local cinemas
It's hard to get what's supposed to be happening in this trailer, and Mother! director Darren Aronofsky likes not to say much about the story too. As he told Vulture's Abraham Riesman before an exclusive screening last month, "Most people, after they see the film, they don't even wanna look at me." (All four people who were invited to the said screening had to sign non-disclosure agreements beforehand.) "It's a cruise missile shooting into a wall, this film…I want audiences to be prepared for that and prepped that it's a very intense ride." It's hard to be prepared when so much about this movie is shrouded in secrecy — we know more about Aronofsky's relationship with Mother! lead actress Jennifer Lawrence, for god's sake — but fine, let's try. Lawrence and Javier Bardem are a couple living in a house. They receive visitors, including the fabulous Michelle Pfeiffer. Then weird and scary sh*t happens. Is there a cult invading their home? Are there people hiding within the walls? And why hasn't Pfeiffer aged at all? Who the f*ck knows? The only thing obvious is that this movie won't be a comedy.
---
Kingsman: The Golden Circle
September 20|Local cinemas
Criminal mastermind Poppy (Julianne Moore) destroys the Kingsman's HQ, forcing the surviving Kingsman — Eggsy (Taron Egerton), Merlin (Mark Strong), and Roxy (Sophie Cookson) — to join forces with their American counterpart, the Statesman: Tequila (Channing Tatum), Ginger (Halle Berry), and Jack Daniels (Pedro Pascal). Hijinks issue. Also, the fact that they refuse to be referred to collectively and more appropriately as Kingsmen and Statesmen continues to irk. The first Kingsman subtly tackled the issues of class and tradition vs. adaptation, so it'd be interesting to see what other social issues will be injected into this fun franchise.
---
Big Mouth
September 29|Netflix
Anyone who claims to have had a charmed adolescence is a liar. On top of Judy Blume Young Adult titles and classics such as As Told By Ginger, we're throwing in the upcoming Big Mouth as evidence. Co-created by comedian Nick Kroll and writers Andrew Goldberg, Mark Levin, and Jennifer Flackett, this new 10-episode animated series is based on Kroll's and Goldberg's teenage years and that treacherous stretch between childhood and adulthood, where hormone monsters lie in wait to wreck every kid's innocence.
Aside from Kroll who's voicing his animated teenage version, comedians John Mulaney, Maya Rudolph, Jason Mantzoukas, Jordan Peele, Jenny Slate, and Jessi Klein also lend their voices to the characters.
Header image by Pol Aries Zamora.