Must visit: Blocleaf Café is the Filipino specialty coffee shop Malate residents have long been waiting for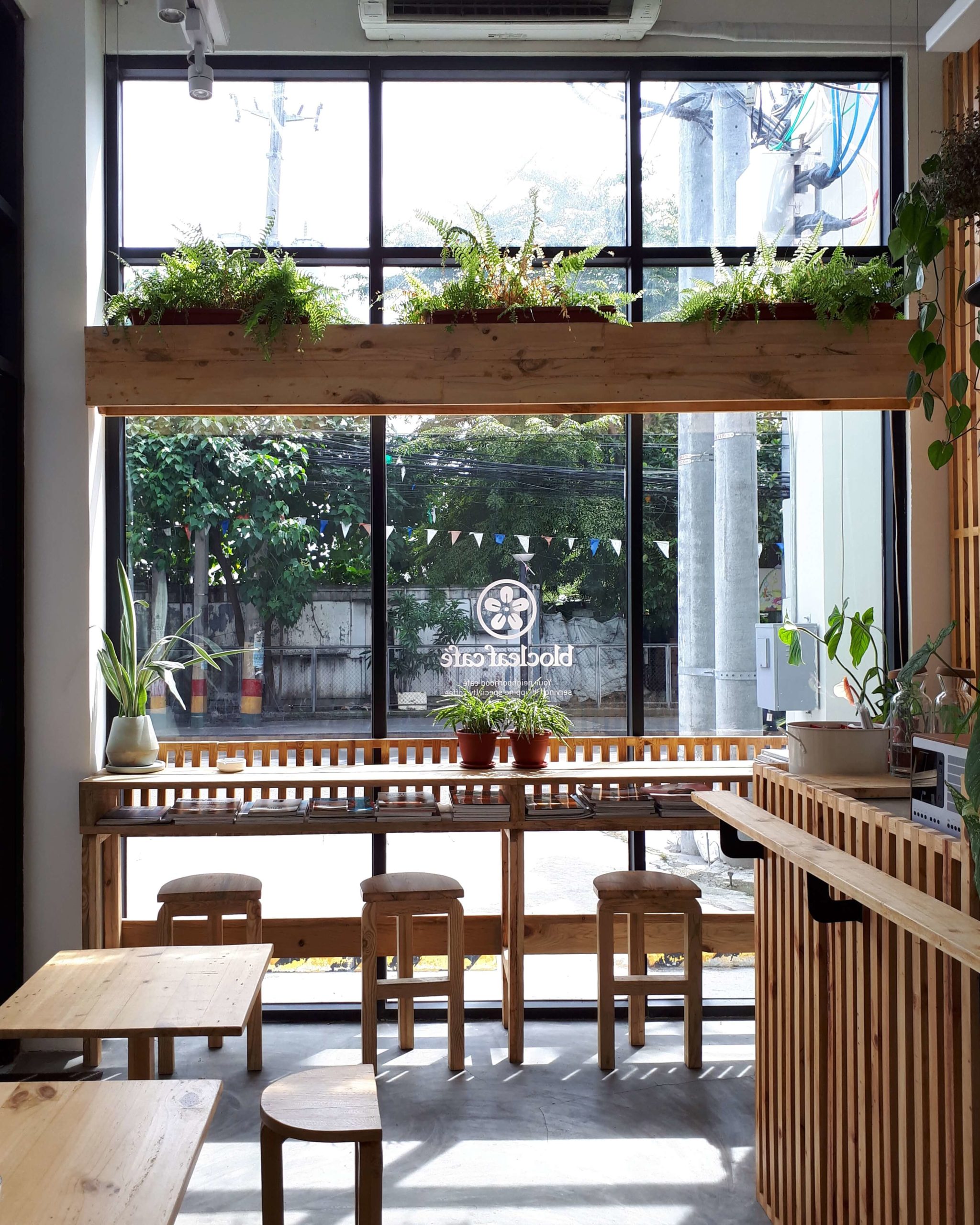 There's a dearth of specialty coffee shops in the Manila area, and we've sort of given up hope that more enterprising spirits would take a chance in any of the city's districts to offer residents something other than franchise coffee chains and too twee/too noisy Korean cafés.
And then we stumbled upon Blocleaf Café.
Around only 20 (or 25) sq.m. big, it's bright and cozy, an oasis of light, calmness, and chill music in the midst of Malate district's chaos. It's very accessible too, located right beside the Hop Inn Hotel along Del Pilar Street, just a block away from Roxas Boulevard.
The café is the first food and beverage business for the people behind the team, each of whom comes to the table with their respective expertise: Vince Africa and Reymart Cerin are the founders of the design group Public School Manila, while Bea Jalbuena and Beryll Hong know their way around tea and its rich variety, sourcing for new brews whenever they're abroad.
First, the design: "We were aiming for a contemporary look, with a hint of Asian," Africa explains the café's interiors. Playing off on the natural light streaming in through the floor-to-ceiling windows are the pinewood furniture pieces that were designed by Public School in collaboration with Fabricca Manila. Aside from subtly bouncing off light, their linear design also creates slats that allow the sunlight to create patterns on the concrete floor. There are also plenty of indoor plants to keep the interiors feeling fresh, with ferns both potted and hanging creating the sensation of the outdoors creeping in.
But while the appealing design of the place is the eye-catching factor, Blocleaf Café is proud to serve good coffee made from Philippine-grown beans and honest food that's full of Filipino flavor. "We partnered with Kalsada Coffee in sourcing our coffee beans, because we believe and admire the work that they do with our local coffee farmers," says Cerin. "We want to help in their effort to bring Philippine coffee to a bigger market."
As they're yet to reach their second month of soft opening, Blocleaf Café is still working on developing a signature brew. The drinks menu, however, already has plenty of items to choose from, such as the classic latte and mocha, served either hot or iced, and the brewed teas courtesy of Jalbuena's travel finds; already a favorite is their refreshing Thai tea latte.
Cerin notes that guests, in particular foreigners, have been pleasantly surprised by the fullness of flavors of Filipino brews. "They've described our local coffee as sweet. And it's a natural sweetness, not due to any added sugar. They're pleasantly surprised that the Philippines can grow its own coffee."
As for their food, the team relied on enterprising friends who can cook up dishes that are tasty and comforting to the palate. We recommend their ham and cheese panini, which uses three kinds of cheese, and the longganisa pasta that's blessedly not too oily, with the longganisa meat just slightly sweet. Because the food is prepared in the café's minuscule kitchen, Cerin admits that there have been times when a recipe has to be tweaked based on the available supply. "But that also helps us 'customize' some of the guests' orders, like if they'd rather have an all-veggie panini."
Of course, no self-respecting coffee shop would forego having a desserts menu, and Blocleaf Café has a modest but great pastries selection. On top of their homebaked specialty cookies and cheesecakes, Blocleaf Café features a seasonal cake every month or so, based on the ingredients that their baker can find. Currently, there's the creamy no-bake ube cheesecake, its crust mixed with desiccated coconut strips for more flavor and texture–and it's really good.
Del Pilar Street as a location of choice for a specialty coffee shop seems like a weird business decision, but the team behind Blocleaf Café is sure of their vision. "There is a market here, whether it's guests from the surrounding hotels or the people in the neighborhood who want to experience something new," Hong, also a Manila resident, says. "It just needs to be tapped."
Blocleaf Café is at 1850 M. H. Del Pilar St., Malate, Manila. It's open from Sunday to Thursday, from 8 to 9 pm, and from Friday to Saturday, from 8 to 10 pm.

Photographer: Pol Aries Zamora
Save
Save
Save
Save
Save
Save