The week that was in style: July 9-15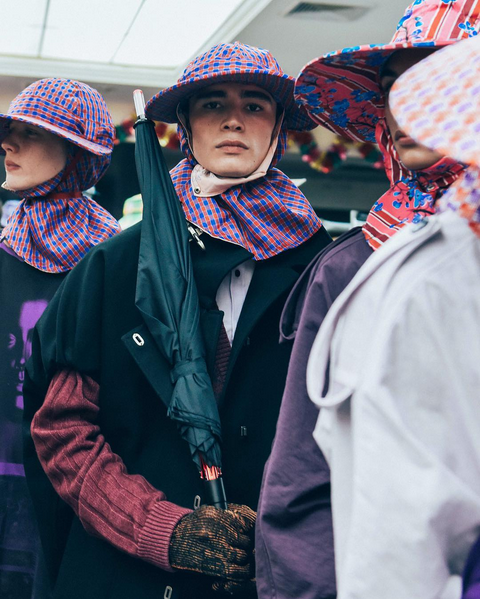 NIKE LAUNCHES THE NIKE AIR VAPORMAX
July 10
Nike introduces the Nike Air VaporMax, a new sneaker that allows athletes to move more easily with a pure air cushion. It combines the brand's two features—The FlyKnit and Nike Air—removing the barriers between air and foot and making running easier. Designed to provide maximum cushioning and protection, the new sneaker provides a soft, bouncy feel that's durable and unchanging. The Nike VaporMax is available for Php9,445 at select Nike stores and at Commonwealth Philippines.
https://www.instagram.com/p/BWNBxEXFe03/?taken-by=nikevapormax
THE NEW BALANCE 574 GETS A MAKEOVER
July 10
New Balance has given its 574 sneaker a sleek update—say hello to the new 574 Sport. It has a more streamlined silhouette, which bridges the gap between classic performance gear and urban styling, especially with the use of new colors navy, gray, and black. The new sneaker also raises the game, with the upper composed of mesh and premium nubuck leather for a contemporary touch. The 574 Sport is available at the New Balance website for $119.95 (Php6,067).
https://www.instagram.com/p/BV5HYytl4Vj/
CHRIS HEMSWORTH IS THE NEW FACE OF HUGO BOSS
July 11
Thor actor Chris Hemsworth adds another impressive skill to his fashion resumé as he was recently appointed to be the newest ambassador of Hugo Boss's Bottled perfume. It's no wonder why the brand has tapped him to be its latest endorser: Hemsworth was hailed the "Sexiest Man Alive" in 2014 by People Magazine and 2016's "Man of the Year" by GQ Magazine. He now represents the fashion brand's "Man of Today" campaign, following the footsteps of previous Hugo Boss celebrity endorsers Jared Leto, Theo James, Gerard Butler, and Ryan Reynolds.
https://www.instagram.com/p/BWXR745FrJF/?taken-by=hugoboss
SPRING/SUMMER 2018 MENSWEAR SHOWS
July 10-13 | Milan and New York
Two of the major standouts in the spring/summer 2018 menswear shows were the presentations by Dolce & Gabbana and Raf Simons.
Designers Domenico Dolce and Stefano Gabbana didn't hold back, sending 126 maximalist, pattern-on-pattern looks down the runway. The annual men's couture show Alta Sartoria ("high tailoring" in Italian), held at Duomo di Monreale in Italy, was inspired by Byzantine mosaics and architectural Arabic and Baroque influences. The Dolce & Gabbana show definitely fit into the location's aesthetic: the pieces were a burst of metallics, lustrous colors, and religious iconography. According to both designers, the show pays homage to the grand vision of beauty of William II, the 20-year-old King of Sicily during the 12th century.
https://www.instagram.com/p/BVcYezvFwCg/?taken-by=dolcegabbana&hl=en
On the other hand, Raf Simons melded two inspirations for his 2018 spring/summer collection: the Beijing night market and the 1982 Ridley Scott sci-fi movie Blade Runner. As bizarre as it seems, the show was staged in the New York Supermarket on East Broadway. The stench of cold fish, coupled with neon lights, provided an authentic feel to the presentation, which featured oversized knits and blazers alongside cocoon-shaped coats, wide-brimmed hats, and tattered umbrellas—elements that matched the dark and gaudy mood of the evening.
https://www.instagram.com/p/BWbfPtog7vU/?taken-by=robingivhan&hl=en
H&M x ERDEM COLLABORATION ANNOUNCED
July 13
Swedish superbrand H&M has announced its latest design collaboration. This time, it'll be with British designer Erdem Moralioglu, who succeeds previous collaborators Carol Lim and Kenzo creative director Humberto Leon. The project is extra special as Erdem will produce his first ever menswear line for the brand.
Erdem is known for his romantic aesthetic (think florals, gowns, ruffles), and it will be interesting how he will translate this into a men's collection. The teaser video for the collaboration, directed by Baz Luhrmann, showcases smart gray tailoring, strong and dark outerwear, and a silk floral pajama suit.
https://www.instagram.com/p/BWfX1HFgVye/?taken-by=hm&hl=en
Writer: Kenn Anthony Mendoza
Save
Save
Save
Save
Save
Save