Looking to spruce up your digs? Here are the two rising design themes for the year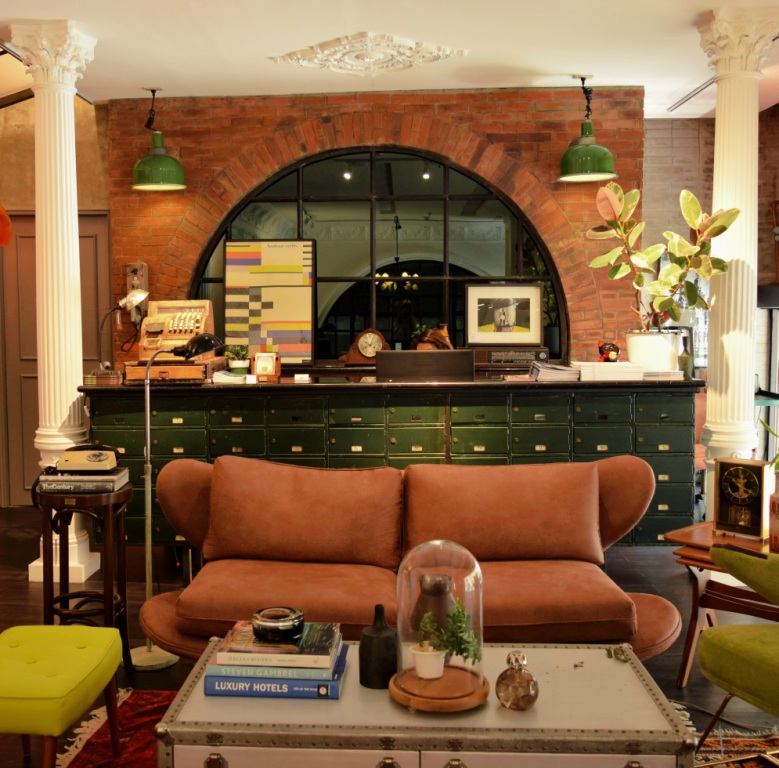 It seems this year's design trends for interiors are the celebration of the life aquatic and the indulgence in romantic nostalgia.
We take these themes as aesthetic reflections of what most people feel nowadays: a desire to reconnect with nature—very apt, given the recent spate of climate marches and the pushback that environmentalists are giving against anti-environment lobbyists—and the longing for halcyon days of the past and the more thoughtful way of life they represented.
It's not as serious as we may have made it sound. A lot of stuff from these new home and furniture collections are actually fun, and making them more covetable is the ease with which they can be integrated into an existing setup.
The life aquatic
Color theme: A beachfront on a clear and calm day, from mid-afternoon until after sunset
Works best if you already have: A mostly neutral design scheme
Try if you like: Seeing @mensweardog in designer spring prints
Botanical prints have been popping up since late last year, with their arrival in the design scene legitimized by Pantone's declaration of Greenery as the color for 2017. And much like in real life, leaf prints and florals have made interiors more habitable for other life forms to come bubbling up from the deep and flourish.
Pottery Barn's and West Elm's season collections are all about the great outdoors, with plenty of practical pieces and features, e.g. unbreakable and dishwasher-safe melamine plates and stain-resistant performance fabrics, that work both in the home and in backyards, patios, balconies, and any small square of space  that's exposed to the elements.
But this earthy spirit isn't just in the pieces' functions; it's also apparent in the brands' prints of choice for the season. Creatures from sea to shining sea pop up on throw pillows, linens, and plates, with even a couple of cold-blooded four-footed critters thrown in the mix to create an unusual yet charming display.
To complement the oceanic aesthetic, vibrant patterns and materials from coastal cultures are also highlighted, from Morocco to Mumbai to Manila (in the locally made raffia tablescape accessories decorated with seashells and resin starfish), along with gradations of blue in decorative accents to mimic the monochromatic play of colors of the sea.
"The great thing about our new collections is that customers don't have to buy matchy-matchy items," says Gina Bonoan, Store Specialists, Inc.'s merchandising group manager for the Pottery Barn group. "They can pick things they like from different collections, because our brand designers made sure that the pieces work well together in a variety of combinations. Plus, the designs work well not just for the summer but the whole year round."
West Elm is located at Estancia in Capital Commons while Pottery Barn is located at Central Square in Bonifacio High Street Central and Estancia in Capitol Commons.

The new romantics
Prevalent details: Moldings, brass features, plush surfaces
Works best if you have: Either a stately drawing room or a living space filled with inherited furniture and bric-a-brac
Try if you like: The idea of a Kingsman (goodlooking, gallant, but a bit rough and even kinky on the edges)
How's this for a throwback: the Romanticism movement resurges, with the rise of individualism paving the way, as well as our tendency to perceive more innocent-seeming times with rose-colored glasses. It's a perspective that can be problematic, but as an aesthetic, it's pretty fantastic.
Space Encounters presents its sixth collection The New Romantics that was inspired by Romanticism, the artistic and literary movement that flourished in the first half of the 1800s. Characterized as intensely emotionally driven (a.k.a. the original #feels culture), it gets translated by the brand into design through the more traditional and thoughtful creative process: organic inspiration, manual sketching and coloring, and a renewed appreciation for dying art forms.
This is apparent in Space Encounters' predilection for—or dare we say, mild obsession?—with pre-cast moldings, an architectural and design feature that had its heyday during 1940s Manila but has been in decline for the past two decades. In an effort to revive it in contemporary times and not just within heritage structures, Space Encounters collaborated with O.G. De Leon Precast (originally known as I.G. De Leon and Sons and the family business that has worked on some of the city's iconic structures such as the Metropolitan Theater and the Quezon City Memorial Circle) to recreate moldings and columns from that period and to create spaces that are stately yet warm and homey.
As for more movable pieces, their furniture straddles the line between mid-century modern and Old World opulence. "The New Romantics, on the surface, is industrial overlapping with classical revival," reads the new collection's profile. "Overlapping, because the interior design aims toward seamless transitions from raw to ornate, from commercial to nostalgia."
Space Encounters is located at the mezzanine level of Padilla Building, F. Ortigas Jr. Road, Ortigas Center, Pasig City.
Save