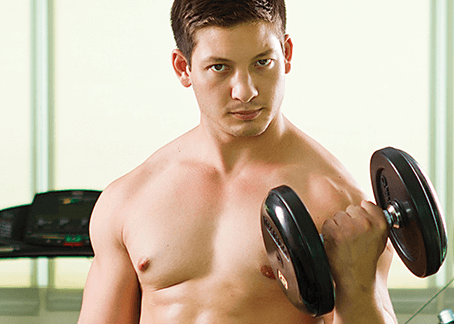 When he walks into a room, Kenneth Stern is hard to miss as he looks built for battle. "When someone huge is chasing you, you don't want to get attacked by them so you have to be fit," he reasons. True enough, the 23-year-old wing of the Philippine Volcanoes Rugby Team has risen numerous times to the occasion—defending for the National Team—all thanks to his devotion to training and spending time at the gym.
While his team caused quite a stir with their infamous underwear billboards plastered across EDSA, Stern has slowly been carving a name for himself, making appearances in major publications recently. But first and foremost, he is most keen and determined to represent the country the most effective way he can as an athlete.
And why not? Stern looks the part. One look and we can all agree that he is everything that a steady athlete should be. Well-built with a contoured chest, bulging biceps, developed legs, and chiseled abs all packed in a six-foot frame, Stern is definitely an epitome of discipline.
For Stern, sports is everything. Starting out early on hockey at the age of seven, he has developed a meaningful relationship with sports—engaging in activities that, from the beginning, helped him to stay fit. In high school, he was introduced to American football before moving on into playing rugby as per his coach's insistence for him to get involved with the program.
"I love the contact of it and the speed of the game. It gets me going," Stern divulges, when asked about his love for the sport. Apparently, with the physicality that an athlete brings into play every time he steps on the field, countless hours of training and rigorous gym-time need to be strictly followed.
The Filipino-American athlete makes sure to hit the gym four to five days a week for conditioning. "I make it a point that even in those days that I cannot be in the gym, I get to do something, whether running, cardio, or ball work, and at least an hour of stretching."
His workout philosophy requires him to perform high-powered exercises with high-repetitions for endurance and building strength for the sport. "For my workout, I try to switch it up every month. I see to it that I constantly change it to keep the body guessing. But my workout routine revolves around the same idea of doing explosive exercises and athletic movements like squatting, jumping, bench pressing, and dead lifts, which all help in building a strong core and in keeping me athletic."
A regular in Gold's Gym Makati, Stern also mentions that he keeps in mind to focus on doing leg work for stamina and speed, an imperative for the role he is tasked to play in rugby as well as in strengthening the upper body to aid in his defense.
For his workout regimen, he shares, "I just have to get a lot of sleep and I need to make sure that I eat well to keep the energy required for the full day of training in the field and in the gym." This diet includes a hefty serving of protein-filled meals and carbohydrates that sustain and replenish energy. "I try my best to avoid calories but I always get hungry, so every few hours, I eat," he admits.
"Sometimes, it's hard when you have to follow everything every single day, but it is important that you keep yourself motivated; you have to keep pushing yourself," he says. When he's not sweating it out in the gym, Stern enjoys hanging out with family and friends, going to the beach, and barbecuing.
For the young athlete, hard work is key in achieving a body like his. "It's good to surround yourself with a lot of positive people—people to train with in my case, my teammates. They'll keep your mind focused to achieve your goal."