How I got my body: Michael Tiu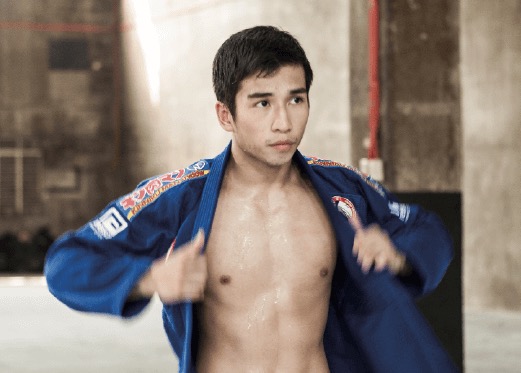 "Unathletic" is the word Michael Tiu uses to describe his college years' physique. Being scrawny, however, didn't keep him from his interest in martial arts. "I'm pretty sure we all had this innate fascination with combat as kids; I just never outgrew mine," admits the 25-year-old Gold's Gym marketing consultant and owner of Perch Interior Furnishing. "In fact, my undergrad thesis was about why the UFC specifically thrives within the 18- to 34 year-old male demographic."
Tiu's earliest forays into fighting had him flit between boxing, judo, taekwondo, and karate, sports that largely favor the bigger combatant. When a classmate introduced him to Brazilian Jiu-Jitsu (BJJ), a discipline built around the concept of nullifying taller opponents' superior reach and striking power, Tiu's fascination turned into flat-out passion. His half-a-decade commitment to BJJ has earned him a lean, compact physique, with limbs as taut as steel cables—necessary in a sport where intimately coiling around opponents for locks and submissions determine victory.
Tiu's workouts follow a simple mantra: "Keep training and don't die. You'll get there eventually."
His training averages four days a week at Origin BJJ in Rockwell. This frequency increases close to tournament season and lessens when work schedules tap him out. Weightlifting also complements his BJJ performance. Tiu employs the simple yet effective Stronglifts 5×5 routine, requiring him to hit the gym thrice a week, switching between "A" and "B" workouts. "A" workouts are comprised of bench presses, upright rows, and squats, while "B" workouts involve pull-ups, military presses, and deadlifts. It's a no-frills program that develops bodyweight increase paced in a slow, methodical manner, a philosophy similar to BJJ.
Diet, however, is something Tiu admits submitting to—most of the time. "I could compete in a lower weight class if I wasn't so bad at dieting," he laments. "I can't really 'cheat' since I don't have a diet, but I'm partial to kebab rice meals, stuffed crust Meat Lovers pizza, and Nihonbashitei's spicy tuna sashimi." He limits alcohol to once or twice a week and, true to BJJ, favors drinks that "don't taste like sh*t" and get him buzzed as efficiently as possible. Post-training supplements include whey protein and very little else.
In exchange for his investment of time, money (including the expensive GI, pronounced "ghee"), and health (he has hyper-extended all his joints at various times, with the worst case draining his strength to that of a little boy's), Tiu has still remained loyal to BJJ, whose benefits go beyond self-defense. He credits it for instilling in him discipline and grit, as well as confidence. "It's heartening to know that I can—potentially—handle myself in a combat situation." He now passes this on to the next generation as an instructor at a beginner's class for kids.
https://www.instagram.com/p/BAhGvm6nbP-/
And just like every fight, he is cautious. "I stress that BJJ isn't to be used outside the gym, except for self-defense." He also avoids teaching submissions until the third or fourth session, tutoring them instead on how to immobilize their adversary just until help can arrive.
Regarding the future, Tiu remains pragmatic. He's met success in tournaments here and abroad, but isn't naïve to think he'll reach top-rank levels in the international scene. His biggest fear isn't losing; it's quitting. Sheepishly admitting he's "the laziest ambitious person" he knows, Tiu hopes that, combined with his expertise in marketing, he can eke out a living doing something involving the sport he loves.
His final advice to BJJ aspirants is simple: "Compete early." Words that seem to echo from his earliest days in the martial arts.