Superhero workout with Neil Dy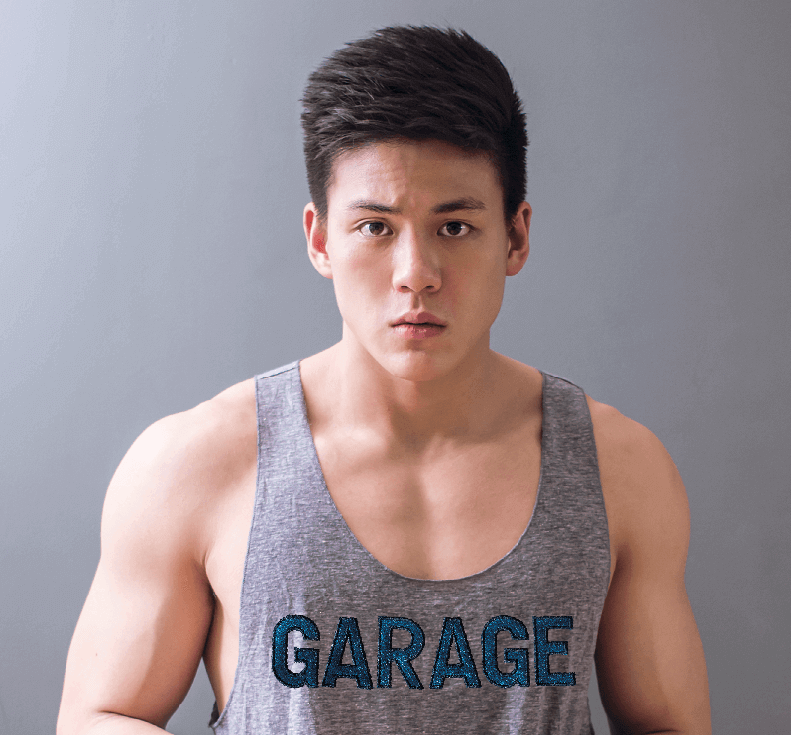 Standing 6'3" and weighing more than 180 lbs, model Neil Dy is a force to be reckoned with on and off the runway. Built like a mean machine, the Ateneo de Manila University undergraduate shares with Garage his own personal fitness workout plan with progression, performance, and physique goals.
On fitness regimen:
"I usually spend at least 2 hours at the gym for 3 to 4 days a week. I start my workout with a 20-minute cardio with a goal of at least 4 km on the treadmill. After my cardio, I do a little stretching and hydration, then I start getting on the weights. My workout is divided into three parts. In those three parts, I usually perform 3 different exercises of 12 repetitions each and then rest for 2 minutes and then repeat the 3 exercises again for 3 times. Basically, 3 sets of 3 different exercises for 12 repetitions each, rest, and then I do it again. I also include some abdominal exercises in between. The exercises I do depends on what body part I work on. I usually work on my chest and biceps for one day and then shoulders and legs after a day of rest and then back and triceps. Lastly, I end my workout by doing 2 sets of 60 seconds planking and then some stretching."
On favorite muscle group:
"My favorite muscle part is my shoulders. It's my favorite because it's very hard to achieve that perfect shape for your shoulders. I just want keep working on them."
On shoulders and legs day routine:
"Dumbbell shoulder press, Arnold's shoulder press, and lunges with dumbbells. On another variation, front raises, lateral raises, and cable pull ups. Three to four sets with 12 – 15 repetitions per workout. Also, 2 – 3 minute rest in between sets."
On dietary nutrition:
"I don't really have a dietary plan, but as much as possible I don't eat rice. Rice is so hard for me to control so I try to get my carbohydrates from bread or pasta. I also try to avoid unhealthy food."
On the importance of health and fitness:
"Fitness and health is very important. I believe that it's not just all about the physique or the looks. I workout because I want to stay healthy and feel good about my body. Moreover, I believe that to live an active lifestyle will also help avoid different diseases in the future. Also, it helps you do the things that you want to do while keeping you disciplined."
On years of working out:
"I have been working out for about 6 years now. Being part of my high school basketball team, I started lifting weights when I was 16 years old and since then I've enjoyed being at the gym."
On body goals:
"My goal body is zero baby fat with lean definition. I have not achieved it yet but I hope soon."
On alternative workouts:
"If there is no gym around, I try to jog around or also do 100 to 200 push-ups, crunches, core planks, dips, and the likes."
On circuit training:
"I think my program is a combination of both. It is a combination of circuit and weight training because I combine different workouts per cycle but I also take inconsideration my weight and repetitions."
On fitness advice:
1. Cardio is key.
2. Eyes on the prize. I assure you that it is worth it.
3. Keep working hard.
4. Be consistent.
5. Be disciplined.
6. Watch what you eat.
7. Try to learn about different workouts, diet, etc. as everything is online now.
Photographed by Toff Tiozon.