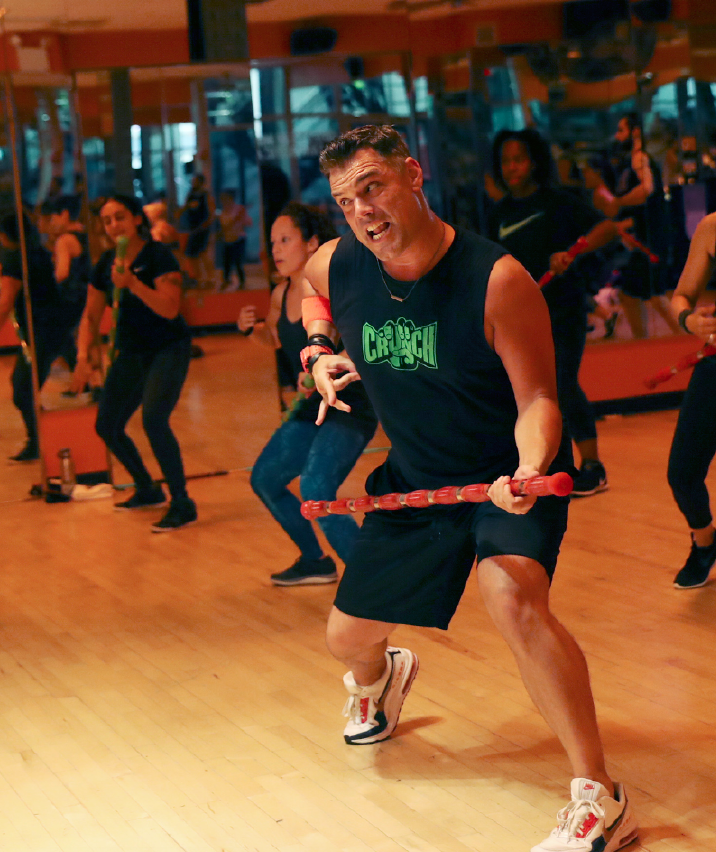 Amid the pounding pop and hip-hop beats that fill area gyms,a small subset of fitness fanatics has, for years, chosen to work out to "Les Misérables," "Cats" and "West Side Story."
Donna Cyrus, senior vice president for programming at Crunch Fitness and a former Broadway dancer, introduced the idea there a decade ago, and at Crunch today, there are as many show-tune-themed classes as specialized cardio sessions. You can spin to Tony-winning musical scores and indulge in "Wicked"-themed yoga. Among the more popular new offerings: mastering pieces of the choreography featured in Cirque du Soleil's "Paramour," including learning to maneuver on an aerial hoop.
This year Crunch has added a "School of Rock" workout, set to the cast recording of that Broadway hit. Routines offer the opportunity to whip out your best air guitar to play along to compositions by Andrew Lloyd Webber. Somehow, transporting this from the bedroom to the gym makes it all feel less sad.
Gabby Cohen, senior vice president for brand strategy at SoulCycle, said Broadway-themed classes peaked in popularity around the time of the Tony Awards, just as tennis court bookings get harder around the time of the U.S. Open.
It is not just frustrated Broadway aspirants who fill the classes, although there is certainly a fair sprinkling of those. Millennial slackers and retired executives can share the same experience, shoulder to shoulder. The workouts have a celebratory community feel, a genuine diversity.
"In general," Cohen explained, "musicals bring happiness to people."
It's no surprise that a dance studio called Broadway Bodies, whose tag line is "Unleash your inner superstar," puts theater music center stage. There are cardio offerings around whole shows and even single songs, like "Bring On the Men," from "Jekyll & Hyde," and "Big Spender," from "Sweet Charity."
Broadway Bodies began years ago with a "Broadway cardio program," said Alistair Wiliams, its executive director, and to this day highlights its classes as offering a "shame-free zone" that brings people back, again and again.
One more reason they return: "Hamilton." Or, as Williams described the 40-minute dance class he was teaching one Monday evening, "the church of 'Hamilton.'"
"It's the biggest thing right now in pop culture and was a great game changer," he added.
Since "Hamilton" opened, its jaunty, hip-hop-inflected score has become a go-to in many gyms. SoulCycle's "Hamilton"-scored ride is, predictably, its most popular class.
As one instructor joked, these may be classes for frustrated "Hamilton" ticket seekers — a support group for those who want the community feel of theater but blanch at spending $800 to achieve it.
The paradox is that even these classes are often sold out. Riders range in age from 12 to 70, and, as Cohen points out, they all know all the lyrics.
Benjamin Wolfert, who said his love for the Tony Award- and Pulitzer Prize-winning musical was "hard to describe in words," compared the SoulCycle class to a "weekday in the Hamptons."
Even those who haven't seen the show may know the cast album, which has become a best seller; cycling to it is a chance to "experience the album in a new public way," Wolfert said.
Sharona Kahn, a middle school math teacher recently sharing the experience with some of her students, said the "Hamilton" ride "didn't feel like an exercise class at all."
But, she noted, it won't work with every show.
"I think these themed rides would only be here to stay if a show as amazing as 'Hamilton' were to come out again, with just as catchy" music, she added.
Over to you, Lin-Manuel Miranda.