Style Spotlight: The Jonas Brothers's Glow Up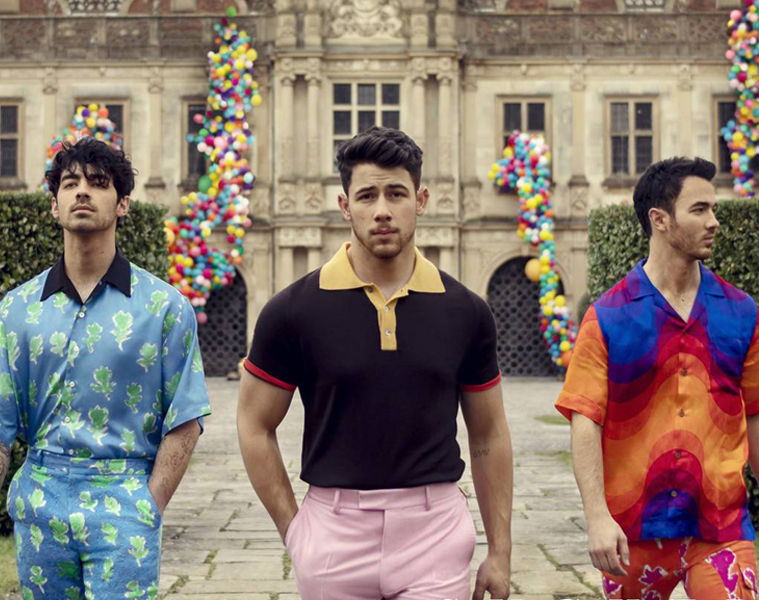 After six years of hiatus, Joe, Nick, and Kevin Jonas, collectively known as the Jonas Brothers, have released a new single "Sucker."
And because everyone (?) is freaking out about their comeback, we're making a little appreciation post about their style evolution. (Maybe less appreciation over Kevin's, we'll see.)
Let's start at the beginning: May they never dress up like this ever again.
https://www.instagram.com/p/BnHKhqlgdJQ/
So, Kevin. Since our differences in taste was a problem for getting this post finished (like, enough with the all black-and-white IG posts, bro, we're not in 2015 anymore), the picture below was grabbed from his Nick's account. I've seen a couple of episodes of Kevin's reality show Married to Jonas, and based on those, I'm kind of glad he hasn't really upped his style game. That way, Joe and Nick get to shine more. I mean:
https://www.instagram.com/p/Bp0Ks5BFydW/
It's a candid photo, yes, but the thick horizontal stripes on his sweater wasn't doing him any favor, along with his posture. The outfit itself isn't bad, but a little styling would have gone a long way.
https://www.instagram.com/p/Boz9hjbHfCo/
I maybe want to take back what I've said. Good form here, bro!
https://www.instagram.com/p/BsMDo6YB46Y/
Happy to see him wear some color, and those pink shoes totally look cool, paired with the pants and the polka-dot shirt. See, guys, just because you've gotten married and become a father don't mean you have to dress like a frumpy dad and take yourself too seriously. Hopefully, with the new music, Kevin continues to be a "sucker" for fun fashion.
On to Joe, whom I always thought to have a better taste in clothing compared to his brothers. He went kind of wild once he became part of a foursome—and by that, I mean the pop band DNCE. He went on from being the poster boy for Christian virgin guys to some next level shit: facial hair gone wild, seizure-inducing patterns, animal prints. Joe could definitely use some of Kevin's subtlety.
https://www.instagram.com/p/BVQmNg_Askd/
The look above…he definitely should have asked for second and fourth opinions on it. I know, Joe, the peer pressure was strong, I've been there, but you could have done better.
https://www.instagram.com/p/BIJZxaQB_4s/
Some of y'all may disagree with me on this, but I'm not sure if I prefer seeing him like this. Good for him in the end, though, because Joe landed an underwear campaign because of this photo.
https://www.instagram.com/p/BlEObVtgRj5/
This may be a part of DNCE's branding, but this look—animal print trousers, graphic t-shirt, and are those bedazzled eyewear?—makes me wanna DNCE inside my closet, my closet.
And lastly, my favorite JoBro, Nick. Although he had the most questionable hair back then, he's the one who had the most successful glow up. I feel like Nick's style is just the right mix of Kevin's and Joe's. I can't remember how many times I kept replaying the music video for "Jealous," but I do remember getting surprised at how grownup he appeared to be when he got started his solo era, not just with his bulging biceps and thighs but also with his clothes: from the casual/athletic spectrum of jeans, jackets, shades, compression shirts and shorts to the red carpet-worthy turtleneck shirts, suits, and killer shoes.
https://www.instagram.com/p/Bhzwsp8lLGV/
This image keeps me up at night… wondering where he got that overshirt. It's like a leveled-up boyband jacket, which makes Nick's laid-back tour vibe look even way cooler.
https://www.instagram.com/p/BW_QuqXF9-s/
He's just casually checking if his shirt's sleeves are stretchable enough to accommodate those guns. Quality check is always important.
https://www.instagram.com/p/Bufxp1BHh-8/
Can we talk about Nick's red sleeveless velvet suit in the "Sucker" MV? The Michael Cinco creation makes him look improbably sexier that his wife, actress Priyanka Chopra, couldn't take her eyes off of him. Who can blame her? Here's another Michael Cinco design featured in the music video:
https://www.instagram.com/p/BuiLltqHOXJ/
https://www.instagram.com/p/BigDLkUFnI4/
And this look from last year's Met Gala! Forgive us father for we have sinned..a lot of times, actually. If only church fashion were more like this instead of collared polos and khaki cargo shorts, I guarantee you I'll be attending mass more than once a week.
"Sucker" is now available on Spotify. Watch a clip of the Jonas Brothers' Carpool Karaokewith James Corden on YouTube.