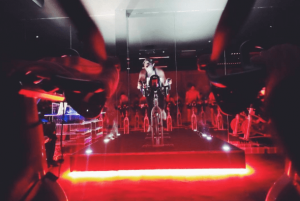 Indoor cycling is indoor cycling is indoor cycling―at least, right up until its recent resurgence in the city, with boutique studios wholly dedicated to the sport and the lifestyle it espouses opening one after another.
One of the newest to throw its hat into the mix is Ride Revolution, and it checks off most items on the trendy cycling studio list. Top-of-the-line stationary bikes and gear? They carry Schwinn bikes and provide riders proper cycling shoes with attachment features that clip to the pedals. A roster of ultra-fit, shiny-happy-people looking trainers? Yup, and theirs include Isabelle Daza. A lights and sounds experience in every class? There are even throwback themes for certain classes. A well-designed space that speaks less of mandatory exercise and is more of a hip club for like-minded folk? The photogenic combination of black brick, wood, concrete, and natural light here hits the right Pinterest-worthy aesthetic. They even carry their own Ride Fuel, healthy pre- and post-workout snacks and drinks created in partnership with nutrition brand Better Health.
But with change implied by its very name, Ride Revolution adds some novel elements to the spinning experience itself, starting with the consoles attached to each bike. These monitor the riders' performance—average and best RPM, average and best energy, distance covered, even calories burned—and the tallied data is emailed to the rider and stored in their Ride Revolution account, to be compared to future rides for personal evaluation. It's a great form of motivation to those who like to keep track of their progress beyond mere weight loss, and the included class ranking in every report could even unleash some latent competitive spirit, previously buried with the lack of a finish line and a racing component in indoor cycling.
Given indoor cycling's low impact on the joints (when done properly), taking the easy way to working out isn't an easily available option. At Ride Revolution, no one starts class at zero resistance on their bike, on top of the instructors' directives to amp up the resistance dial on their stationary Schwinns at certain tracks to stimulate uphill biking. As each 50-minute session promises total body exercise, a good part of it is spent coordinating upper and lower body movements, i.e. double-time pedal pumping with handlebar push-ups, to work on the quadriceps, hamstrings, glutes, triceps, biceps, shoulders, and the upper back all at the same time. Pairs of small dumbbells ranging from two to five pounds are also handed out before class for the arm exercise portion, to be lifted in pulses; the legs, of course, never stop working. The core is kept tight and strong all throughout to support the back and maintain proper posture. It's intense, but sitting back to catch one's breath is okay, and the groovy black and strobe lights can disguise a face turned red and puffy from exertion. Literal beginners, meanwhile, need not worry as the studio's Rev Lite classes can ease them into the joys and (body) pains of cycling with the appropriate amount of physical challenge.
Another unique component of the Ride Revolution workout is the introspective track, spinning's version of savasana: riders pedal at their own pace to mid-tempo music, riding as they feel fit, even with eyes closed if they wanted to. It happens in the latter part of the class, serving as a signal for the workout wind-down and an opportune time for touching base with the body after the rigorous work it has done—a reflective element in working out that's rarely seen outside of yoga.
Images from Ride Revolution
It's easy to see the appeal of boutique fitness studios like Ride Revolution. Compared to the broad-stroked, thereby less thoughtful services of the usual gym, places like this feel like the luxury option, with the crowd and price points to match (first-timers can enjoy three classes for P1,100, but succeeding single classes will cost P1,100 a pop). More than 50 minutes of sweating and pumping, Ride Revolution offers a way into the kind of fit, photogenic lifestyle frequently posted on Instagram, with the perfect soundtrack to go with it. Here, the workout is important but not at the expense of everything else. It's the kind of spin that's easy to fall for. September Grace Mahino
Ride Revolution. 3/F Steps Dance Studio, 8465 Kalayaan Avenue, Poblacion, Makati. Mobile no. 0977-8077545. Tel. no. (02) 744-5460. Website: www.riderevolution.ph. Instagram: @riderevolution.