How long should a man go between haircuts?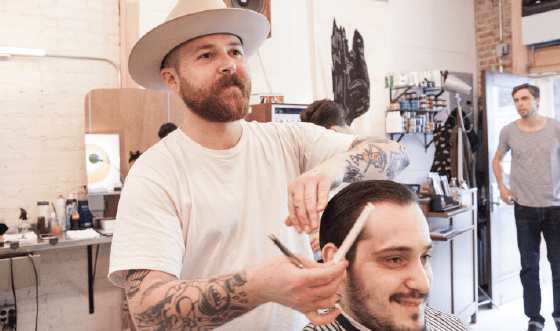 A good haircut lasts long after you leave the barbershop.
But how long, exactly?
To a large degree, the life span of a cut depends on the style, and the prevailing Brooklyn do — tight on the sides, with some length on top — puts guys, on average, in the chair once every three to six weeks.
"When I give a haircut, of course it's going to look good — you just got it cut," said Garrett Pike, a head barber at the Brooklyn-based chain Persons of Interest. "But I try to get the most out of every cut."
The dialogue with your barber at the start of your session (how long since your last cut, how do you like to wear it, the continuing horror of the New York Knicks) isn't just small talk; it's vital information that will lead to a cut that will still look good once you have run it through a shower and may even improve as it grows out.
The more you can tell your stylist, the better. "You've been dealing with your hair your whole life," Pike said. "You know all the kooky things that can happen."
Mike Sposito, who cuts hair at the Fellow Barber location in Williamsburg, Brooklyn, said, "It all depends on how crispy you're trying to look." Crispy, in this case, is slang for how "done" you would like your hair to look. "It's, like, fresh," Sposito said. "The edges are well defined."
Sposito's core clientele adheres to the three-to-six-week time frame, but a few visit as often as once a week, hoping to constantly maintain what he calls "the brand-new-sneaker look."
There is such a thing as overdoing it. "If you come too much," Pike said, "and you keep asking for the same thing, it's just going to keep getting shorter and shorter, and you can't keep hitting the same marks."
Nick Wooster, the fashion consultant who is a favorite of the street-style photographers who stand outside runway shows, likes a frequent check-in at Geno's Barberia in the West Village.
"I go every two weeks," he said. "It makes me crazy if I go even one day over. I may even go every 10 days." For Wooster, it is not only about achieving a specific look. "It's one of those nice things you can do for yourself," he said.
Barbers said that longer, shaggier cuts are coming back. But those, too, require forethought. "I've always said: 'You need to keep coming in. You're not 14; you can't just throw a beanie on it,'" Sposito said. In the growing-out process, he added, you will likely cycle through three or four distinct hairstyles.
And when it comes to big events — a wedding, a niece's bat mitzvah, a job interview over Skype — most barbers recommend a buffer of one or two days, to allow the cut to settle. Wooster, who prefers a day-of cut when he is being photographed, said, "Some barbers say the only difference between a good haircut and a bad haircut is three days."