Thai SELECT 2023: Azuthai Restaurant recognized as beacon of authentic Thai cuisine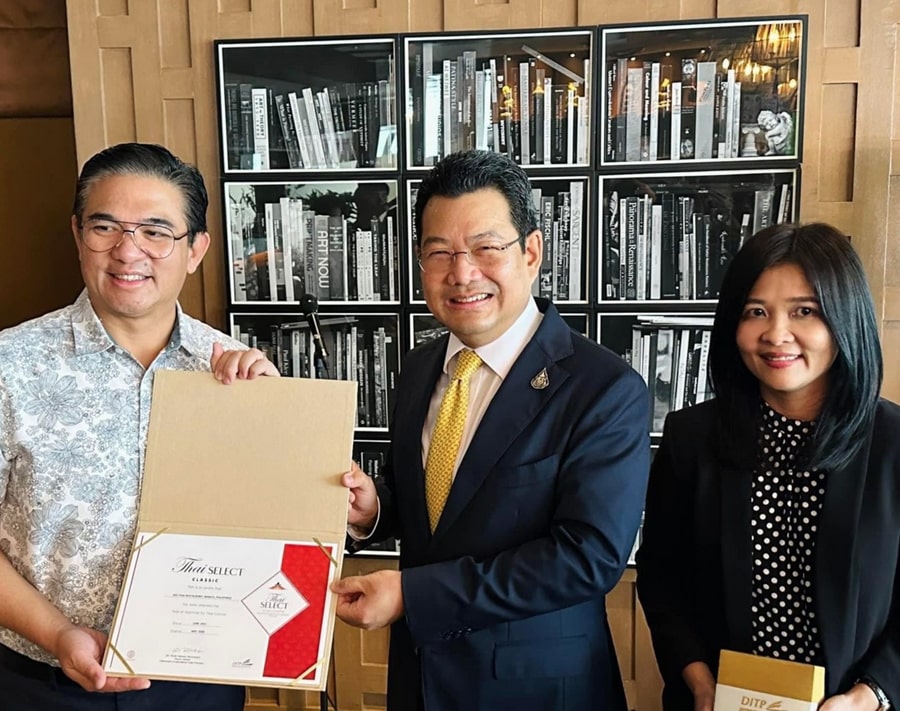 His Excellency Ambassador Tull Traisorat of the Royal Thai Embassy awards Chef J Gamboa with the coveted seal of approval
In a momentous event, Azuthai Restaurant in Makati City was recently honored with the prestigious Thai SELECT recognition by His Excellency Ambassador Tull Traisorat of the Royal Thai Embassy. This accolade was once again granted to the restaurant for its unwavering commitment to delivering authentic Thai cuisine, solidifying its position as an exceptional establishment in the culinary landscape.
Under the leadership of Chef J Gamboa, Azuthai Restaurant has been a shining star in the Milky Way group of restaurants since its inception in 2008. Situated along Arnaiz Avenue in Makati City, the restaurant has carved a niche for itself as a destination for discerning food enthusiasts seeking for an authentic Thai dining experience.
What sets Azuthai apart is not just its delectable offerings, but also its distinction as the first Philippine recipient of the coveted Thai SELECT recognition. This accolade, presented in September 2016, has been upheld with pride by the restaurant ever since. The Thai SELECT Seal of Approval, awarded by the Department of International Trade Promotion, Ministry of Commerce of the Royal Thai Government, serves as a mark of excellence that certifies and promotes authentic Thai cuisine globally.
The recent recognition ceremony was graced by esteemed guests, including Yupawan Premchit Taniguchi, Counsellor at the Royal Thai Embassy; Janthana Chotimunee, Director at Thai Trade Center Manila; Kanthima Kanjadanecha, Assistant Director at Thai Trade Center Manila; Marie Zedes P. Vidanes, Marketing Officer at Thai Trade Center Manila – Royal Thai Embassy; Trichanin Chongchanin, Staff at AEC; along with numerous media friends and supporters of Azuthai.
The restaurant's accomplishment not only showcases the culinary expertise of Chef J Gamboa and his team but also underscores the establishment's dedication to offering an authentic taste of Thailand to discerning Filipino diners.