Meet Syndrome Supply, the lifestyle brand creating uber cool merch

Get to know their apparel, mirrors, and custom rug supplies
You may have seen Donny Pangilinan, Sofia Andres, and Kyle Echarri rock their pieces. Now it's the time to get to know more about streetwear brand Syndrome Supply and the creative people behind it.
The Syndrome brand started out as a business that focused on footwear called Sneaker Syndrome as a joint venture of brothers Anton and Iñigo Cruz. As the pandemic hit with people's mobility being limited, less and less consumers felt the need to get their sneakers serviced.
With the dream of turning Sneaker Syndrome's flagship store into a purveyor of lifestyle goods, the two ventured into apparel for the sole purpose of creating pieces that they would personally wear everyday. "Basically, we're just designing clothes for our daily use and we're just super glad people also want to wear the same clothes that we do," Anton shares.
Gaining a good following and momentum for growth, the sub brand SyndrHOME was born. SyndrHOME, which is headed by another Cruz brother, Zeno, offers custom furniture services and custom rugs, mirrors, and other home supplies. "Now I personally think we're known for our custom rugs instead of our apparel, which isn't exactly a bad thing," says Anton.
In this exclusive, Anton talks to Garage about the brand's identity, Syndrome Supplies' goods, and what to look forward to as the brand continues to grow. Read through our chat below:
Why the name Syndrome Supply?
Ultimately, we decided to remove the word "Sneaker" and simply go with Syndrome Supply as a general term for lifestyle goods and services. Heavily inspired by their rebirth as a new brand, the concept of the "Brain Child" heavily influenced our branding as a whole from logos, designs, branding tone, and marketing style.
What made you venture into apparel as well as custom mirrors and rugs?
Everything we create or put out in the market is heavily influenced by our love to create cool stuff that helps make our everyday lives better or even less boring. When it came to designing our own apparel, we just really wanted to find a different canvas for our ideas and love for fashion and what better way through our premium apparel.
Who designs the apparel?
We do. We are a three-man design team consisting of Inigo Cruz, Anton Cruz, and Paulina Dayrit.
How do you think your brand is different from the others in the market?
Despite being in a saturated market, we feel that our brand stands out when it comes to how we ideate and present our collections and products. With our "Lead Never Follow" mentality, we simply just do what we feel like we do best and never mind/take interest in our competitors – the more we do this, the more we are able to define ourselves with our own ideas and stories.
What are your best-sellers?
When it comes to our apparel, we've been quite on fire when it came to our oversized fit, hence we decided to keep this as our signature fitting. We also get a lot of sales for our shorts and sweaters.
As for our custom rugs, we've been getting a lot of dog and car related rugs! Lately, we've been getting a lot of enormous custom orders ever since we posted our Mac Miller concept order!
Do you have a favorite in your selection?
We always find ourselves saying that our latest collection is our favorite one but personally all three of us can say that our collaboration with Sole Academy and Yxandro Romualdez were one for the books! We just really love the energy we shared with all the people we've met and worked with.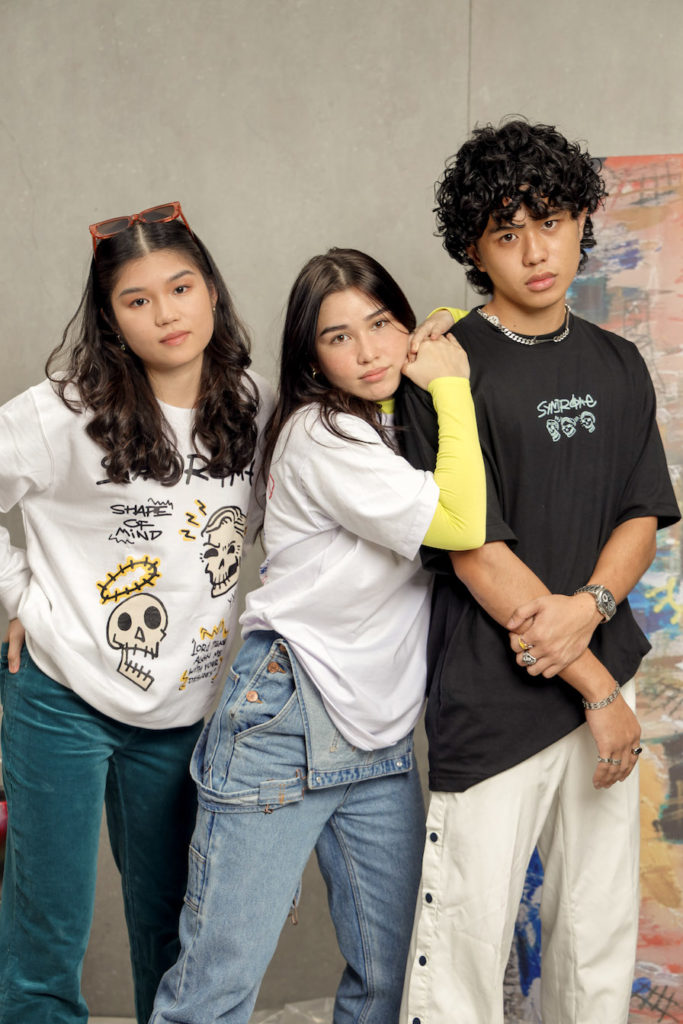 Are all your pieces made in the Philippines?
Yes, the majority of our pieces are made here in the Philippines, especially our custom rugs, mirrors, and apparel. However, we do have a couple of apparel pieces that have been outsourced abroad since we really wanted this specific quality and make for our fabrics.
What can we expect from the brand in the near future?
You guys can expect more collections, collaborations, and products to come out in the next months and years to come. We're still in our first year of business and we're definitely learning more about ourselves, the industry as well as meeting a lot of people who share the same ideals.