D&G's First Physical Runway Show Since Pandemic Dips into the Colors of the Sea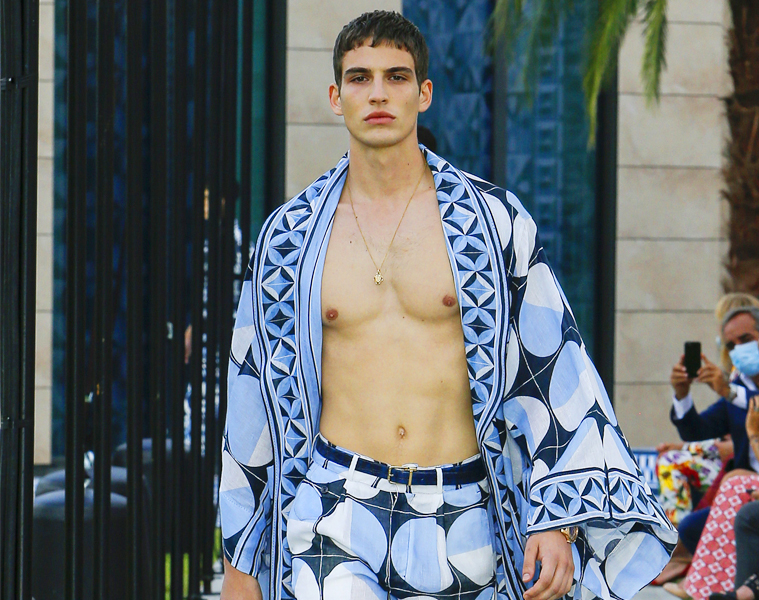 Dolce & Gabbana unveiled their latest menswear collection, Spring 2021, on Wednesday, being the first major fashion house to hold a physical runway since the pandemic was declared. Seen in the video, guests were practicing social distancing while wearing masks, sitting around the grounds of Milan's Humanitas University, which the house of Dolce & Gabbana has been funding to enable the giving of medical scholarships since 2019.
The menswear show brought the colors of the sea on the runway, flooding it with shades of blue. Most pieces were deconstructed featuring cropped tops, short-sleeved blazers, slit-sleeves, and denim pants sewn in with different fabric, creating a handsome patchwork.
For the patterns, the duo opted for hotel tile-inspired geometrical shapes mimicking the Parco dei Principi hotel in Sorrento infusing elements of Gio Ponti's architectural spectacle into the collection. Few of the honorable mentions are a matching blue-tile printed shorts and dressing gown which opened the show, a sheet suit, and an oversized embellished jacket.
See the Dolce & Gabbana Spring 2021 show below
Photos courtesy of Dolce & Gabbana