Transform your skin with this Personalized 28-Day Challenge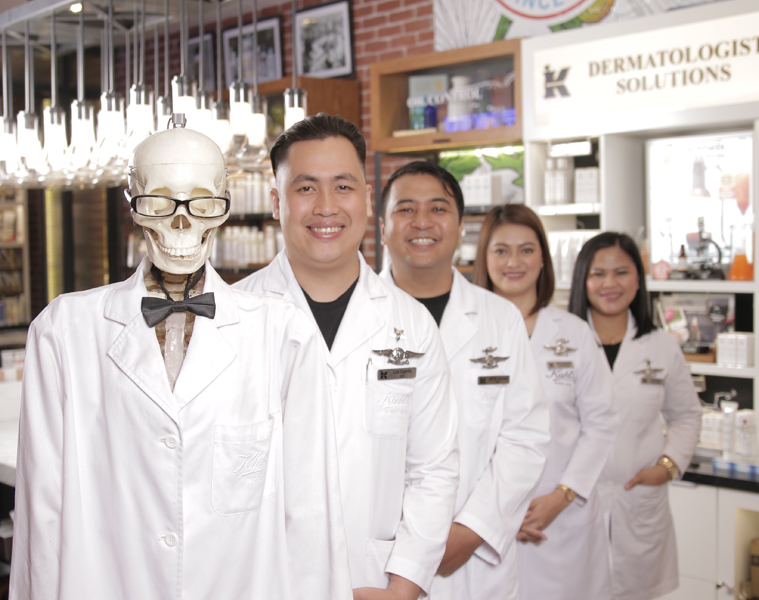 I must admit that I've been disloyal to my skincare routine because I have been dependent on Isotretinoin, an anti-acne medication. Because I knew that I wouldn't be having pimples, I subconsciously neglected other skin concerns like dryness (which is generally caused by Isotretinoin), discoloration, and rough skin texture. The reason why I agreed to take on the challenge is so I can address these problems and hopefully revive my skincare ritual.
The "Let Us Change Your Skin" campaign by Kiehl's is all about a 28-day journey to better skin. The journey starts with a free consultation where a Kiehl's Customer Representative or KCR assesses your skin and takes note of what activities you do in a normal day so he/she can figure out what products would work for your skin type and skin needs.
When I had my consultation, all the products from cleansers to moisturizers suggested were aligned to my needs, which were inferred through the skin test. I also got to try the products first before taking them home because Kiehl's has the "Try Before You Buy" sampling philosophy, which gives customers the privilege to get sample packs before deciding to buy the full-size products.
After the assessment, I was recommended an eight-step skincare routine. First in the routine was the Calendula Deep Cleansing Foaming Face Wash (P1,825) for gentle yet effective cleansing. The next product was an exfoliator called Epidermal Re-texturizing Microdermabrasion (P3,050),  which has crushed microshells from the ocean with instant skin-smoothing effect. The third product was the Alcohol-Free Calendula Toner (P1,450) which calms the skin and acts as primer for other skincare products. Following the toner was a product for the eyes, the Creamy Eye Treatment with Avocado (P1,825) that moisturizes and reduces the dark circles of the delicate eye area.
After the first four steps, I was told about the serums. Each serum targets different skin concerns, there are total of three serums, first is the Clearly Corrective Dark Spot Solution (P3,200) with white birch and peony that targets the skin's discoloration from impurity marks and sunspots. The second serum was for the improvement of fine lines. The Powerful-Strength Line-Reducing Concentrate (P3,900) was formulated with Vitamin C and Hyaluronic acid which also targets marks of aging. The third and last serum, to be used at nighttime and probably the most famous serum of Kiehl's, was the Midnight Recovery Concentrate (P2,950). This serum has regenerative properties that repair the skin overnight. It was said that this serum works with the natural nocturnal repairing activity of the skin.
Since my skin is dry because of the medication I use, instead of going for a water-based moisturizer, the KCR recommended Ultra Facial Cream (P995), Kiehl's number one product. This classic face cream offers a continuous moisture replenishment drawn from air and a formulation of nature-powered ingredients like Squalane, Glacial Glycoprotein Extract and Imperata Cyclindrica which will keep my skin hydrated for 24 hours. The last step, and probably the most important of all, was sunscreen. Ultra Light Daily UV Defense (P3,100) is an oil-free, fragrance-free, non-comedogenic product that protects the skin from UV rays and aging.
The process may seem time consuming, but trust me, the effort is worth it. Seeing how my skin is now, I don't mind the extra minutes in front of the mirror. Come to think of it, in my case, I saw improvement on my skin as early as two days of using the products, so imagine how better my skin will be after 26 days. I'm actually glad that I took on this challenge not only because my skin is in its best form now but also because the challenge made me come back to my routine, and realize I have to make skincare and self-care a habit again.
Kiehl's Philippines also launches its brand new Online Shopping service. Loyal customers will now be able to receive the same personalized consultation online through an e-Kiehl's Customer Representative (eKCRs) every Monday – Saturday, from 11:00AM – 8:00PM. Aside from an online consultation, you may now purchase your Kiehl's favorites on their website and receive the products in 2-3 days (Metro Manila), 2-5 days (Luzon) and 6-8 days (Visayas and Mindanao).
Kiehl's Philippines Let Us Change Your Skin consultations are available at all Kiehl's stores nationwide. For more information, visit Kiehl's Philippines on Instagram.