No one gets left behind (or cropped out) in your 'Gram-worthy travel pics with this photography service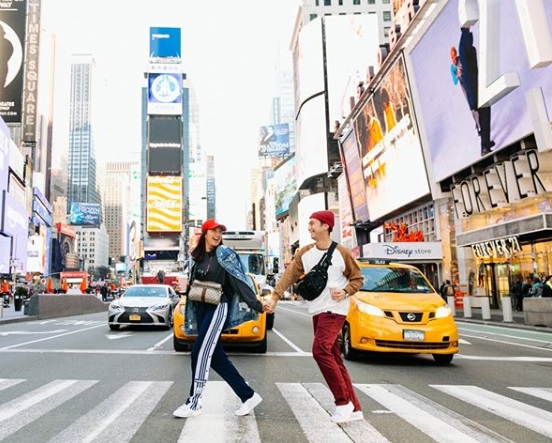 For a while there, Instagram boyfriends and husbands were getting lauded for doing the incredibly hard work of taking their partners' pictures meant for uploading on social media. Finally, a role for men that is the equivalent of the emotional labor that women put into relationships!
But we digress. Anyone who volunteers to be the unofficial photographer in any couple of group outing is commendable, but that kind of thankless work can get tiring, especially in a highly connected and highly visual world. Indonesian entrepreneur and photographer David Soong understands this feeling all too well, given that he has been an Instagram husband too. After too many family holiday trips that yielded too few photos—not to mention, too few photos that include him—he came up with the idea of having a pool of photographers that can be tapped in different destinations all over the world. These photographers would be skilled not just technically but also in capturing the inspirational/aspirational aesthetic that most people aim for when it comes to their travel photos.
https://www.instagram.com/p/By4RypcJDjr/
Soong founded and launched SweetEscape in 2017, and at barely two years old, the company has grown its network into more than 2000 photographers in more than 500 destinations in the world. It has also expanded into having a Manila office, which is celebrating its first anniversary this month. Even without much media fanfare, SweetEscape has been able to tap the social media-enamored Philippine market, to the point where Filipinos comprise the company's second largest market in Southeast Asia. "This is why it was only natural that it became our first country of choice for global expansion," says Soong.
https://www.instagram.com/p/BrNB9zhHnJV/
While both the Indonesian and Philippine markets have intersecting top destinations (the usual suspects: London, Paris, New York, San Francisco, Tokyo, Seoul, Bali), SweetEscape is excited to tap not just local travelers but local photographers as well for a very vigorous section of their target audience. "Domestic travel is very strong here in the Philippines," says marketing director Sandra Wang. "That's something we're exploring as well: How to make domestic travelers get to know who we are."
It might sound extra at first, but having a photographer who's also a local at your destination of choice presents benefits other than having your trip documented. Wang explains, "With SweetEscape, customers can get to chat with a photographer about what they'd like the shoot to be and how they want the photos to be like, such as if they want to shoot outdoors and if it's a bachelorette trip. For example, if they're going to Japan for the cherry blossom season, they can chat with a photographer from Osaka who can help them find the best spots to take photos, where there won't be too many other tourists. They can share their concerns, like if they're bringing kids with them, and other logistical details. It's a very collaborative process." And once the shoot wraps up, clients can select their top 40 photos from the trip, and they will be made available for download within three days. (While SweetEscape has a lean Manila office, photo editing, customer service, and photographer relations are still processed in their Jakarta HQ.)
https://www.instagram.com/p/BwqpQrPHRj1/
"It's a seamless experience," Wang continues. "You can upload your pictures soon after your trip, and they'll be great pictures where no one is missing or cropped out."
With their expansion plans, SweetEscape is constantly adding photographers to their contacts list, with each addition briefed on industry standards and the kind of service the company provides. Aside from travel photography, the company also offers its services for events, special occasions, and corporate clients.
At its core, though, it lives up to the promise of its name. "SweetEscape makes every moment memorable. It's like having a local friend capture the most intimate, raw, unedited memories. It's simple and easy, yet something that can be treasured for years to come," says David.
Download the SweetEscape app from Google Play and the Apple Store.