Here's one way to unlock your true potential this summer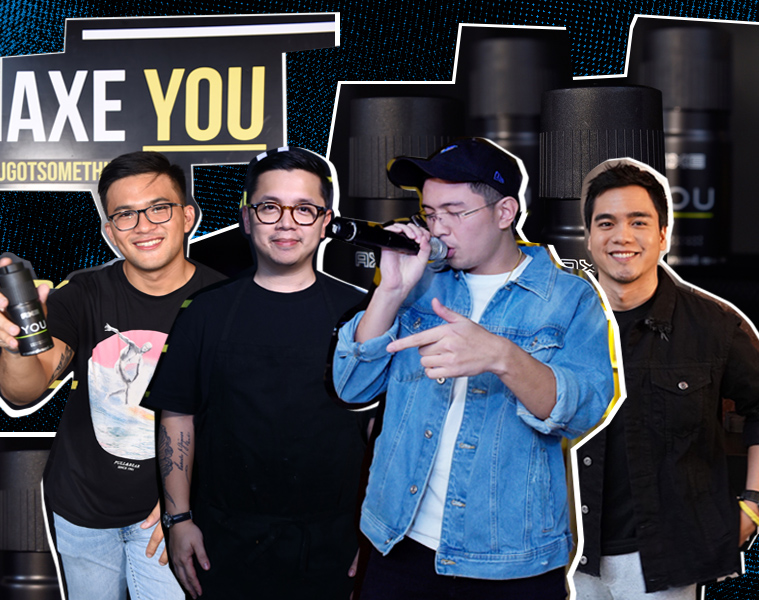 Anyone can be anything these days, thanks to the efficiency and speed of the digital age. It's the millennial and Gen Z way of life: having an almost unlimited access to information, experiences, and possibilities.
Well, if you want to make summer 2018 count by learning something new, here's your chance to do so with the help of four rising stars in the culinary, art, music and film industries.
Presented by Axe Philippines, the Axe You Masterclass Series is open to those who want to unlock their true potential. After encouraging men to embrace their unique style in the past years, Axe has now taken the next step to include substance as part of the new breed of guys.
https://www.instagram.com/p/BeYx029BkMn/
The brand has tapped four rising leaders in their respective scenes to be the ambassadors of the Axe Project You campaign: Chef Nicco Santos of Your Local and Hey Handsome, rapper Curtismith aka Mito Fabie, street and mural artist Jappy Agoncillo, and film director Gino Santos. Each will hold a masterclass on their craft and help participants discover their latent talent and creativity.
https://www.instagram.com/p/BhGRghmFCo0
Word Shop with Curtismith
Date of class: April 21
Why sign up: Curtismith will teach participants how to focus on writing about essential matters, as well as provide them beats to accompany their lyrics and potentially create a full song.
The challenge: Participants have to create their own tunes.
The pay-off: Those who join the masterclass may get the chance to perform their own song at a future Curtismith gig.
https://www.instagram.com/p/Bfj9Og_Hpjp/?hl=en&taken-by=jappylemon
Art Wars with Jappy Agoncillo
Date of class: May 19
Why sign up: Jappy Agoncillo will share his journey from being a muralist to working as a corporate artist, and will talk about the challenges of having had limited time and prep before plunging into the "real world" of working with clients.
The pay-off: The winning artist in this masterclass will have a chance to collaborate with Agoncillo on his next big project.
https://www.instagram.com/p/Bf2XVGhDqb9/
Beyond Cinema with Gino Santos
Date of class: June 23
Why sign up: Gino Santos will help attendees delve into the world of film, getting them to understand that being a director is not the end-all and be-all of the industry as there are different roles one can play in film production.
The challenge: Participants must come up with their own short film synopsis.
The pay-off: The top masterclass student will get the chance to have Santos co-produce their script and help it enter a film festival.
Chef Nicco Santos' masterclass Innovating Traditions was held last March 17. To sign up for the remaining classes visit the Axe You Masterclass Series website.