Here is Taft Avenue's smallest and best-kept secret when it comes to delicious tacos and burritos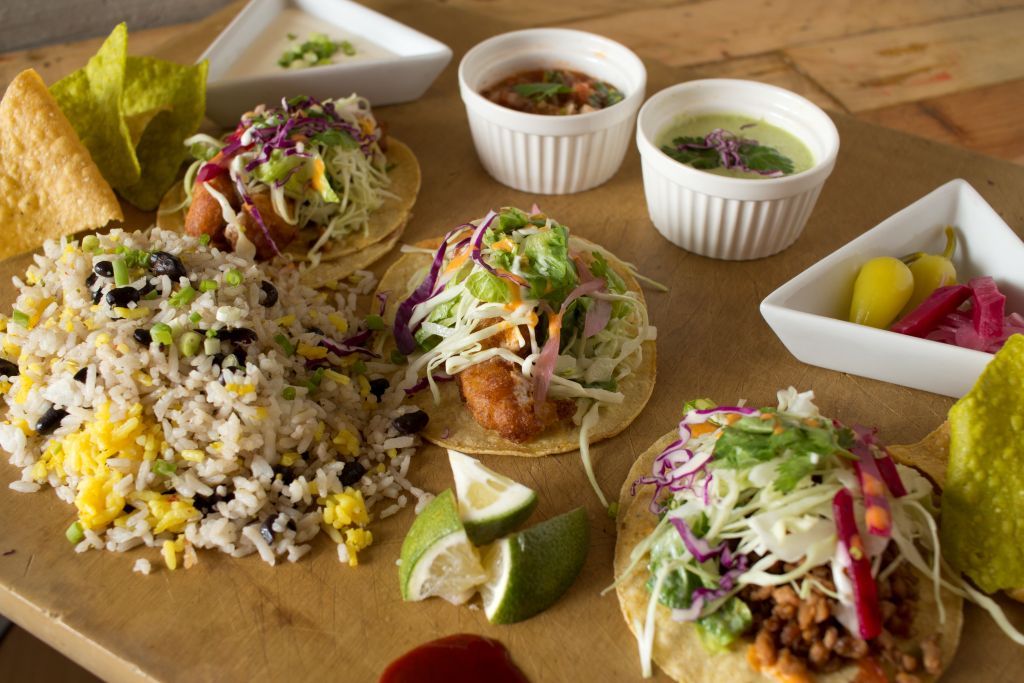 Whenever school's out in the Taft area, Gregory Park: Serious Grub's tiny quarters almost feels expansive. That's because most days, it's nearly at standing room capacity, packed with students waiting for their order of piping hot food to be served.
With the variety of budget-friendly dining choices available in the area, it's understandable why Gregory Park is one of the favorites. It serves honestly good Mexican-American fare that's cooked right on the spot, with the servings generous and the prices reasonable for anyone living off a shoestring allowance; aside from seasonal specials that use ingredients such as lamb and blue cheese, none of the bistro's menu items cost over Php300.
"We invest on our food rather than space so we can keep our prices low. That's why our place is only, like, 16 sq. m. big," explains Gregory Park's founding partner and chef Mae (she requested that her surname not be mentioned). "We want to serve food that's good, full of flavor, and sourced sustainably."
"Good" doesn't just mean flavor-wise, either, with Gregory Park's selection of vegetarian and vegan options. Full disclosure: I've been eating here weekly for a couple of months now, and the first time I tried the vegetarian Chipotle Chicken Melt, I couldn't believe that it doesn't have real chicken. I've had it again a number of occasions, and it's delicious every time. There are also dishes that use veggie beef and pork, and Gregory Park's small culinary team have developed their veggie meat recipe to give it the texture that's closest to the real thing, unlike the gummy, strangely empty mouth-feel of most fake meats.
As for sustainable sourcing, the partners behind Gregory Park have developed connections with small local farms to supply their ingredients, from meat and fish to vegetables. "We do our own research to find sources ourselves," Mae says, "because there's no local organization yet that would guarantee whether our fish, for example, wasn't caught through dynamite fishing." The menu is also based on what produce is in season, all in keeping with the holistic idea of "good food." "Food tastes better when the ingredients were harvested at the right time, not to mention healthier because the produce wasn't forced to ripen earlier than it should."
Aside from the easily profitable market of hungry students from the La Salle and St. Scholastica campuses, with visitors from Adamson University and Philippine Women's University dropping by occasionally, Gregory Park chose its Taft area location to give local college kids a different source of nourishment other than the cheap but nutritionally empty options often offered to them.
Since May, it has been offering a 10 percent discount to students from different sets of academic courses every day, and a Hundred promo is in the works so that those who will be taking exams can also enjoy a discount, have a hot, delicious meal, and be better nourished for their review and test sessions.
Art students from De La Salle-College of Saint Benilde were also commissioned to create the lighting fixtures and the artworks featured on the walls, providing them material for their portfolios and firsthand experience at dealing with paying clients.
"Gregory Park is our way of giving back," Mae explains. "It's a passion project from the start, and people definitely doubted if we'd even make a profit, but the community here has just been very supportive." More than a food business, she and her partners envision their cozy hole-in-the-wall to be a community hub and an incubation space for ideas, where even freshmen and exchange students, overwhelmed by a strange and new campus culture, can find and bond with like-minded folk over really great grub.
Gregory Park: Serious Grub. G/F 2 Torre Lorenzo, 24246 Taft Avenue, Malate, Manila. For deliveries, call (02) 251 6603. Open from Monday to Friday, from 10 am to 10 pm.
Photographer: Ronan Capili
This story originally appeared in Garage Magazine's June/July 2017 issue.
Save
Save