How else can a good cup of coffee be improved? By pairing it with food, of course.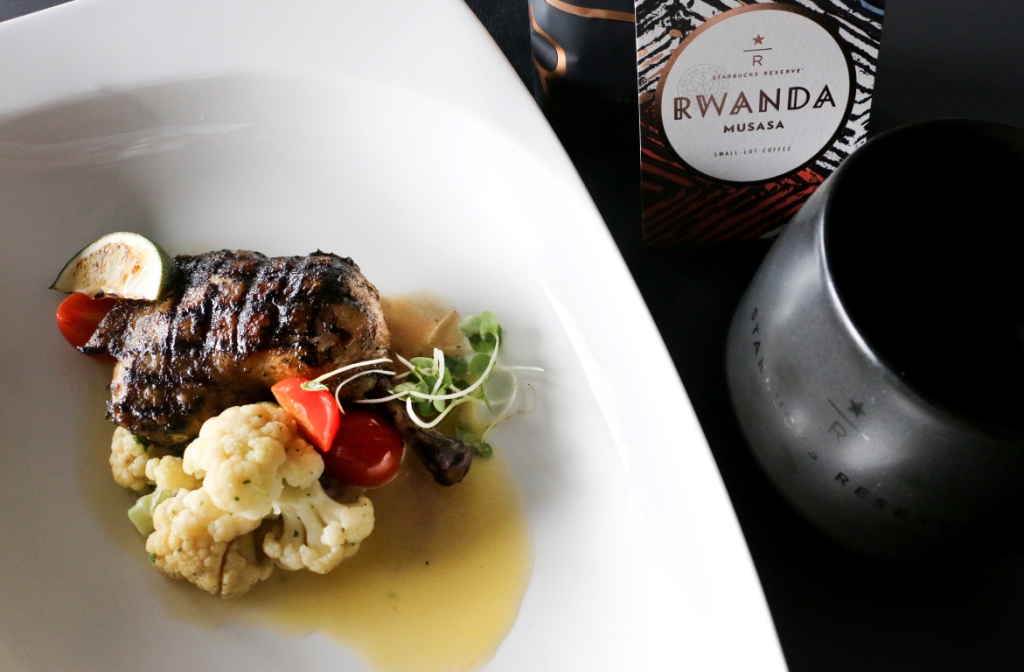 Coffee at breakfast, coffee with dessert. These sound like obvious combinations, but much like wine, a cup of brew can be enjoyed with the main course, too.
Sous vide Angus beef, for example, coated with a dark chocolate demi-glace, tastes great with a cup of French press-brewed Kati Kati blend: the meat lends the coffee a more savory flavor, while the sweetness of the glace highlights its lime-like acidity.
Grilled chicken that has been lightly rubbed with cilantro, meanwhile, adds body to a sip of Rwanda Musasa blend, making it feel fuller and heavier on the tongue but without a lingering aftertaste—a clean sip of coffee.
These mouthfuls of flavors and revelations are at the heart of the Starbucks Coffee College, an immersive, four-course journey through different coffee and food pairings. With this endeavor, the beverage company hopes to get more Filipinos more curious and involved with coffee and get them to view a cup of joe as more than a source of mid-day caffeine jolts.
The third-wave coffee movement, led by small independent cafés, has helped raise local awareness about the art of preparing and enjoying coffee. And as an international brand, Starbucks became easy to paint as the industry Goliath, the vanguard of the traditional commercialization of this important basic commodity.
In the past few years, however, there has been a distinct shift in how Starbucks presents coffee: an expanded menu of drinks, pairing suggestions offered at the counter, and a wider variety of sweet and savory pastries. A couple of their more recent additions are the takeout bowls of sweet potato salad and cold soba with chicken, which broadened the ways customers could enjoy coffee.
"We've always been consistent with our approach," says Starbucks' marketing head for the Philippines Keith Cole during the most recent Coffee College, held last Saturday at the new Starbucks café on Macapagal Avenue. "It's about serving one cup, one person, and one community at a time, and we've been steadfast about that. With the number of third wave coffee shops around, our company believes that we can all grow together. There's room for every coffee shop."
Coffee College, an elaborate culinary event usually attended by members of My Starbucks Rewards and of the media, is just one of Starbucks' ways of responding to Filipinos' growing appreciation for and engagement with coffee. There's also the free monthly Coffee Seminar program, which customers can ask baristas about in their local Starbucks.
With the company's coffee masters holding court, Coffee College is quite an educational affair, where participants are taught the fundamentals of brewing, the different ways to brew coffee, and the different flavors that each brewing process brings out.
For those who'd rather have someone with steadier hands and the patience for following precise steps to prepare their drink, the details of how coffee can be appreciated could only enhance their future enjoyment of every cup. Much like there are steps in how to properly taste wine, there's also a distinct way of enjoying coffee like a connoisseur: sniff, slurp, and sift through the flavors and the sensations that the coffee raises on the tongue.
Discovering how a dish's flavor profile can bring out the different aspects of a particular blend is also quite the learning experience, providing ideas on what else to enjoy a fresh batch of brew with, aside from the usual dessert.
"Coffee is not just about drinking," Cole said. "It's about savoring each sip and enjoying the experience. Every [food and coffee] pairing is unique and will take your coffee experience to new heights."
Visit the Starbucks Philippine website to learn more about the coffee company's latest drinks, pastries, and promos.
Save
Save
Save
Save
Save