Cool summer with Alex Diaz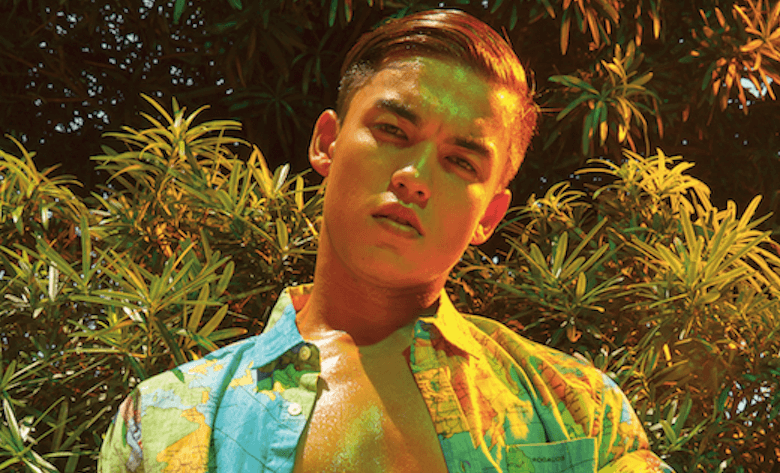 In the heat of a 1 p.m. meeting—which, by Manila's standards, means being fried in the scalp by the midday sun—Alex Diaz walks inside Starbucks in a white, sleeveless top after a session at the gym. His flushed cheeks and bright eyes don't say that he just flew from an event in Boracay the night before. At 3 p.m., he'll be filming another Myx episode and unlike the weather, he's extremely chill.
Maybe that's why it was easy to overlook him. When everybody's been raving over his fellow Star Magic 2013 graduates Julia Barretto and Janella Salvador, Diaz was himself: a self-made star devoid of celebrity connections and even press interest. "During the launch for my batch, not one person asked me a question," he recalls, "[The media was] like, 'what do you need to know about this guy? He's a nobody!'"
Now the joke's on us.
From playing Simba at the school theater, Diaz quickly snagged acting roles since his debut. He could boast a series of mall shows and ASAP appearances. Today, he's part of Myx's newest roster of VJs and is about to release a funky pop single "Must Be Going Crazy" and an even funkier music video. In true Drake fashion, Diaz has started from the bottom and now he's here.
But amid navigating this demanding career and listening to fans cheer, it's easy to forget who you want to be. Diaz, however, has always known his calling. "I've always wanted to be a performer," he says, mentioning that he got it from his Scottish dad who sings well himself. "I like entertaining people. I'm an attention seeker," Diaz jokes. I assure him he's the good kind. "It's just challenging to come from obscurity. I realized that if I wanted to realize my dream in showbiz, I had to play my strengths, which is hosting so I kept auditioning for Myx."

It took Diaz three auditions—once every year since 2014—before he earned his VJ stint. Lately, he is in his element: His everyday schedule is packed with Myx tapings and other gigs, his job homework involves research on an industry he enjoys, he learns hosting dynamics from his co-VJs, and his spontaneity (others call it his hyperactivity) adds charm to his spiels.
On his time off, he works out and puts on a playlist of chill house and R&B music—aptly named "Chilling Good"—that's mostly recommended to him by Chienna Filomeno. (She also appears in his "Must Be Going Crazy.")
Apart from TV, music—as it turns out—has become his place to be. But it seems like it will take more time before he deems himself ready. While his upcoming track could be his proper detour to a formal singing career, Diaz isn't that confident yet to tread on the other path that calls him.
"It's really hard to juggle anything in between [acting and hosting,]" he says, "I'm really insecure about singing because I feel like I haven't done enough. I haven't had enough experience."
This informs the way he looks at the OPM scene, where he is both spectator and the spectacle. "I hope in the future, our Top 10 would be filled with artists, musicians, and beautiful voices of people who has music as their first love," he thinks, "There are just Filipino musicians that I think are truly phenomenal and underground-wise, also deserve the spotlight."
When he's ready though, he says we can expect an album filled with tracks you could play at a music festival. "Real instruments will be played… It will venture into tropical house, beats, and trap," he says. "[If I were a music genre,] I'd be 2000s R&B. Slow, easy, gets your heart racing."
Diaz, like that genre, is taking his time. But come on, future, if that's what's in store, where you at?
Writer Chryssa Celestino
Photographer Marlon Pecjo
Style director Edlene Cabral
Style associate Jerico Villamonte
Style assistant Yzza Hablado
Grooming Eddiemar Cabiltes