For the long weekend, indulge like a kid with these mouth-watering cookies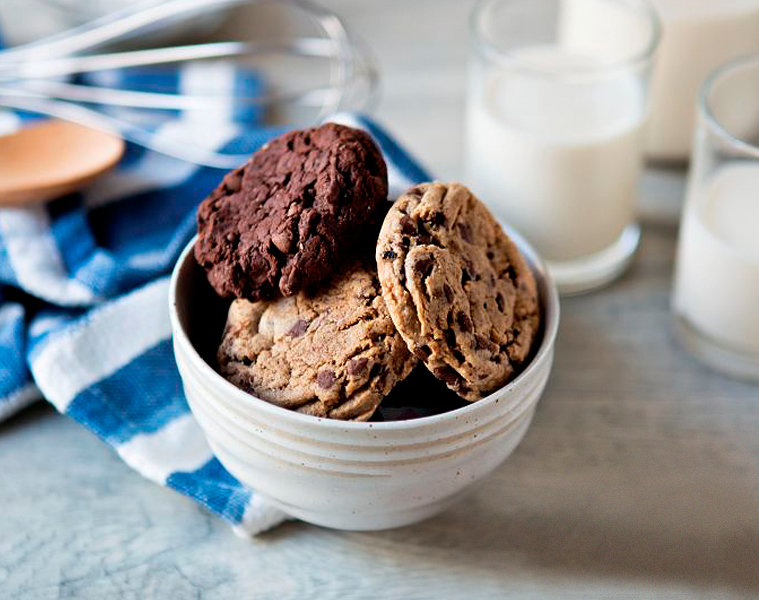 Name an iconic duo that's more emblematic of childhood than cookies and milk; we'll wait.
On second thought, please don't, because not everyone goes through the same experiences of childhood.
But cookies and milk do call back to a more innocent time, or at least frame of mind, when the obsession over carbs and sugar haven't yet taken over everyone. And sometimes, when things feel a little off-kilter in our lives, nothing can make the world feel right again better than a plate of warm, chewy, chocolatey cookies.
If you ever feel like "regressing" a bit with some sugary comfort, here are our recommendations. Feel free to pair them with your choice of milk (dairy, soy, or almond). Take a bite of these delights and we dare you not to feel better immediately.
Bakerē Café brookies

It's basically a sweet love story: When brownie met cookie, it was as if two halves of an awesome soul were reunited to make the world a better, more delicious place.
Though looking like a muffin—and having the consistency of one—Bakerē Café's brookie is anything but. The innocuous top half of chocolate chip cookie delivers on its promise of good ol', soft, buttery fun, while the bottom half promises of brownie entanglement: chewier, chocolatier, more intense. It's the best of both worlds that can be enjoyed in one bite.
Bakerē Café is located at Three Brixton Building, 3 Brixton Street, Kapitolyo, Pasig City.
Ten-hut! These home-baked goodies make for good arsenal whenever you need the lift of a sugar rush.
The Campfire Cookie melds the chocolate chip cookie with S'mores into pillowy, bite-sized confections, but the Medal of Valor has to go to the Morphine cookie. Its play of textures, thanks to the Belgian chocolate chips, cereal crunch, and marshmallows, makes it a snack to remember.
To order, text or send a Viber message to 0915-2145737 or email [email protected] 
It's chocolate upon chocolate upon chocolate—and you will never hear us complaining about it. These Triple Chocolate Chunk Cookies are so decadent, finishing one feels like half-guilty pleasure, half-luxury. Each cookie is more than just a few paltry bites, too.
To order, text 0917-8951015. Cookies are for Makati pick-up only.
Earnest Bakes cookies

There's chewy, as advertised—no, even better. Earnest Zabala's cookies are so soft, you don't even have to chew them. You can just let them crumble on their own as they roll around in your mouth, coating your tongue as you savor their sweetness until every last bit slides down your throat.
Earnest Bakes also does custom-made cupcakes and cakes, but don't miss out on its two standout cookie variants. Chewy Choco Chip adds a seductive dimension to the classic flavor for reasons we cannot understand but nonetheless enjoy, while Chili Chocolate has a delicate piquancy to every bite—just a pleasing hint of heat instead of a full-on kick to the face. The next item to try on Zabala's menu of home-baked goodies? Her calamansi pie.
To order, text or send a Viber message to 0917.813.5819 or email [email protected]
Photographer and food stylist: Gabby Cantero