You've booked your plane ticket, made reservations for accommodations, and prepared an extra memory card for all the photos and videos you'll be taking once you're in Batanes. But what do you really need to pack for a northern adventure to remember? Here's our handy cheat sheet: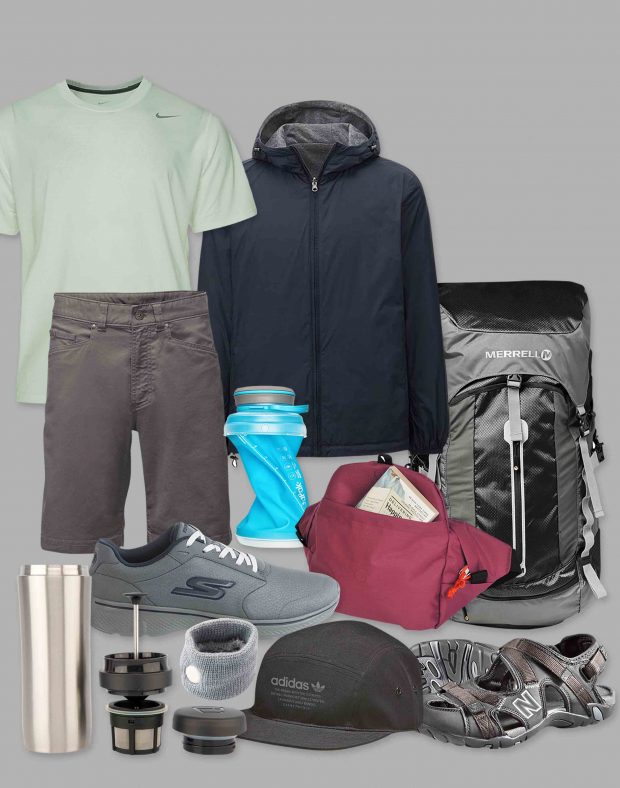 Clockwise from top left
Nike Men's Legend tee. This dri-fit performance shirt will wick away the sweat you've generated as you hike up the hills of Itbayat. Available on the Nike website.
Uniqlo Men's reversible parka. You'll be thankful for the protection of a parka that's snug on one side and waterproof on the other, especially when the temperature swiftly drops in the evening. Available in Uniqlo stores.
Merrell Tamarack backpack. Ideal for multi-day trips, this bag's sturdily constructed and padded back panel helps keep you stable while walking. The additional features of a chest strap with an integrated safety whistle, a padded adjustable hip belt, and side and internal slip pockets don't hurt, either. Available in Merrell stores.
New Balance men's outdoor sandals. Especially handy during island transfers (when the feeling of sopping wet socks is just the worst), these durable and comfortable sandals also got your toes covered in case you forgot to squeeze in a pre-trip pedi session. Available on Amazon.
Adidas Originals NMD 5-panel cap. Because of the lack of air pollution, the sun just seems to shine brighter and hotter in Batanes, so keep a cool head and block out the solar glare from your face with sleek-looking headgear. Available on Zalora.
Sea-band sea sickness band. If you suffer from nausea when out at sea, put on this washable, reusable, and–best of all–zero-side-effect band and you're ready to sail off. Available on the Sea-Band website.
Espro Coffee & Tea travel press. Traveling rugged doesn't have to mean foregoing your daily dose of freshly brewed coffee. Available in Urbanize stores for Php2,890.
Skechers men's GOWalk 4. Long walks can be made more comfortable with these shoes' innovative and highly responsive 5GEN® midsole cushioning. Available on the Skechers website.
The North Face men's relaxed motion shorts. Enjoy a fuller range of motion as you maneuver your way around rocks and creeks with these shorts made with the flexible Sorona® Triexta-blend fabric. Available on The North Face website.
Hydrapak Stash water bottle. Don't let up on your required water intake even when out of town, especially with this collapsible water bottle that can be made compact once emptied, for easier luggage stashing. Available in Urbanize stores for Php1,190.
Hellolulu Gavin hip pack. If the itinerary for the day is sightseeing, keep all your essentials in one handy (and hands-free) bag that's also water repellent. Available on the Hellolulu website.
Art by Pol Aries Zamora.
Save
Save
Save
Save