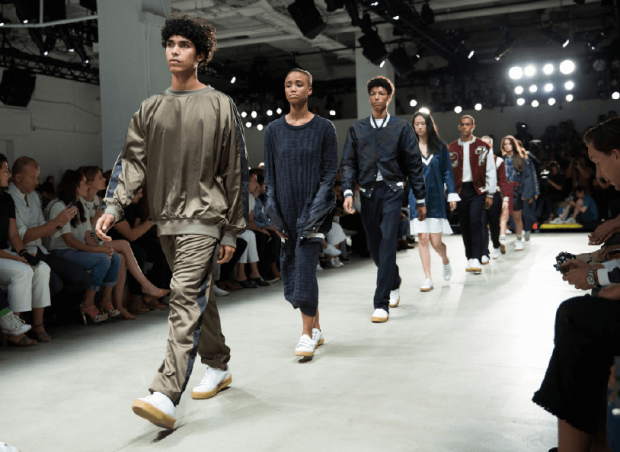 NEW YORK — The outsiders took over Band of Outsiders.
On a Saturday night, the reanimated U.S. label presented the first collection designed by its new creative team in Antwerp, Belgium: Niklaus Hodel, Matthias Weber and Florian Feder, who among them have worked for Dries Van Noten, Louis Vuitton and H&M.
For a decade, Band of Outsiders was the perennially buzzy highlight of U.S. fashion (and, often, of New York Fashion Week). The brainchild of Scott Sternberg, a onetime Hollywood agent with no design training but a genius for marketing, Band was a spunky U.S. innovation story: Man narrows ties (Band helped spur the skinny-tie boom), man shrinks shirts (Band's sizes were famously miniature, a fact celebrated by some and lamented by others), man conscripts hip celebrity friends to help promote it (Michelle Williams, Jason Schwartzman, Kirsten Dunst), man sweeps the industry. (Sternberg won a Council of Fashion Designers of America's menswear Designer of the Year award in 2009.)
And then, with little warning, Band was gone. Sternberg announced, cryptically, in June 2015 that he would be leaving the label he founded. Much of its staff had been laid off, and its fall 2015 collection would not be produced. He has said nothing more about the departure, then or since.
Band of Outsiders accepted investment, reported to be $2 million, from a fashion fund, CLCC SA, which had taken stakes in labels like Christian Wijnants and A.F. Vandevorst. It defaulted on its obligations, and CLCC, founded by Belgian shipping magnate Christian Cigrang, took control.
After a public auction of the Band of Outsiders assets and intellectual property in July 2015 that netted no high bidders, CLCC retained the label, an outcome that Antony Verbaeys, the fund's managing director, told the Business of Fashion website was "always our intention."
Now, 14 months later, Band of Outsiders is back, with a new design team at the helm.
Asked how they came to Band of Outsiders, Weber said, "They begged us to do it."
Feder, 34; Hodel, 32; and Weber, 34, are also partners in a footwear company, WHF (WeberHodelFeder), for which CLCC SA is an investor.
The Antwerp provenance of its new designers aside (the three met at the Royal Academy of Fine Arts there), Band of Outsiders has doubled down on its California identity, adding "Los Angeles" to the label's name.
"LA is everywhere," Hodel said. "It's not just if you're in LA."
They made several trips to the city while planning and designing the collection and spoke of the diversity of its neighborhoods and milieus. If Sternberg's Band of Outsiders had been Chateau Marmont, Hodel said, theirs would be the side streets of Venice.
In many ways, the three are in an unenviable position: arrivistes tasked with rebooting a label that was generally well liked, whose need for change was financial more than aesthetic. But they made clear that their mandate was not to simply revive Band of Outsiders as Sternberg had left it.
"I don't know if there is any vision of continuity," Hodel said. "It's a brand that stopped. It's not that we were tapped to take over a heritage [label] like Dior or Chanel."
The new Band is not the old. It is a slouchier take on what the label once was, still with a mix of tailoring and U.S. sportswear but with more cross-pollination between the two. Where Sternberg's jackets were snug, the new Band's version hung loose.
"None of the cropped and shrunken fit is left, actually," Hodel said. "That's something we really wanted to change."
They have also brought down the prices. That will be good news to some (under Sternberg, Band's prices were firmly, and to some unreasonably or unreachably, in the designer-fashion bracket), but the construction and materials look poorer than they once did.
What's more, many labels now compete in the rejiggered preppy idiom Sternberg favored, as well as the more streetwear-inflected one dearer to Feder, Hodel and Weber. The new Band, so far, is vague.
It may take time for the label's supporters to acclimate to this new version, whatever its merits, given that Sternberg's version is still a recent memory.
"I kept waiting for the fabrications and the colors of Scott's Band to come," said Eric Jennings, the vice president and fashion director for menswear at Saks Fifth Avenue, which stocked the label. "They never arrived."
Writer Matther Schneier/NYT