These customizable scents make fragrance layering more fun

Ferragamo introduces new additions to the Storie di Seta line
One of the most intriguing qualities of fragrances is their ability to react uniquely to each wearer's pheromones, making wearing perfume both personal and playful simultaneously.
Another enjoyable aspect of wearing perfume is having fragrances that can be layered. This is precisely what Ferragamo's Storie di Seta fragrance line aims to provide its patrons: a collection of universal scents designed for mixing and matching, drawing inspiration from the maison's iconic silk creations.
In 2021, the brand launched its initial four fragrances, including Giardini di Seta (featuring floral notes), Giungle di Seta (highlighting green notes), Oceani di Seta (embracing aquatic notes), and Savane di Seta (accentuating woody notes). This year, the brand introduces two exciting new additions to the line: Foreste di Seta and Cieli di Seta.
Foreste di Seta captures the lush vibrancy of a wild forest teeming with hidden treasures and natural wonders. Its top notes feature clary sage oil, while its heart reveals a crunchy walnut accord. The base is enriched with the smoky allure of vetiver oil from Madagascar, imbuing it with calming and balancing energy.
As for Cieli di Seta, this blend exudes the captivating radiance of a clear sky, achieved through a musky fruity fusion that balances warm and fresh accents. The spicy kick of black pepper oil enlivens the sweetness of blueberry, all enveloped in the soft and powdery embrace of musk.
In terms of packaging, each glass flacon, sealed with a silver cap, unveils a fantastical world that mirrors the colors and emotions of the fragrances themselves. Foreste di Seta captures an enchanted undergrowth populated by charming creatures, verdant leaves, and joyful berries, while Cieli di Seta resembles a captivating painting featuring parrots, butterflies, and plants gathered beneath a violet-hued sky.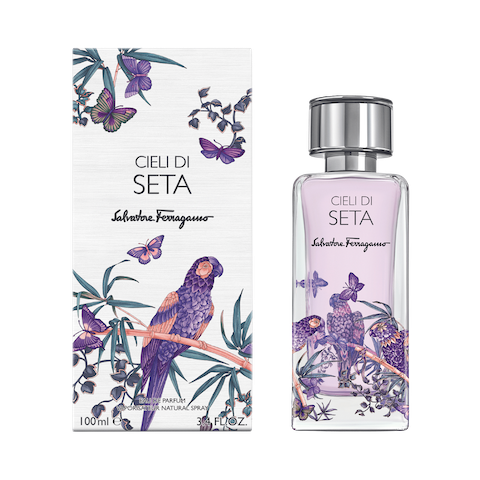 Each unisex fragrance can be worn alone or blended together to create customized fragrances that are truly your own. Foreste di Seta can be combined with Giardini di Seta for a greener accord or with Cieli di Seta for a green fragrance with powdery accents. Let your imagination wander and curate your own blends with these offerings.
The Ferragamo Storie di Seta line is now available at Rustans.