Gift Guide 2022: Designer perfumes perfect for loved ones
Make this season more memorable with fragrances from Luxasia
One of the best and most potent memory keepers in life is fragrance. A single sniff can take us to a moment, a place, or a state in our lives that plays a significant part in our existence. Fragrances also play a vital role in enveloping an individual in a vibe that uplifts the mood or even cocoon someone in a comforting moment.
This Christmas season, aside from photographs, another great way to capture meaningful moments is through fragrance. If you haven't found the perfect gift for the loves of your life, scents could be a good option to consider.
Gifting scents could also be a way to connect with fellow fragrance "connoisseurs" in the family or even kick-start their journey with perfumery.
We have rounded up new releases and some iconic fragrances to consider if you're looking into gifting "something fragrant." From playful MCM, sweet Paco Rabanne, and delicate Chloé, here are remarkable fragrances from Luxasia to wrap up this season.
For the hero of the family:
This woody fragrance is perfect for the man (or woman) who's free-spirited, athletic, and adventurous. The pine needles blend beautifully with incense giving that vibrant note while the cedarwood oils balance it giving warmth. Just like Hero (2022), this is perfect for the responsible, strong, and soulful breadwinner of the family.
For the queen of the family:
Love, happiness, femininity, and Parisian elegance—these are all the traits of a Lanvin Mon Éclat woman (2022). She is inspiring, loving, and tender, similar to the beauty of jasmine, rose, and apricot present in this scent. She is also soft and comforting just like the notes of sandalwood and white musk bottled in Éclat d'Arpège's iconic round bottle.
For the playful siblings:
Fame (2022) is a floral woody musk fragrance for women who like anything tropical. Jane Fonda's "Barbarella" and Brigitte Bardot are two of the main ideas for this fragrance; she's bright, feminine, and empowered. Fame has notes of juicy mango, pure jasmine, and creamy incense, which are all illuminating just like the star quality of the bottle.
Phantom (2021) is the main accomplice of Fame. This fragrance for men uses the energizing flash of notes like lemon, lavender, and patchouli. The futuristic bottle encapsulates the confidence and vitality of the aromatic scent making it an extremely feel-good fragrance experience.
For your first lady:
See Also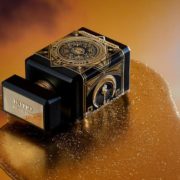 We have two options for her. One is free and expressive, the other sweet and romantic. Gucci's Flora Gorgeous Jasmine (2022) is all about that unbound freedom perfectly expressed by its ambassador, Miley Cyrus. The composition is led by grandiflorum jasmine, magnolia, and rose blended with base notes of sandalwood and benzoin. She is expressive, sweet yet unapologetically sensual.
If your girl is more into the classics, opt for the soft and delicate Chloé Eau de Parfum (2008). This is the quintessential romantic, effortless chic Chloé woman. The verbena flower adds freshness to the rose facets while the cherry blossom diffuses milky almond notes giving that soft yet luxurious depth to the fragrance.
For your partner in crime:
For your ride-or-die, best friend, and travel buddy, MCM Eau de Parfum (2021) is truly one to consider. This unisex fragrance features raspberry and apricot giving sweet notes while the jasmine mixed with ambroxan and sandalwood gives intensity to the perfume. This also comes in a very playful and iconic bottle inspired by MCM's famous backpack to further represent your travels in the future.
Check out all the fragrances available at Rustans.com
Featured image source: Paco Rabanne