Welcome the spooky season with these hair-raising flicks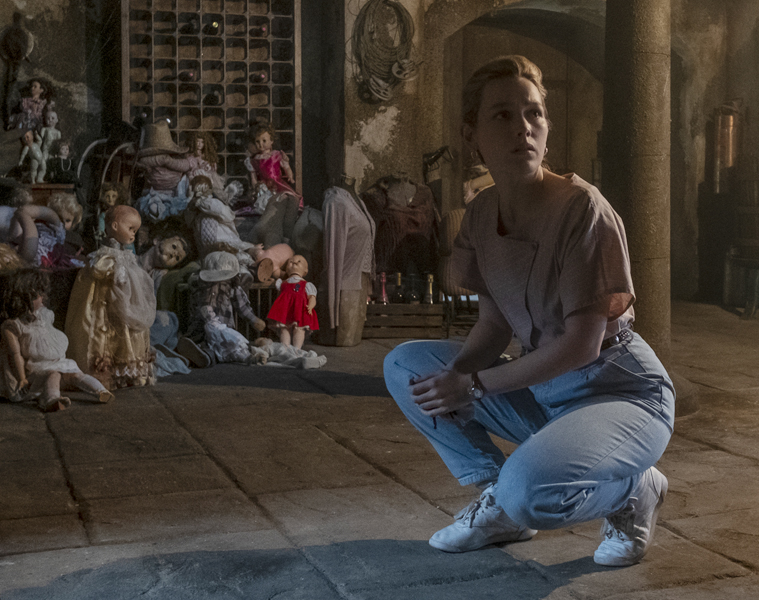 Spooky season has begun, and what other way to welcome it by bingeing on Netflix? Whether you're a die-hard horror fanatic, or if you prefer less tricks and more treats, there's a series or film for everyone to enjoy. Here are some flicks to watch out for this Halloween season.
Alive – Now streaming
Oh Jun-u wakes up and finds a note from his mom that says his family went on vacation without him. He turns on TV and the news anchor says that an outbreak is spreading nationwide, with the infected showing signs of cannibalism. Suddenly wifi is disconnected and what Jun-u can only hear is his father's message that he must stay alive. After more than 15 days without any social connection, Jun-u notices a laser beam coming from outside of his balcony window. Kim Yu-bin, who lives on the other side of the apartment complex, is the one with the laser pointer. They try to communicate using hand signals, determined to find ways to escape from an apartment complex now full of zombies.
You can watch the trailer here:
The Babysitter: Killer Queen – Now Streaming
Two years after defeating a satanic cult led by his babysitter Bee, Cole continues to be haunted by the horrific events of that night. Everyone in his life thinks he has lost his mind since Bee and all of her friends disappeared, making Cole's story hard to believe. He is still hopelessly smitten with his best friend and next door neighbor Melanie – the only one who believes his story – who convinces him to forget the past and come to a party thrown at a nearby lake. But when old enemies unexpectedly return, Cole will once again have to outsmart the forces of evil and survive the night.
Watch trailer here:
Rebecca – Available October 21
After a whirlwind romance in Monte Carlo with handsome widower Maxim de Winter (Armie Hammer), a newly married young woman (Lily James) arrives at Manderley, her new husband's imposing family estate on a windswept English coast. Naive and inexperienced, she begins to settle into the trappings of her new life, but finds herself battling the shadow of Maxim's first wife, the elegant and urbane Rebecca, whose haunting legacy is kept alive by Manderley's sinister housekeeper Mrs. Danvers (Kristin Scott Thomas).
Watch trailer here:
His House – Available October 30
After making a harrowing escape from war-torn South Sudan, a young refugee couple struggle to adjust to their new life in a small English town that has an unspeakable evil lurking beneath the surface.
Watch trailer here:
Ratched – Now Streaming
Ratched, from Ryan Murphy and Ian Brennan, is a suspenseful drama series that tells the story of asylum nurse Mildred Ratched. In 1947, Mildred arrives in Northern California to seek employment at a leading psychiatric hospital where new and unsettling experiments have begun on the human mind. On a clandestine mission, Mildred presents herself as the perfect image of what a dedicated nurse should be, but the wheels are always turning and as she begins to infiltrate the mental health care system and those within it, Mildred's stylish exterior belies a growing darkness that has long been smoldering within, revealing that true monsters are made, not born.
Watch trailer here:
The Haunting of Bly Manor – Now Streaming
From The Haunting of Hill House creator Mike Flanagan and producer Trevor Macy comes The Haunting of Bly Manor, the next highly anticipated chapter of The Haunting anthology series, set in 1980s England. After an au pair's tragic death, Henry Wingrave (Henry Thomas) hires a young American nanny (Victoria Pedretti) to care for his orphaned niece and nephew (Amelie Bea Smith, Benjamin Evan Ainsworth) who reside at Bly Manor with the estate's chef Owen (Rahul Kohli), groundskeeper Jamie (Amelia Eve) and housekeeper, Mrs. Grose (T'Nia Miller). But all is not as it seems at the manor, and centuries of dark secrets of love and loss, are waiting to be unearthed in this chilling gothic romance.
Watch trailer here: