Lacoste joins the genderless bandwagon with a new collection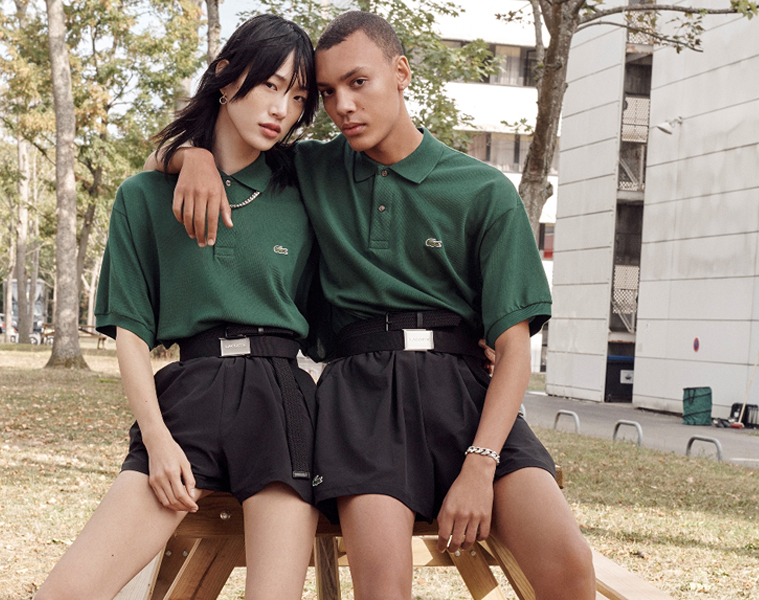 I have always thought of Lacoste as a conservative brand: clean, traditional, middle-of-the-road—and that's not bad thing. I think they've found their niche when it comes to timeless, classic pieces that your parents and their friends have had a thing for.
But now that everybody is going genderless, with even Céline Dion presenting gender-neutral clothes for babies and kids through CÉLINUNUNU, it's a branding strategy that is no longer as provocative as it used to, especially with Lacoste joining in with a spring/summer 2019 collection that focuses on the style rather than the gender of the wearer.
The collection has a distinctly vintage feel that merges Lacoste's tennis roots with the streetwear universe of the '90s—an offbeat take on the sportscore aesthetic.
The polo shirt is the center of the collection, styled to show its potential as a streetwear piece and not just as a preppy classic.
Worn by both men and women, the XXL polo shirt can be paired with a long pleated skirt or a pair of technical jersey shorts, preferably high-waisted and accentuated with a belt.
There's the bucket hat-cap hybrid.
Footwear isn't left out, with the white canvas Lacoste Sideline model, with its tennis court-inspired multicolored streaks, and the minimalist Masters model, which draws from the Lacoste archives.
With an equally gender-neutral color palette, this collection makes mixing, matching, and borrowing pieces that much easier.