Gerald Anderson finishes strong at the 42K Los Angeles Marathon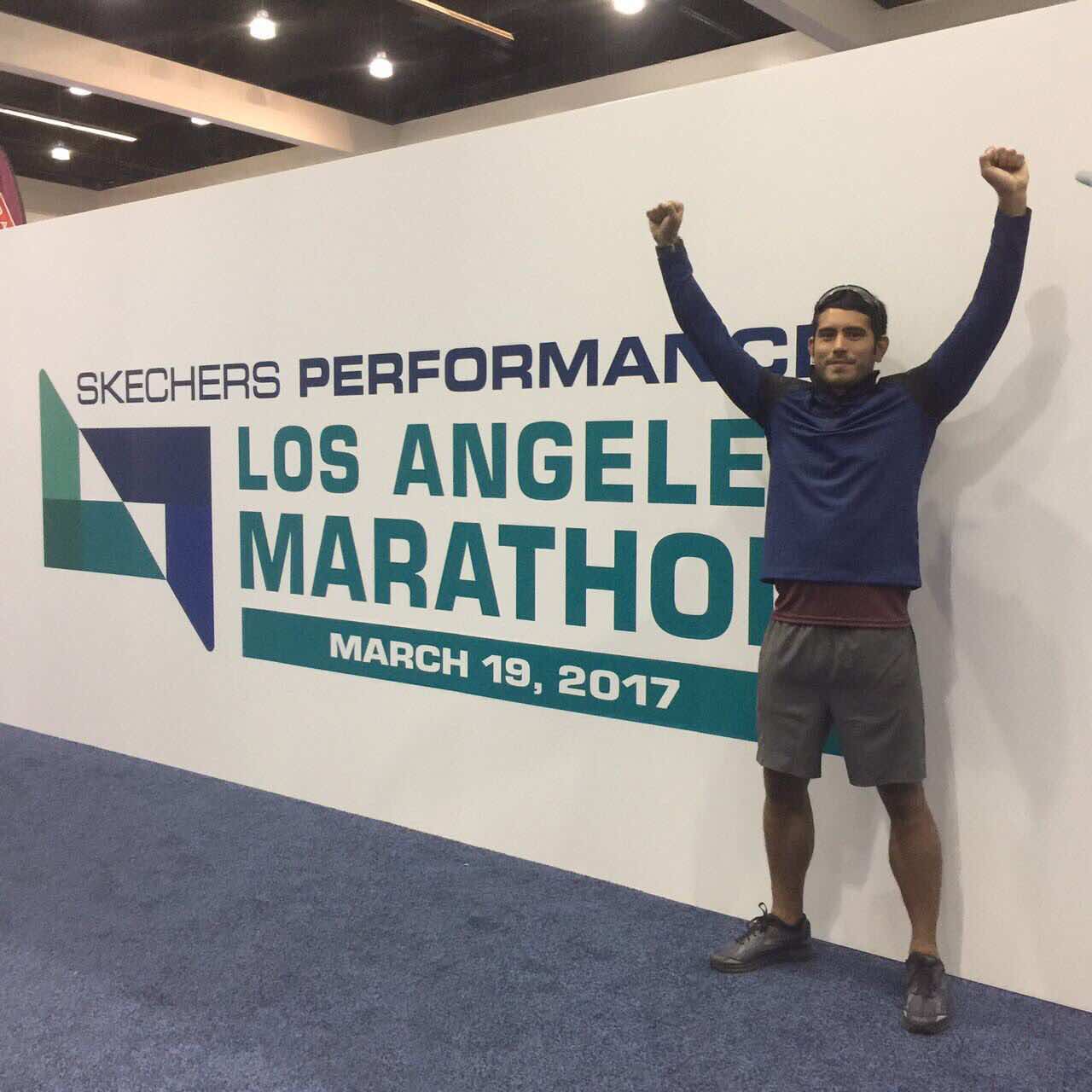 Four hours, 25 minutes, and 2 seconds—this was how long it took celebrity athlete (and Garage Magazine's April/May 2017 cover guy) Gerald Anderson to finish the 42K Skechers Performance Los Angeles Marathon last March 19. And before anyone would scoff at the length of time it took him to cross the finish line, ponder on this: as unbelievable as it sounds given Anderson's fit physique, this was his first ever marathon.
Established in 1986, the L.A. Marathon is one of the largest marathons in the United States, with over 18,000 participants annually. This year, The Skechers Performance Los Angeles Marathon's Stadium to the Sea course saw runners race from Dodger Stadium across Los Angeles to a scenic finish just steps from the Santa Monica Pier.
Gerald Anderson winded but triumphant after finishing the 42K Skechers Performance Los Angeles Marathon, held last March 19.
As the country's delegate to the prestigious event, Anderson began training November of last year, squeezing in swimming, biking, and running in between taping for his newest teleserye Ikaw Lang Ang Iibigin, which reunites him with his first loveteam partner (and ex-girlfriend) Kim Chiu.
"The biggest change [was] my diet," he told Garage during his cover shoot, held just a couple of weeks before he flew to Los Angeles. "I really felt the difference that eating better brings. I've started a diet that made me feel lighter: no meat at all, no carbs, no sodium, no sugar, no soda. It's boring, but it's okay; it's part of a lifestyle. I have a goal and I accepted sacrifices that are part of it."
"Please get me there."
At the marathon, Anderson found himself running alongside thousands of other runners from all over the world, some newbies like him and some who are veterans in long-distance running. At one point in the 42K marathon—somewhere around the 35th kilometer—he admits to praying for strength to push on to the finish line: "I was praying, 'Lord, please get me there.' I was pleading with my legs, 'Please, don't give out yet.'
"I'm proud of myself that I got to finish the marathon and that I crossed the finish line. We ran really far. It's really amazing. And the [running] community was also amazing. Even though we were all trying to get ahead of each other, we would still help each other out."
As important as his training was, Anderson credits Skechers not just for their support but also for introducing him to the Skechers Performance GOrun Forza, which he used during the marathon. "These shoes felt so light. [They] really helped me run far and strong. They didn't hurt my feet at all—they were super comfortable." The GOrun Forza features superior stability that comes with the signature Skechers GOrun comfort and a seamless minimal upper combined with a two-part Resalyte® stabilized mid-sole for true stability running experience. It also promotes a smooth heel to toe transition, delivering lightweight cushioning and added response.
More horizons to conquer
"It's been a very busy year for me, and it looks like it's about to get busier, but that's the way I like it," Anderson states. He may have achieved one of the biggest goals there is for a marathoner, but with summer just started, he's looking to achieve more. Showbiz commitments keep him busy, but never too busy for other causes he finds important, such as the social work he does through his canine search-and-rescue group the Gerald Anderson Foundation. "I'm always summer body-ready. It's a lifestyle for me. It makes me feel younger than I am."
See Gerald at his fittest and read more about his fitness regimen, his summer plans, and what else he wants to achieve in the Garage Magazine April/May 2017 issue, out in bookstores starting tomorrow.