Ready for casting with Adryan Hanson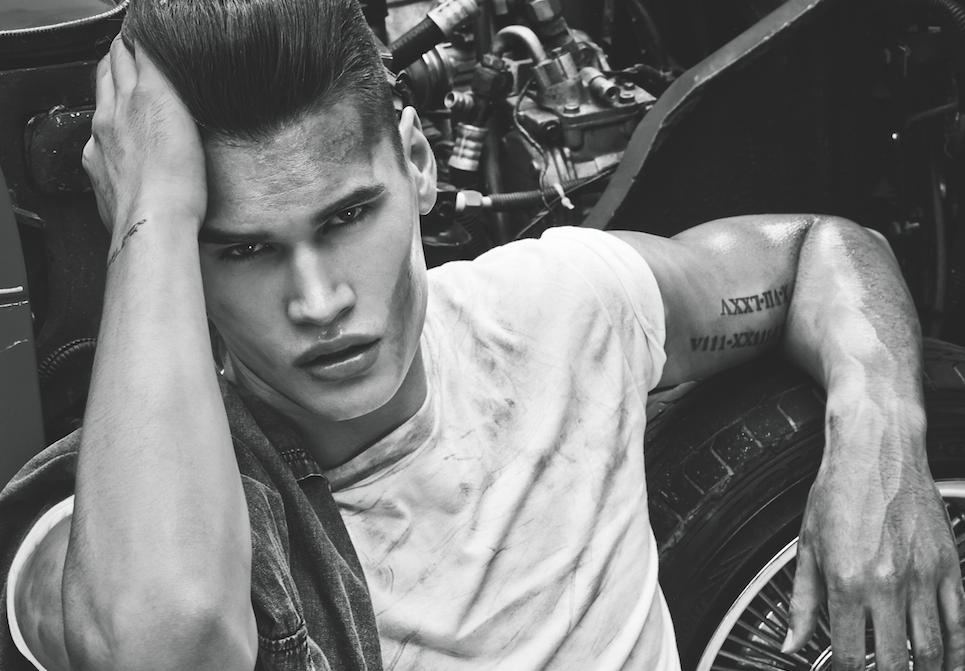 "Becoming a male model requires potential, a strong presence, and the ability to fit into all the standardized requirements such as the expected physical measurements, all backed with a great personality," Michael Seifert summarizes. Seifert is an international model who is also now the manager of Talentman, a boutique model management agency. Coming from one side of the modeling game to the other, what does he exactly mean?
In the looks department, whether a dude's a six-footer or just right at 5'9," whether he's waif-like or a buff, real-life Adonis, something you will always find in common among male models is a squared face: a sharp jawline, high cheekbones, a slim, strong nose, and a very lean face (which is achievable if you don't skip your cardio, as this should follow). The genetic jackpot of such strong facial bone structure anchors expressive individual features, whether they are long, monolid eyes like Paolo Roldan's or lush lips like one of Talentman's models Adryan Hanson.
You can fake this countenance with a haircut, though. Ask your barber to take out length from the sides of your face and leave more length on the top of your head. Guided by your natural hairline, have it shaped into a straight line that begins at the temples and ends at the height of your cheekbones to create the illusion of a square jawline and to bring out your cheekbones. While you're at it, make sure your brows are groomed just so; there is such a thing as over-grooming. If you haven't had corrective cosmetic dentistry yet, fixing your smile can also improve the symmetry of your face.
Seifert agrees that the industry has become more competitive in the past decade, therefore it's important for every model to have the complete package. "At castings, you have two minutes to wow a client and make sure they book you, if not remember you for future bookings. The best type of presentation is to come as yourself in a clean, well-put manner."
He recommends wearing something basic like a white or black shirt with jeans. Grooming-wise, save the bangs for another day. "Make sure you pull your hair back to demonstrate all your facial features. Invest in good skin products to make sure your skin looks clean and fresh." He also reiterates the importance of a skincare regimen that covers all bases, which must be practiced every day and night. Cleansing is important, especially after shoots where there must be no trace of makeup left before you sleep. This makes investing in a good cleanser essential because it's something that you will use daily. If you're in your 20s, update your regimen with a toner, an eye cream, or an eye serum. Reapply lip balm after meals to lock in moisture and never go out under the sun without sunscreen. Your looks are more than your job-generating investment; you just feel better about yourself at castings and jobs when you know you look your best.
"At the end of the day, it's all about knowing who you are and being confident and comfortable in everything you do, which will come across during castings and jobs," Seifert says. And that's true. Shoots and shows are about team work, and when you are professional and have a good vibe about you, people will want to work with you more.
If you fall short of the minimum 5'11" required height, Seifert advises that you shouldn't be discouraged. "Just like every industry, there are always exceptions. Some of today's biggest male models are just under or over the height requirement, such as Francisco Lachowski who is 6'3" on paper, but much taller in reality," he reveals. "In addition, there are different types of modeling such as print, commercial, and television work that don't usually require a height minimum."
If all else fails, you can up your selfie game. "Social media in general has left quite the imprint in today's society, especially in the fashion industry. More common than ever nowadays is discovering that aspiring models get scouted on social platforms like Instagram, who end up landing major contract offers," muses Seifert, who has not found anyone who meets the Talentman requirements yet on Instagram. He notes, though, that a modeling break is not an opportunity that comes to everyone. Even when it comes, some of that Instagram charm has to translate into real life.