'Co-Exist Story' is an animal-friendly fashion line that got thumbs up from PETA
H&M's latest collection explores 'innovative alternatives to animal-derived fabrics'
"Animals do not exist for our purpose, nor as a function of what we would like them to be," Vogue Italia editor-in-chief Emanuele Farneti said in the January 2021 issue of the magazine. "And it seems almost too obvious that the fashion industry, like any other economic activity, must ask itself where the limits lie in the exploitation of natural resources, and what prospects are offered by technological aspects."
For years, the fashion industry has been seen as one of the main culprits that violate animal rights. So much so that many luxury labels are dropping the use of fur and feather trimmings and are pushed to explore plant-based alternatives that will still serve style but have less to no damaging effects on the planet and its creatures. The latest to showcase an animal-friendly fashion collection is global retail brand H&M with its "Co-Exist Story" line.
The third part of the brand's Innovation Stories 2021 initiative, the collection—spanning womenswear, menswear, and kidswear—spotlights alternatives to animal-derived fabrics and processes. And if you're in the dark about the story behind it, you'll be glad to know that the line got the approval of the animal rights organization People for the Ethical Treatment of Animals (PETA).
"The 'Co-Exist Story' collection epitomizes our ongoing commitment at H&M to exploring innovative alternatives to animal-derived fabrics while still offering our customers cutting-edge fashion," says Ann-Sofie Johansson, the brand's creative advisor. "H&M and PETA have enjoyed a positive dialogue throughout the project, and we are proud to support the valuable work that PETA is doing every day."
"Much of our work at PETA is accomplished by forming positive relationships with companies such as H&M as we strive to end the use of animal-derived materials," PETA corporate responsibility manager Laura Shields adds. "We're thrilled to partner with H&M on a collection that features fabulous vegan designs that are kinder to the planet and to the animals who live on it."
The collection combines innovative animal-substitute fabrics and more sustainably-sourced materials with a fashion-forward mentality. Pioneering fabrications such as FLWRDWN, an alternative to animal down made using wildflowers, and VEGEA, a plant-based substitute for oil-based and animal-derived leathers, are used for the collection.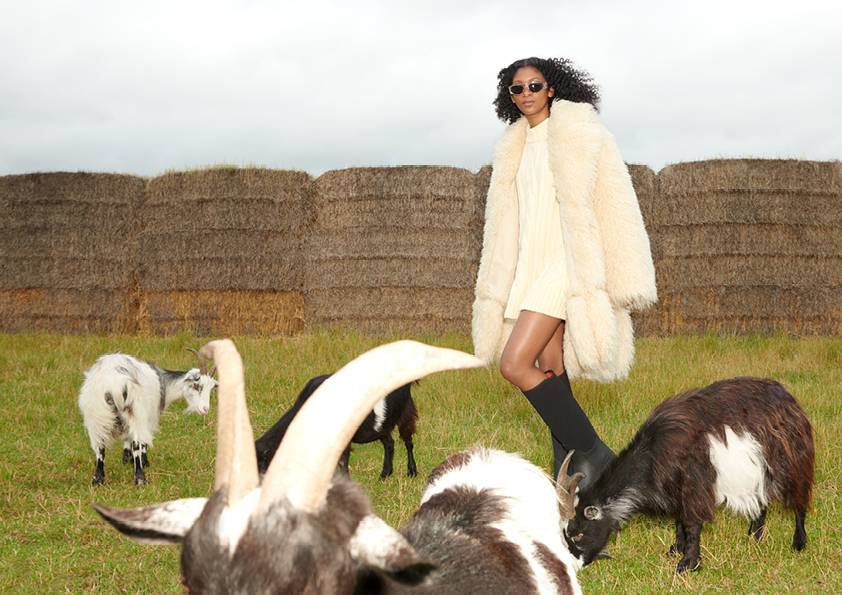 Perfect for modern city-dwellers who flits between late-night parties and early-morning hikes, the collection presents pieces of extreme volumes, '90s-inflected partywear, and functional outerwear. Key pieces are an oversized cream faux fur coat in recycled polyester and a one-shouldered knitted dress with a dramatic fringed hem for women. For men, a graffiti-print recycled nylon oversized anorak evidences a streetwear-led aesthetic. Kids will love the one-size-up recycled nylon anoraks and FLWRDWN puffer jackets come in exuberant hues, while t-shirts and loungewear are enlivened with slogan patches that declare allegiance to the animal kingdom and support for PETA's work.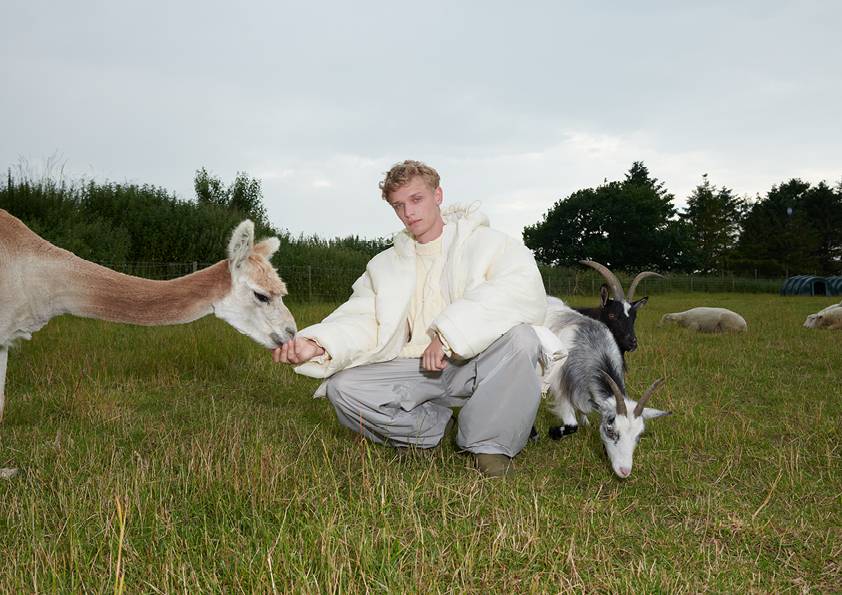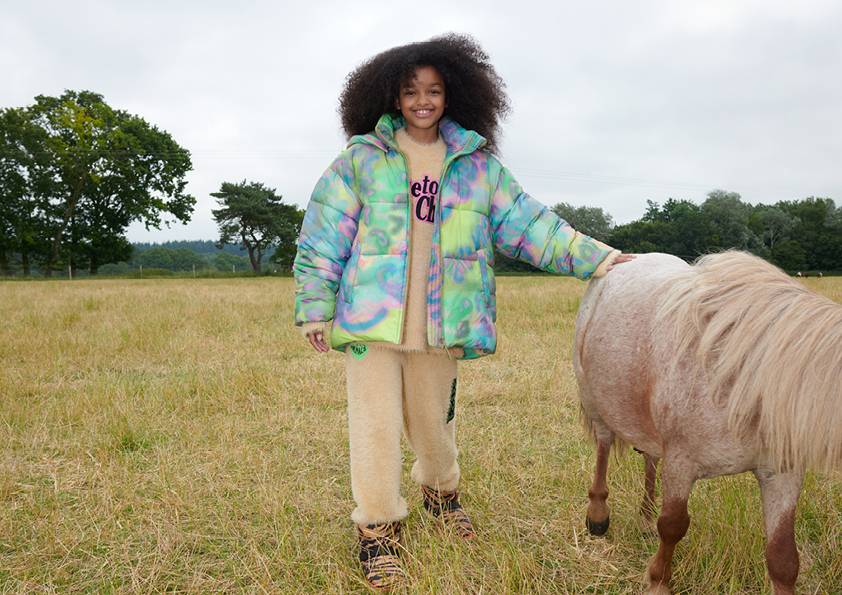 "We designed this collection for modern urbanites, those who love the social hubs of city life but equally crave weekends spent wearing their waterproof rubber boots immersed in nature," says Malin Dubois, senior designer at H&M. "We're proud to be able to unite two passions: versatile, fashion-forward design with more sustainable PETA-approved alternatives to animal-derived materials."
The "Co-Exist Story Collection" is now worldwide at hm.com and in selected stores