SHARED EXPERIENCES: Jefrëʻs Points of Connection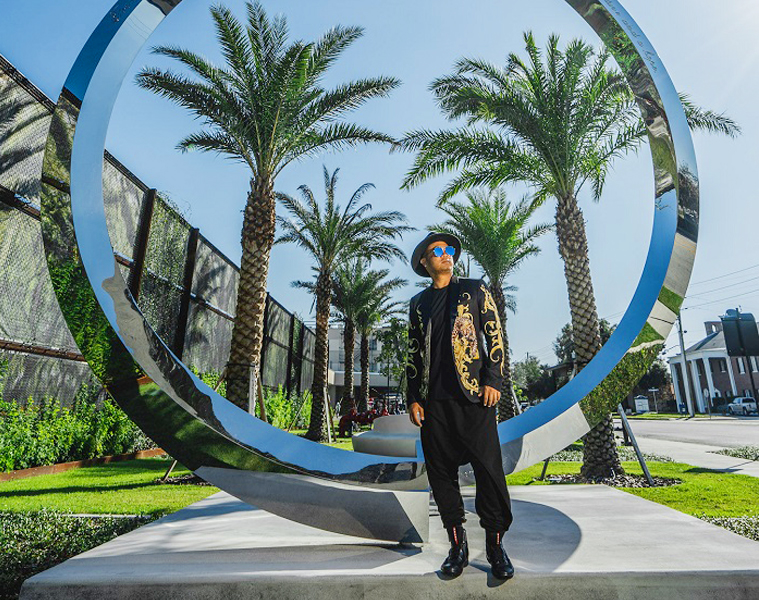 At a time when the heart is assailed by the many sudden changes brought about the Covid-19 pandemic, what might help us is the consolation and contemplation that pieces of art enable. The Filipino-American sculptor JEFRË will be providing us these as his first solo exhibition, Points of Connection, runs from October 3, 2020 to January 3, 2021 at the Orlando Museum of Art.
Jefrë, who had to take a hiatus from sculpture due to a heart attack when he was 35 years old, is responding to the heartʻs call as he mounts this touchless, interactive show entitled  JEFRË: Points of Connection. The works will likely touch us, too, because Jefrë "creates artworks     that express the spirit of our time with energy and optimism," says Hansen Mulford, Curator of the Orlando Museum of Art.
This exhibition is built around a poem, "Heart to Heart," which was written by the artist. The child of immigrants, he illuminates common human experiences shared across age, gender, ethnicity, and nationality. He will be connecting with us through his work, which includes collaborations with other artists AYO The Producer, whose recent success was Cardi Bʻs record-breaking song, "WAP."
When asked about the objective of the exhibit, Jefrë said, "Through Points of Connection, I seek to bridge that divide by telling a highly personal story that speaks to the shared experiences of people, regardless of their background. Now even more, considering the pandemic and everything that has happened in the past year alone."
Jefrëʻs work can be found in multiple destinations worldwide with prominent pieces in Metro Manila, Bicol, New Orleans, San Antonio, London, and Miami. Structures such as The Beacon and The Code Wall in Orlando, Florida, stand as a living tribute to the lives lost at Pulse Nightclub in 2016.
"As a Filipino-American who is both proud and aware of his heritage, I make it a point to apply that understanding of shared experiences into all my work," says the artist. "Public art is incredibly powerful and dictates our personal relationships with our home cities. It's a reflection of our past. With my work, I celebrate the past in a way that embraces the future. We live in such a diverse world and it's important to me that we not only celebrate the differences, but the similarities as well. And that to me is so powerful because it speaks to us as people without barriers."
JEFRË: Points of Connection runs from October 3rd, 2020 – January 3rd, 2021, exclusively at the Orlando Museum of Art, in Orlando, Florida, USA. For his latest work, like his official Facebook page or other social media accounts.
Text by: Niccolo Rocamora Vitug