Ride at home with Perigon's Stay In Club virtual classes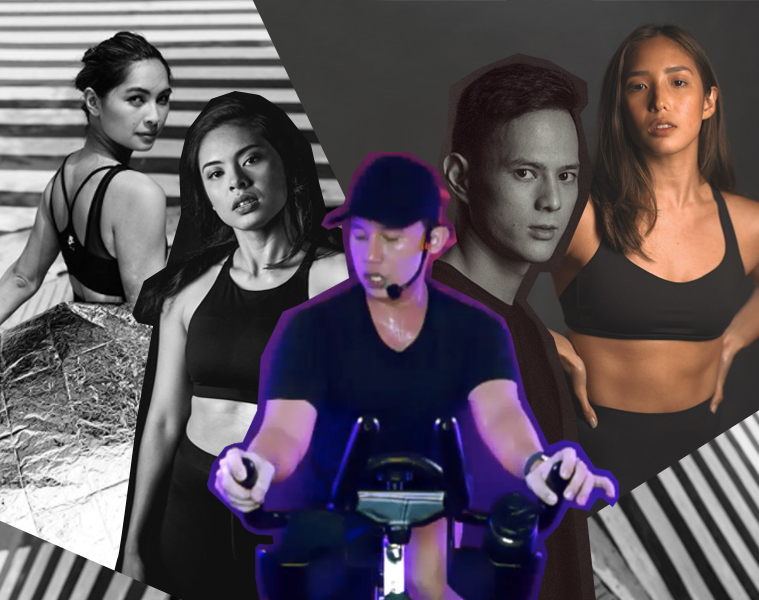 If this lockdown is giving you a FOMO on the cycling community, it's time to jump in on this cycling studio's virtual classes. Stay In Club by Perigon is a digital wellness platform that live streams the studio's daily indoor cycling classes. Stay In Club offers a Bike Share Program where you can avail of packages that will enable you to borrow gear needed in a cycling class. The set includes a stationary bike, a pair of cycling shoes, and dumbbells which will be delivered at your doorstep at full packages of P18,000/month or P45,000 for three months. There are also passes, which include digital sessions alone, priced at P3,500/month for unlimited access, if you already have your own gear at home.
"We created Perigon's Stay In Club with the intention of creating moments of 'normalcy' during these unprecedented times. When we temporarily shut our doors back in mid-March, we wanted to give back to our community by providing them a way to stay connected with one another through Perigon via workouts we were doing, sounds we were listening to, and stories we found interesting. It was totally improvised. The longer the lockdown lasted, the more apparent it became to us that Perigon is a big and impactful part of our customers' lives, so we wanted to bring the Perigon experience to them." shares Kenneth Toh, co-founder of indoor cycling studio, Perigon and premium lifestyle brand, Future Relics.
The cycling instructors are responsible for the drills, pushing your limits, and preparing the playlist you sweat to. We've caught up with some of these undercover athletes, got to know them a little so you would know what to expect from their classes when you join in.
https://www.instagram.com/p/CAju-iVn6_1/
Identifying with what Perigon is all about, a community that is centered around individuals who are in pursuit of progress and not perfection, videographer and indoor cycling instructor Fold Canela shares how he got into riding. "I was never really a sports & fitness kind of person, but there was something about indoor cycling that got me hooked ever since my first class years ago. I think it just became a natural progression for me to try out and be an instructor in the hopes of sharing with other people what this workout has done for me." he shares. "Some of my regular riders always say that one thing they appreciate about my classes is that it makes them feel invincible, and that's one thing I think all of us at Perigon strive for – to embolden our riders to be the best versions of themselves. We make sure each class is fun, empowering, and most importantly, that you'll work your ass off!" he adds. If you're looking for an experiential, thoughtful, wild yet feel-good class while riding to mainstream pop all the way to world tribal music, you should ride and sweat it out with Fold Canela.
https://www.instagram.com/p/B8VjKpDJcZJ/
If varied and ever-changing workouts are what you're up for, try out Stefanie Chung's classes, "I love playing around with the resistance knob and introducing new choreography from time to time. I do my best to make sure that each and every class is different." she shares. This instructor starts her classes with a theme dependent on an evident feeling in her life, which is mirrored by the music she rides to "I love music that connects deeply with one's body, mind, and soul. The music I play is dependent on a theme or sometimes even my mood. I make sure to take my riders into a journey where one connects with music like never before. Underground, with no limitations; that's where my classes tend to go." Chung adds.
https://www.instagram.com/p/B9L__50JLiL/
With only five classes under his belt, Dave Mendoza tried his luck and auditioned to be one of the studio's instructors. His journey being a cycling instructor may have begun unexpectedly, but Mendoza is sure to push your limits throughout the ride because of his competitive nature.  "I've been competing in sports for a big part of my life so I try to make my clients develop that "no quit" attitude, especially during the heavy resistance exercises and sprints," shares the athlete. Known for his "angry" sprints while playing EDM mixes, he encourages his riders to tap into feelings because he believes that these are good motivators especially during build-up. He also believes that this way of exercises is cathartic and therapeutic.
https://www.instagram.com/p/CAceSMNpch8/
From the latest and third batch of Perigon instructors, Mo Tan may be fairly new but if you want fast and apparent results, she assures you a sense of growth and an improved mindset with every class "I've always believed that the daily grind, if sprinkled with a little bit of fun, can eventually translate into something you can learn to embrace during a ride." she shares. If you're into EDM mixed with indie-pop and sure-fire hits, you should definitely give Tan's classes a go "My classes are very structured. It's a playlist guaranteed to hit every essential bit of a cycling class. For every party track that's there to just simply dance to, my riders and I know well that there will be an equivalent opposing track just demanding for our hard work – so there's always a little bit of both!" she concludes.
https://www.instagram.com/p/B7f2BZ9p5Kk/
For Ytle Cruzado, it was her love for dancing that led her to becoming a Perigon instructor. Resigning from a family business-related job after 2 years of working there, she decided to look for a job that perfectly mixes her passion, fitness, and desire to help others. "Being a Perigon instructor really is a game-changer. It's our training ground and a space for us to get better physically, emotionally & mentally." Cruzado shares. Expect a fun and a heavy-choreography class if you plan to join her classes "I love to hype up my riders and, even more, celebrate their progress. I believe that a good challenge leads to change, so if I see you getting stronger in my class, I'll make sure to add up your resistance because in that way, I get to test your limits and unleash your greatest potential." she adds. The Hiphop dancer sees a similarity when it comes to indoor cycling and dancing on the bike, "I like to play with old and new choreos every now and then to spice things up. Riders would mention they feel euphoric after my class, and that to me means they enjoyed a challenging yet feel-good session." Cruzado shares You're sure to enjoy her "Drop Dead Beats" which mixes old and new hiphop trap mixes, EDM, and alternative rock with heavy drums which will surely make you groove on the bike when you ride with her.
While there is still no exact date when fitness clubs like Perigon will be allowed to operate physically in their studios, rest assured when they do, the studio will be on top of things when it comes to safety and cleaning standards "Our strategy ensures our commitment to the health and safety of our community and staff. We also acknowledge that this situation is evolving, and we are taking every protective measure to ensure the health and safety of every member of our community. A more detailed outline of our Safety and Cleaning standards will be sent out to our community once we have a tentative opening date; however, we will ensure that all of our staff will be required to wear face masks and gloves during their shifts, social distancing measures will be practiced in our studio, and heightened cleaning procedures throughout the studio will take place." Toh shares.
Here's a quick reference for their rates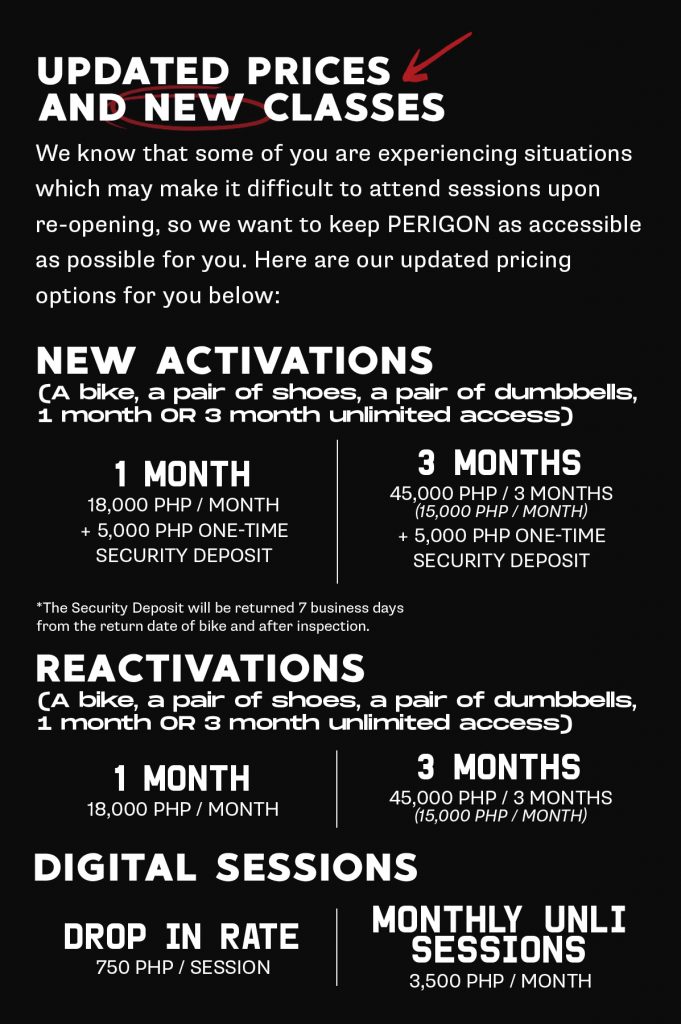 Visit Perigon's website to avail packages, see upcoming classes, and learn more about their undercover athletes.