Welcome to Garage's Instaguy series, where we introduce you to personalities we think you should be following. And our first guy is 26-year-old Jeffrey Lawrence Ong.
Though he is now known more for his photography, Ong pursued graphic design after college. It was only when he got to assist in a styling gig that he found his way back to taking photos. "One of my college professors who is now a stylist asked me if I could assist him, and during the shoot, the photographer let me shoot the last two layouts because I told him I used to do photography before. After that, the stylist and I agreed [to do] a test shoot and the rest was history," he shares. Since then, Ong has worked as a photographer with brands The Nines, BNY Jeans, Kettle Korn, and Skechers.
As for his Instagram aesthetic, Ong likes to keep it minimal, just like his style when editing photos and lighting his sets—and when dressing up, "My style is street, though more on the Korean-minimal kind of street style."
What is your favorite photo editing app?
Adobe Lightroom and Photoshop.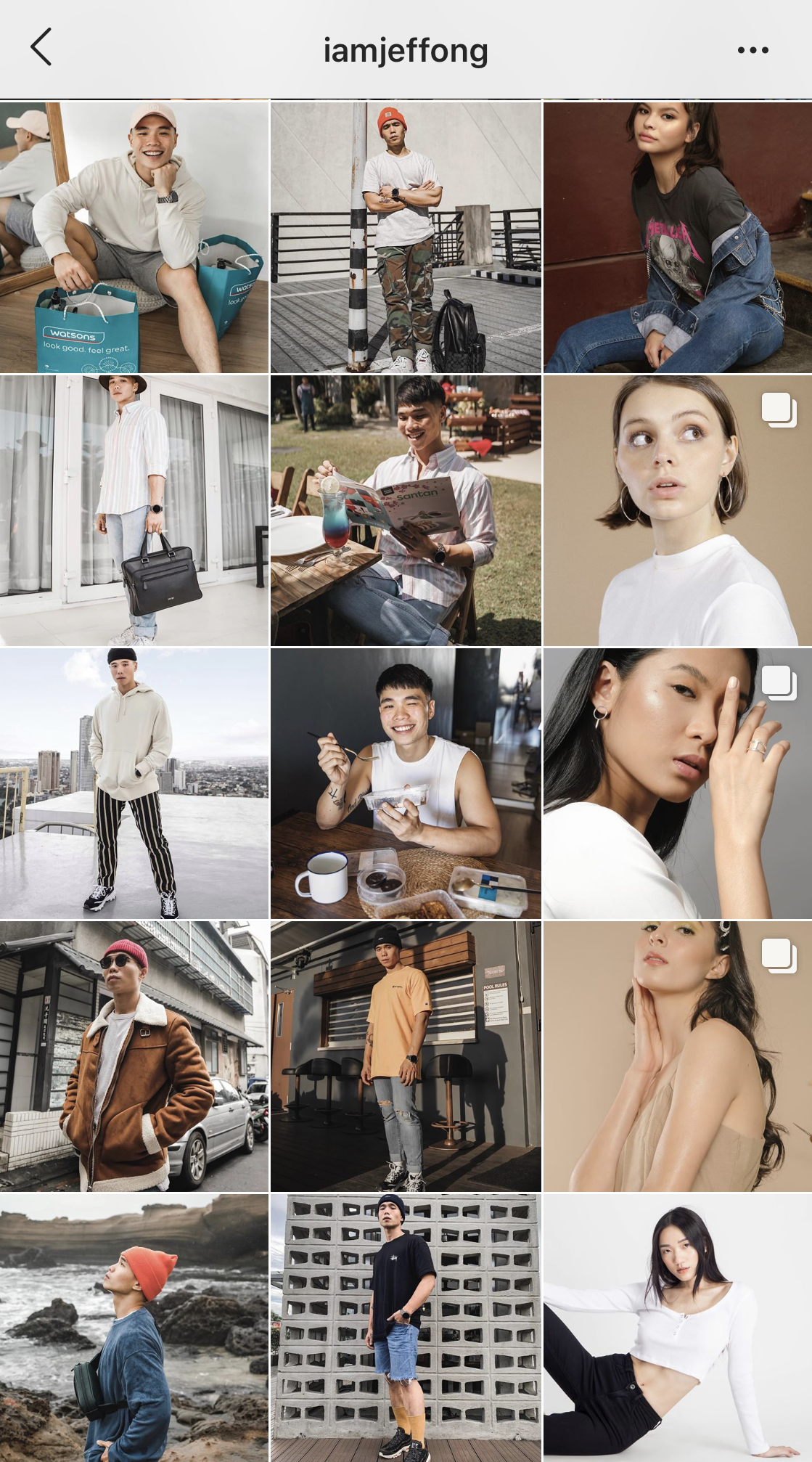 What are your favorite filters?
I create my own filter.
Most used hashtags?
#photography #fashionphotography #foodphotography #ootd #fashion #streetwear #streetstyle
Where do you get your style inspiration?
Usually online, and from the people around me when I travel, especially whenever I'm in Japan and Korea.
How did blogging and being an Instagram influencer start for you?
I've love to shop and style outfits ever since I was in college. I guess those are my "stress relievers," and one day I just decided to share what I like to do on my Instagram page. Then I met my girlfriend Rhea Bue, and I have been taking her photos for her  own blog. She supported me when I started blogging myself until I got to develop my own style.
What are your go-to fashion pieces?
A pair of comfy trousers, a loose shirt, and pair of chunky shoes, which I then top off with a cap or a beanie.
Any Instagrammer pegs?
@Davidguison
@jovelroystan
@dariom_famous
@felix
@kevinelezaj
@dima_bychick
@igortepliakov
What are the essentials whenever you do shoots?
It's important to plan out your shoot—location, theme, model/s, etc.—before you execute.
Dream destination, and what can we expect to see on your feed this summer?
Europe! This summer, expect a fresher and hopefully a more curated feed.
Dream subject to shoot?
My dream subject is still my girlfriend, because I love taking her photos. I'd also love to do a shoot with a major campaign and have it put up on a billboard.
You can also follow Jeff Ong on his YouTube vlog.