Explore the great outdoors in style with The North Face x Gucci collaboration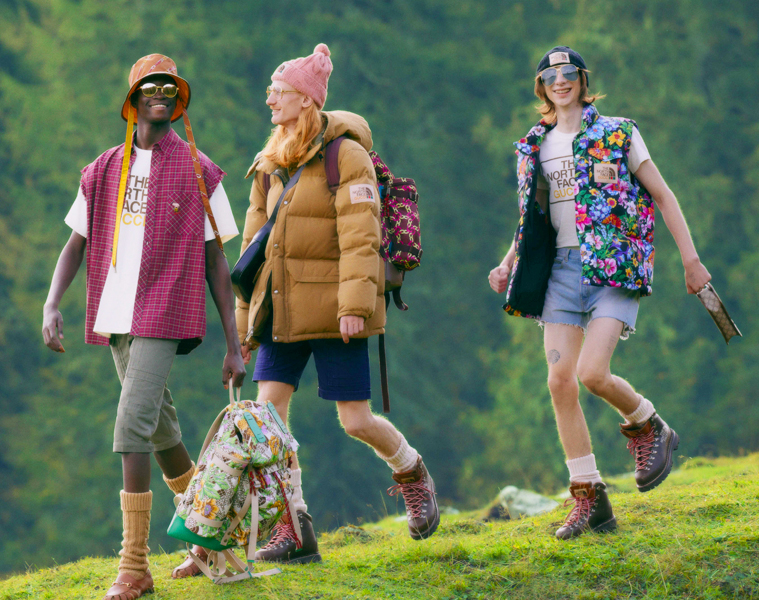 The North Face and
Gucci
's collaboration celebrates the spirit of exploration, marrying product innovation in both style and
sustainability
. To promote this new partnership, Alessandro Michele has conceived a campaign shot by Daniel Shea, set in the Alps where we are led through a trip to the great outdoors with a group of Gucci-clad hikers, who camp by the lakes. The campaign's atmosphere evokes the aesthetic of the '70s, when The North Face was a thriving outdoor retailer based in Berkeley, California and shared a factory and storefront adjacent to Credence Clearwater Revival's practice studio, whose iconic song "Bad Moon Rising" is featured throughout the video campaign. This special cross-category collection for men and women comprises ready-to-wear, soft accessories, luggage and shoes, as well as some more unexpected pieces linked to the outdoor world of The North Face, such as tents and sleeping bags. In line with both brands' commitment to
eco-sustainable activities
, the merchandise from this collaboration features luggage made of fish nets, carpets, and other scraps, archival fabrics that has been given a new life, and strategically designed carrier bags and pouches made with the least carbon footprint possible.
Shining a light on the collection's motifs, Gucci Artwalls will be unveiled in five cities—Hong-Kong, Shanghai, London, New York and Milan—and will feature dedicated imagery with a variety of creative executions. Though all different, these pieces of street art will all incorporate The North Face x Gucci logo.
The collaboration features ready-to-wear pieces inspired by the '70s incorporated with the brand's iconic logos: The North Face three curved lines and the famous green-red-green Gucci web stripe.
Learn more about the collaboration on Gucci's Instagram