We're Obsessing Over: The One with the F.R.I.E.N.D.S New York City Pop-Up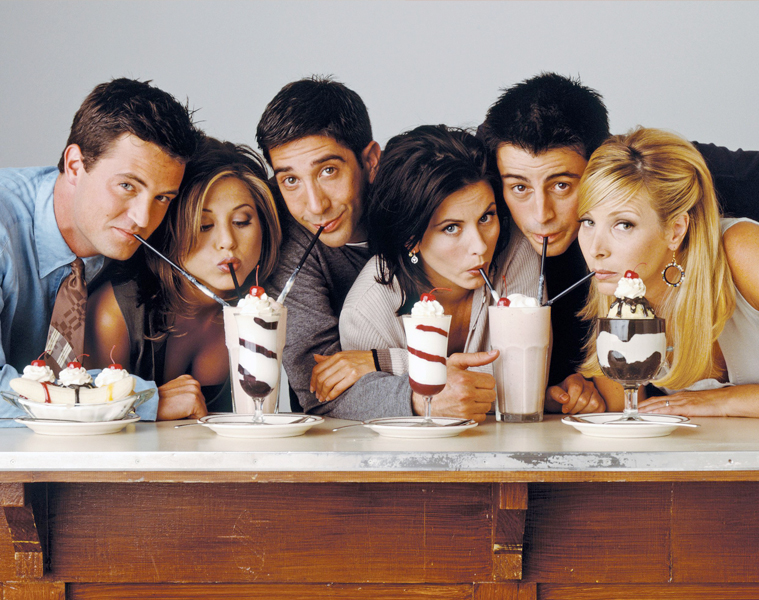 I just got one more reason to whine about not living in New York: A F.R.I.E.N.D.S pop-up experience is coming up next month in celebration of 25 years of the iconic TV sitcom. Could I be more jealous of New Yorkers?!
Two weeks ago, a teaser came out hinting on a special event that will happen in time for the iconic tv show's 25th anniversary. A lot of fans (including me) have been anticipating for that elusive tv special where we could potentially see a reunion of the complete cast—something that has NEVER happened since the show ended in 2004. While Warner Brothers is still shelving that idea (seriously, what does someone got to do around here to see a reunion?), they and the marketing company Superfly will stage a pop-up experience instead, full of replica sets, props, and memorabilia from F.R.I.E.N.D.S.
This isn't the first time that the WB is bringing to life a physical aspect of the show. Five years ago, a real-life Central Perk popped up in Manhattan where Eight O' Clock Coffee served free cups to guests, plus introduced the limited edition Central Perk Roast, all in celebration of F.R.I.E.N.D.S.' 20th anniversary. There were also fully functioning Central Perk branches that opened in London and, the nearest one to us, in Singapore. These shops had duplicated the interiors of the fictional coffee shop, a menu that was based on the characters' favorite dishes, and a separate zone that resembled Rachel and Monica's kitchen, and other parts of the characters' living spaces.
But for its 25th anniversary, the experience gets more immersive and interactive. The pop-up will comprise of bigger rooms dedicated to each character that will help visitors experience how it is to be part of the F.R.I.E.N.D.S universe. In addition to that, the fountain where Ross, Rachel, Monica, Chandler, Joey, and Phoebe had danced in will be the opening set that will welcome guests as soon as they enter the museum. Imagine shooting your own F.R.I.E.N.D.S opening credits with your own set of friends!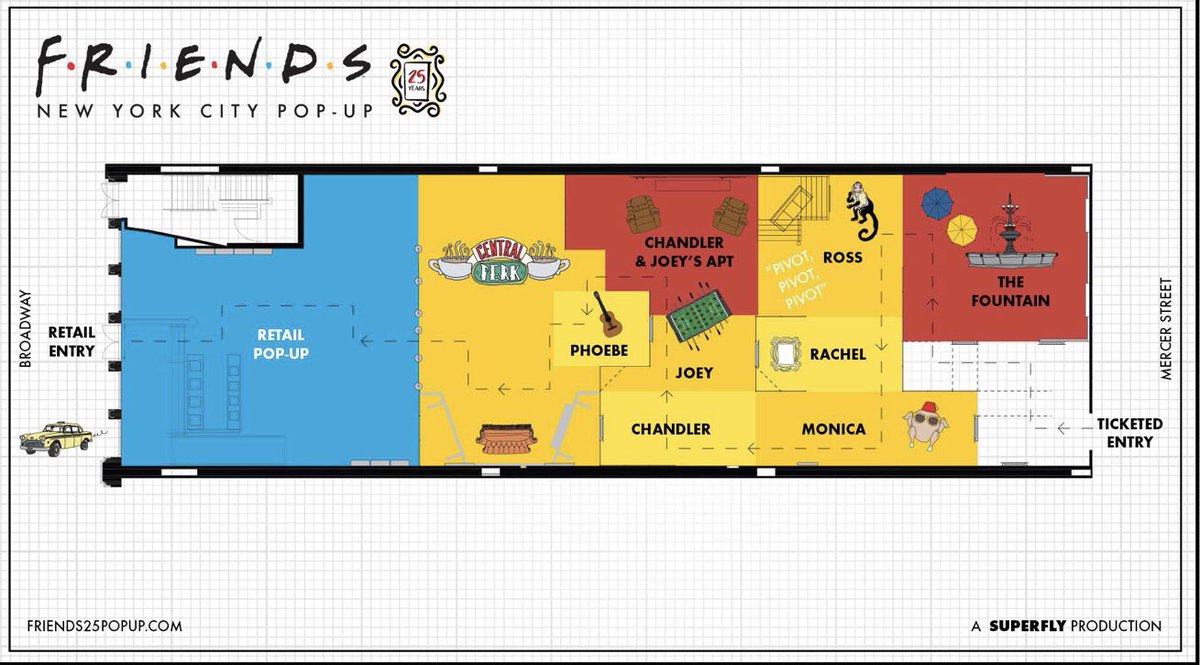 Seeing the blueprint of the pop-up, I can already imagine how the experience would feel like, how immersive I wish it could be, and all the details they can include in each room!
The first room will be dedicated to Ross, where they can meet his pet-turned-celebrity hotshot capuchin monkey Marcel. Visitors can also help him bring his couch through the staircase while shouting his famous "Pivot! Pivot! Pivot!" line. They would also probably see Ross' archaic bone collection (both authentic and replicas), as well as his pasty leather pants and pitchers of margarita that had indicated how Ross was "fiiinneeee."
"
Next is the Rachel-themed room, which could contain a full-house Pottery Barn showroom-like living room, especially now that Pottery Barn has made an exclusive collection for the show's 25th anniversary (Phoebe would probably hate that). Or maybe visitors will find the thousand bucks' worth sphynx cat Mrs. Whiskerson (which Joey insists is not a cat) on top of a Pottery Barn apothecary table?
Given that Rachel had worked at Bloomingdale's and then at Ralph Lauren, a full wardrobe of gorgeous clothes may also be part of her set. Do you remember the episode where Rachel was about to move out of Monica's apartment, and she, Monica, and Phoebe ended up fighting while they were packing? What if visitors could recreate that scene, too? Maybe somewhere in that room is a box of Rachel's mementos from her relationship with Ross that she had still held on to even after the break-up. Awww.
Next to Rachel's is Monica's, which will most probably feature her iconic kitchen and dining area. If the table were set with Monica's special chinaware, reserved only should the Queen visit, you would know how to properly use them, right? And you know you can't move her stuff around, right?
Hopefully, the space is also where guests can copy Monica and Joey by fitting a turkey over their heads, a gag that ended with Chandler saying his first "I love you" to her. But this one I'm sure of: During the pop-up tour, visitors can learn how to achieve Monica-grade skills in cleaning. We should all start taking notes, then!
Sashay your way out of Monica's room and into her beau's area (best if you did while keeping the turkey on your head). My only wish for the Chandler room is to have the nasally "Oh. My. God!" recording, courtesy of his her ex-girlfriend Janice, playing randomly so that visitors will get the same hair-raising feeling Chandler would get whenever she'd pop out of nowhere.
Crossing over to his best friend's room—potentially via the half-cut door—visitors may either find Joey's lavishly decorated apartment where he had lived in alone for a short time, or his own room in their apartment with his childhood stuffed toy Hugsy on the bed and an open window facing his neighbor's flat, complete with said neighbor singing "Morning is Here" (and Rachel hated this so much.) Somewhere in there could be the two boxes of pizza that Chandler had  branded as "Joey's Special," and Joey's Days of Our Lives script as Dr. Drake Ramoray. That last definitely must be there, because Joey would never let us forget about it, wouldn't he?
Right after that is Chandler and Joey's apartment which, unfortunately, will not include their pet duck and chick, because no pets will be allowed in the pop-up experience, except for service animals.  Chandler and Joey's living room will house their foosball table and their Barcaloungers, so to those who can drop by, make sure to practice synchronizing your use of La-Z Boy recliners with your buddy first.
Pretty sure it'll be fun if the visitors can also try and fit themselves in the custom-built entertainment center made by Joey, which he had willingly climbed into.
Other cool activities in the boys' apartment that I suggest the pop-up include are allowing the visitors to play a round of foosball, try on all of Chandler's clothes at the same time, build a fort using Ross' moving boxes, have a shot at fire ball, play Chandler's made-up card game called Cups, or go on a treasure hunt for Joey's hidden left-overs around the apartment. Right? Right?
Finishing off the individually themed rooms is Phoebe's, which might feature her "original Buffay artworks" Gladys and Glinnis, the creepy-looking paintings she had gifted to Monica and Rachel. It could also include her guitar and the Central Perk stage where she had regularly performed. Visitors better come prepared and learn all of Phoebe's songs just in case they were allowed to sing "Smelly Cat" live, belt out "and please tell Joey, Christmas will be snoOwwWyy!" or try to sing along to Ross' bagpipes audition. Do yourself a favor and play the video below because it's one of the funniest bits in a show that's full of funny bits:
Central Perk will be the last stop of the pop-up experience, the place where the six friends had spent most of their time hanging out. Will they serve you wrong orders just like Rachel had done as a Central Perk waitress, or will you get free stuff from Joey just because you're pretty? You'd be so lucky to find out!
At the end of the tour is the retail shop where exclusive and limited edition F.R.I.E.N.D.S. memorabilia will be on sale. For those who'd rather not go through the whole tour and simply want to shop (which, why?), the retail pop-up has a separate entry point at Broadway, so they will not have to buy tickets for the whole experience.
All of these possible set-ups and the idea that the cast might pop up in the pop-up makes me want to go so bad! If you're just as eager to experience this, then sing "I'll be there for you!" and fly to New York City!
The F.R.I.E.N.D.S. pop-up museum will be open everyday between September 7 (Monica's magic number) to October 6. Tickets are available for purchase starting August 2 at 10 a.m. EST, at $29.50. Visit the pop-up's website or email them at [email protected] for more information.
Featured image from Warner Bros. Television.