In "No, thank you" news: A Timothée Chalamet ventriloquist dummy is available for $122,795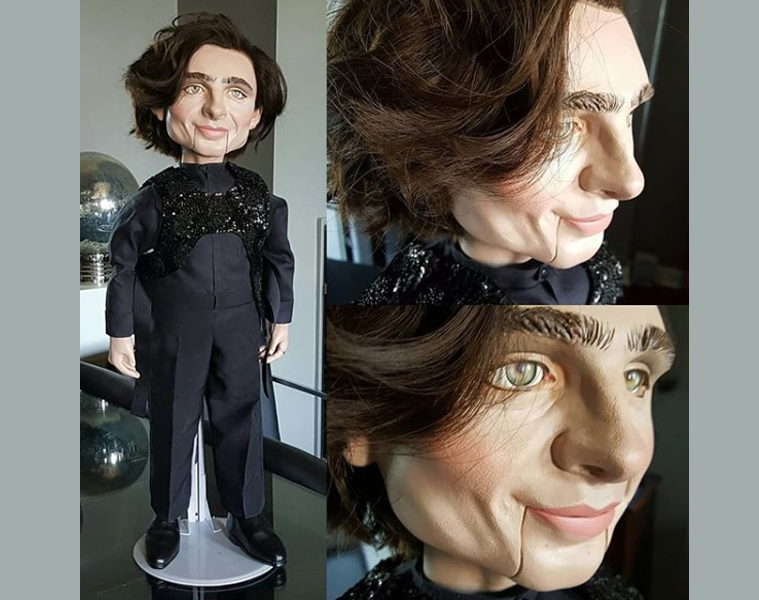 Look, I'm no Timothée Chalamet fan, but it wouldn't be difficult to understand why seeing photos of a ventriloquist dummy made in his image gave me the urge to grab the nearest blowtorch and douse its images with fire. I mean, look at it!
https://www.instagram.com/p/Bx5XRVFgX6F/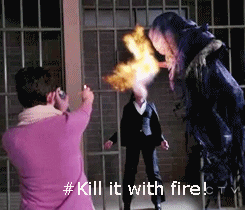 Even the most ardent stan of this once-Internet Boyfriend would find it hard to love that dark-sided creation. But why does it exist? Who has this much evil in their heart to bring this monstrosity to the world?!
Blame it all on Chalamet fan and ventriloquist dummy-maker Chris Alan, whose works you can see on his Instagram account @talkingheadstudios. He previously made dummies modeled after Kelly Ripa, Anderson Cooper, and the orange menace in the White House.
His Chalamet creation comes decked in a Louis Vuitton harness, reminiscent of the Oscar-nominated actor's Virgil Abloh-designed outfit that he wore to this year's Golden Globes ceremonies. The doll is up for bidding on eBay, with the starting bid at an outrageous $122,795, which Alan based on Chalamet's birth date.
From eBay:
"You are bidding on a one of a kind, handcrafted Timothee Chalamet ventriloquist figure, dressed in a recreation of the Louis Vuitton outfit worn to the 2019 Golden Globes, complete with beaded and sequined harness. Head, hands and ankle boots were all hand sculpted and wardrobe was custom made. Figure stands 26 inches tall and also sits independently. Body is made of white pine, upholstered in foam and quilted fabric. Head is controlled from inside body (accessed from back) by a head stick, which is outfitted with a spring loaded head lock, to keep head in place when not in use. Makes a perfect gift for any occasion, from baby shower to bar mitzvah! Sorry, due to the very low price on this, stand is not included."
https://www.instagram.com/p/Bx8rc5yDmsl/
It's not that serious, though, according to the dummy maker in his interview with Vulture. "Ultimately, I'd love to be able to give it to [Chalamet]…For that reason, I set the price so astronomically high that no one would actually buy it." As of press time,there are zero bids on the item.
As for the fact that the doll's mug has made people want to spray their smartphone and computer screens with holy water, Alan says, "It's not a portrait, per se, it's more of a caricature. It's meant to be fun. Things are exaggerated!…As far as the creepy factor, I completely get it. I embrace that."
Okay, so the tiny doll's shoes and outfit are really cute, and Alan captured the enviable thickness of Chalamet's hair. But I'd sleep with both eyes open if that little wooden creep were within a 10-mile radius of me.
All images from Chris Alan's Instagram account.  GIFS via Giphy.