Failures and rejections often blur the silver lining in hopeless situations. But this isn't the case for Pia Wurztbach, who joined Binibining Pilipinas several times before finally clinching the crown on her third attempt in 2015. Pia knew that the road toward success is never a walk in the park, but it didn't make her less of a dreamer—a finisher.
Today, Pia continues her race and along the path, she seems to have come across a new purpose. With the hashtag #ImBringingSexyBach, Pia set forth on a fitness journey to achieve a more active and healthier life.
Pia's commitment to improve her physique is best manifested in her recent achievement that aims to celebrate the Filipino spirit. In commemoration of the 185th year of Ginebra San Miguel (GSM), Pia has been chosen to be the 2019 GSM calendar girl. Determined to be "a Filipino who remains steadfast amidst all the challenges," no other woman embodies resiliency more than Pia does.
The 2019 GSM Calendar—now available in stores and dealers nationwide—features eight shots of the 29-year-old beauty queen. While the sight of Pia in swimsuit is not an unfamiliar view, a quick glance at each photo still easily makes one astonished.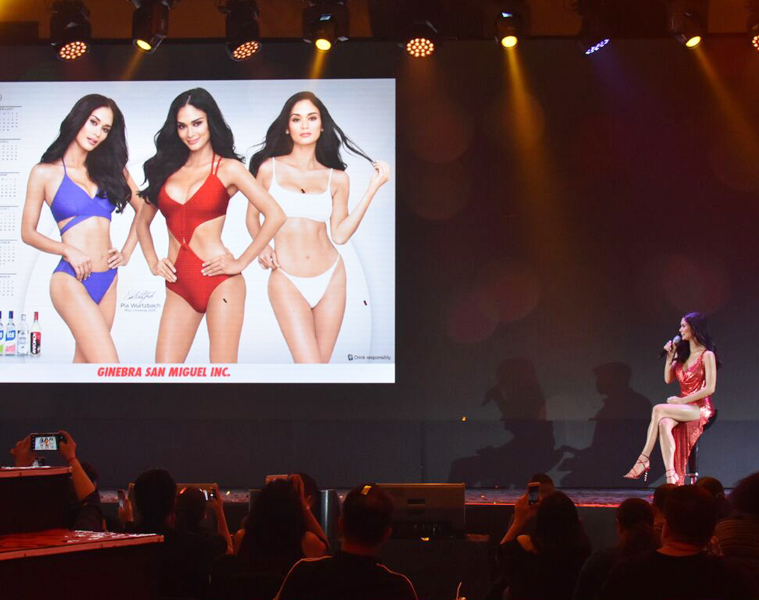 This is Pia's first time to accommodate a swimwear photo shoot that isn't facilitated by the Miss Universe Organization, and it won't be a surprise if she gets to grace the GSM calendar in the many years to come.
As part of her preparation, Pia reveals that not much effort was needed to work on the project. "If you make it part of your lifestyle to work out and eat healthy, then I don't think it's hard," she says.
Pia is a self-confessed gym rat, and her diligence to keep herself in shape is reinforced by her conscious effort to go to gym every day. As a fitness enthusiast, gym has become Pia's second home, where she takes time usually by herself to relieve stress.
Pia also reveals that she didn't have to follow a certain diet plan to achieve results. In fact, her eating habits remained the same. "A lot of people probably don't believe this, but the truth is I eat anything that I want, in moderation. I just have to make sure my trainer knows what I am eating, and I don't deprive myself of the little treats that I want. That's my diet: I make sure I still enjoy food," Pia shares.
More of Pia's fitness journey is shared in the social media. #ImBringingSexyBach has become an advocacy, of sorts. It is never too late for you to click the follow button, just as how it is not too late for you to start your own fitness journey.
Watch Ginebra San Miguel's latest roster of ambassadors below: