Diesel's Hate Couture disempowers hateful words by putting them on shirts. Or does it?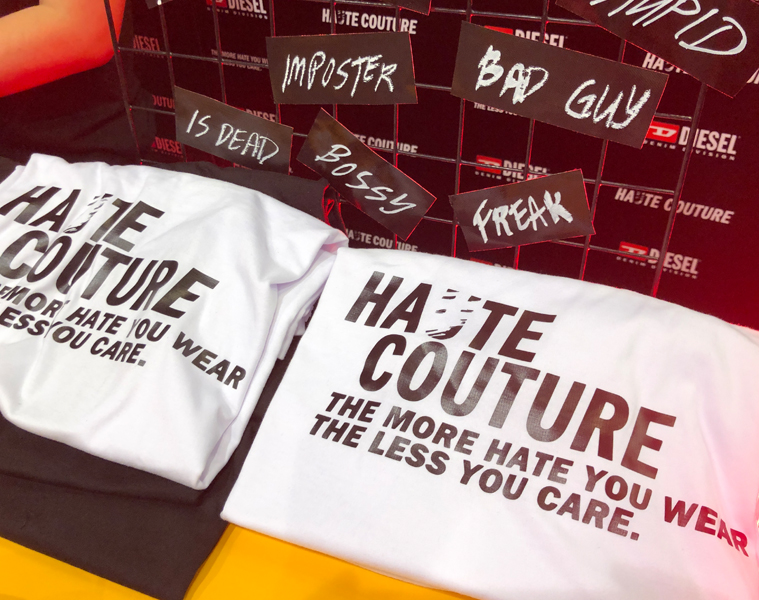 If you have been personally victimized by Regina George, called a "grotsky little beyotch," called fat or any other kind of on the internet, you should take a step—not backward but forward.
Diesel is making self-acceptance and the "I don't care attitude" fashionable in their latest campaign Haute Couture, which encourages everyone to wear the worst name they've been called until its exposure renders it meaningless, through a collection that's all about disempowering hate.
The brand knows about receiving "hate," with comments like "Diesel is Dead" and "Diesel is not cool anymore." More than taking these positively, Diesel has turned them into unique merchandise and has partnered up with celebrities who get their share of online vitriol: Nicki Minaj, Gucci Mane, Bella Thorne, Bria Vinaite, Tommy Dorfman, Miles Heizer, Yovanna Ventura, Barbie Ferreira, Yoo Ah-In, and Jonathan Bellini. Boiled down to its simplest message, Haute Couture seems to say, "The more hate you wear, the less you care."
https://www.instagram.com/p/Bn4gkQzl2h5/
Featuring the worst insults that they have ever received, each personality models an exclusive, limited edition Haute Couture piece: "The Bad Guy" on Nicki Minaj (by the way, not really an insult, plus there are worse things to call her, such as "Pedophile Supporter"—Ed.), "Fuck You, Imposter" on Gucci Mane (again, not the worst thing to tell anyone—Ed.), "Slut" on Bella Thorne, and "Faggot" on Tommy Dorfman. (The last two, yes, are slurs.—Ed.)
The campaign tries not just to be empowering but is also intended for a good cause. Since last month, Diesel has let the customers personalize items in the collection by wearing pieces that display the worst comment they have ever received. Proceeds from the sale of Haute Couture items will be donated to support the anti-bullying and cyber bullying programs of the OTB Foundation, which was set up by OTB, Diesel's parent company.
[Record scratch]
The drawback to this campaign, though, is how people who are on the giving end of these slurs, a.k.a. bigots, racists, homophobes, transphobes, misogynists, etc., can easily co-opt the intention of this campaign simply by buying a Diesel shirt with an offensive word on it and then walking around offending as many people as they can.  On a slightly lesser degree of damage, well-intentioned folks might "reclaim" a word that has never been used against them under the misguided notion that they're helping the cause, or even because they're trying to earn woke points. Certain slurs should be reclaimed only by those who have been affected and hurt by them, and true reparation for the pain they cause comes only from tangible, widespread, and lasting change in global culture. Does Diesel have a system in place to help avoid further spreading the malice behind these slurs? Given that they're in the business of selling, it seems doubtful. This is why any form of "activism" that involves branded merchandise just comes off as a disingenuous way of pretending to help. — SGM
[Record resumes]
Diesel has also released a preview of their fall/winter 2018 collection. Drawing inspiration from myriad elements—sports, denim, graphic design, London—the clashing influences are interpreted through gothic, post-punk looks that are classified into three tribes: MuffinHeads, Voltag3, and Kultur.

Learn more about the campaign, the latest collection, and more on the Diesel website.
All photos owned by Garage